To protect your smart home from cyberattacks, it is important to strengthen the security profile of your IoT devices. Firewalla secures your whole network with a protective shield that covers all your IoT devices as well. Here are some best practices for using Firewalla to secure IoT devices in your smart home.
PART 1: Visibility
One of the most revealing moments for first-time users of Firewalla is that it allows them to see how many connected devices they have in their homes, and what's exactly going on in those devices. You'll be surprised how chatty some of these devices are, in the background.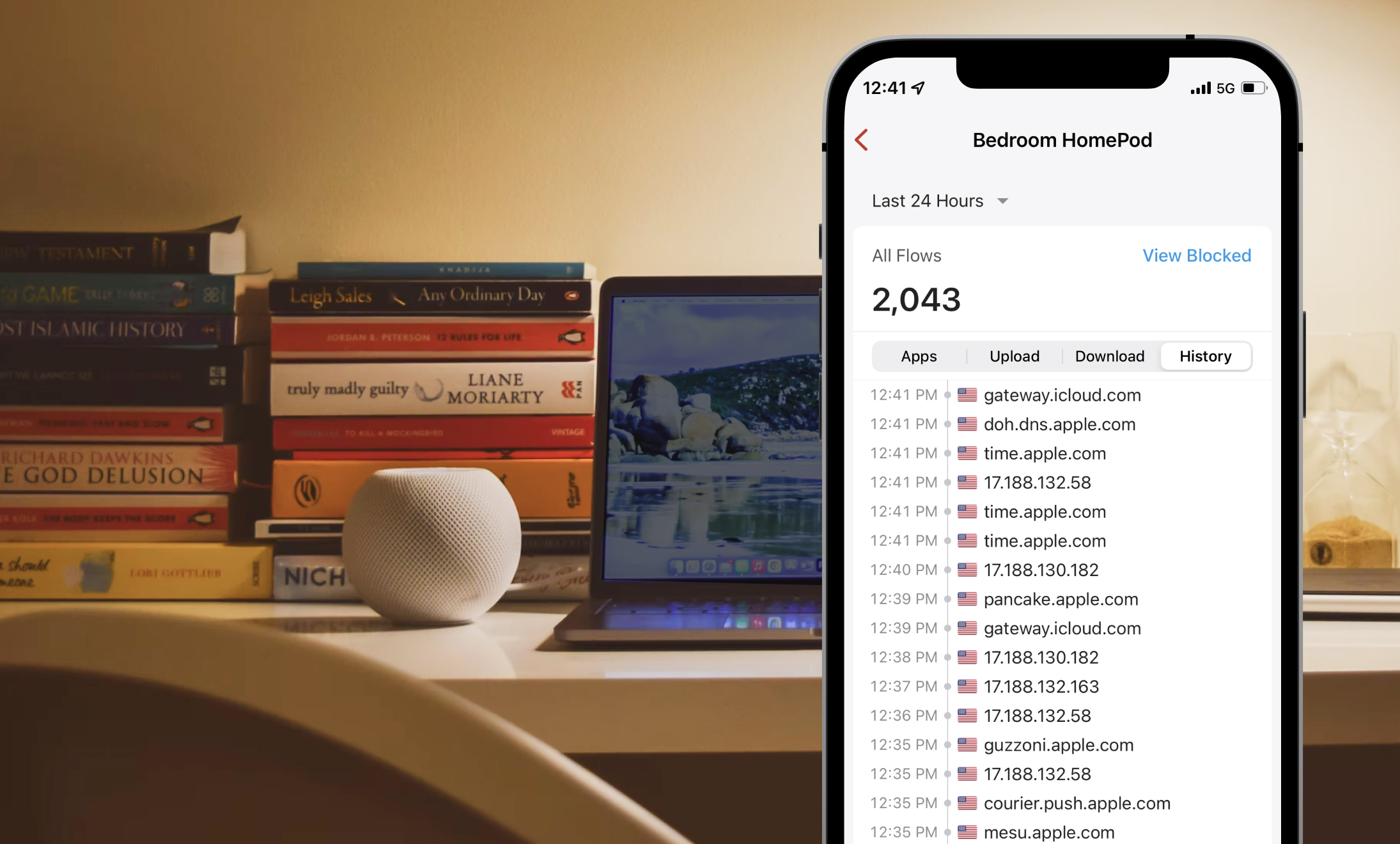 Know what devices you have
Once you have Firewalla set up, you'll see all connected devices (wired or wireless) in your home.
Take an inventory of all IoT devices. They can be smart TVs, speakers, printers, cameras, automation control units, etc. You should go through the device list and make sure you know exactly what each device is. We've had users report that after they installed Firewalla, they found devices from a neighbor connected to their home wifi!
Rename the devices so you can easily recognize what and where each device is.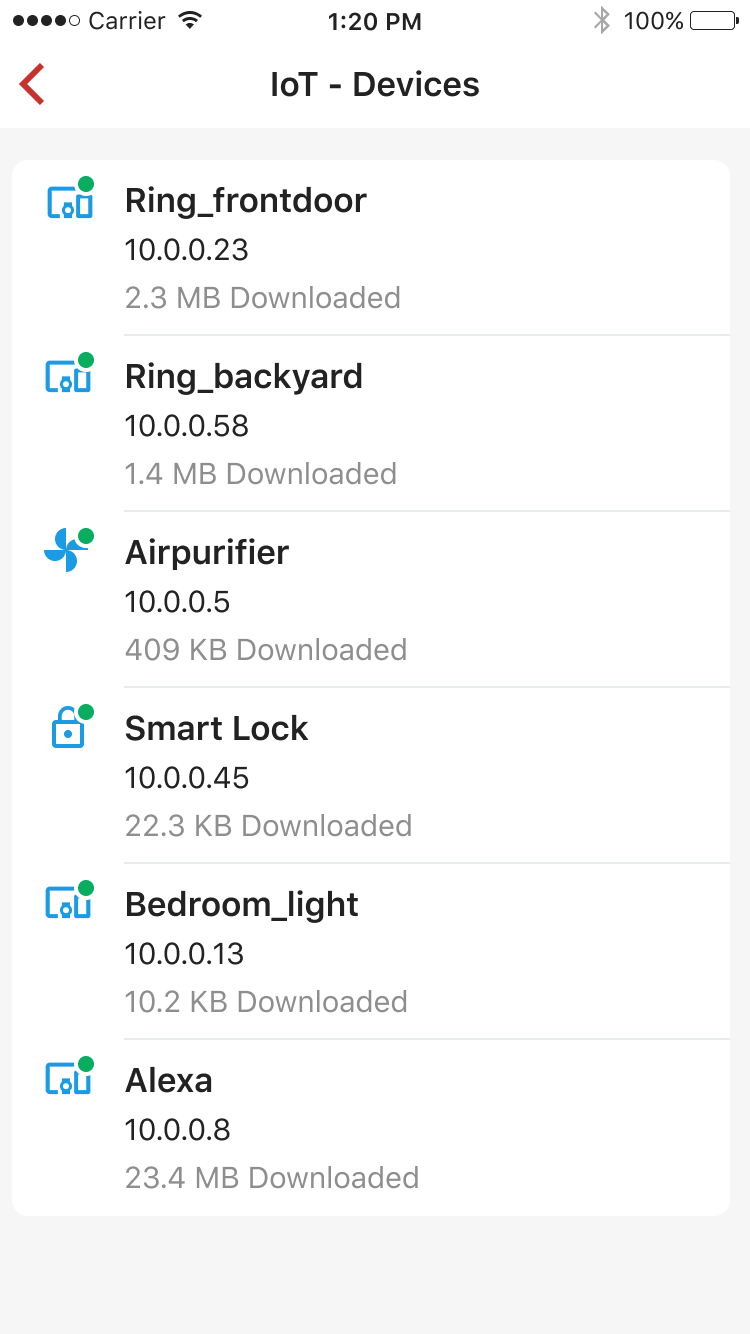 Check what your devices are doing
Firewalla gives you deep insights into traffic activities on each device in your network. Such visibility is especially useful for IoT devices that operate in the background.
Go to the device detail screen to view traffic with different time windows, and look at the history of uploads and downloads.
Tap into the graph to see a zoomed-in view of details by the hour.
Tap into each destination entry to get even more granular views.
Check device activities regularly to stay on top of what they do. Any abnormalities will be automatically detected by Firewalla and you will receive alerts. Learn more about how to monitor and configure devices.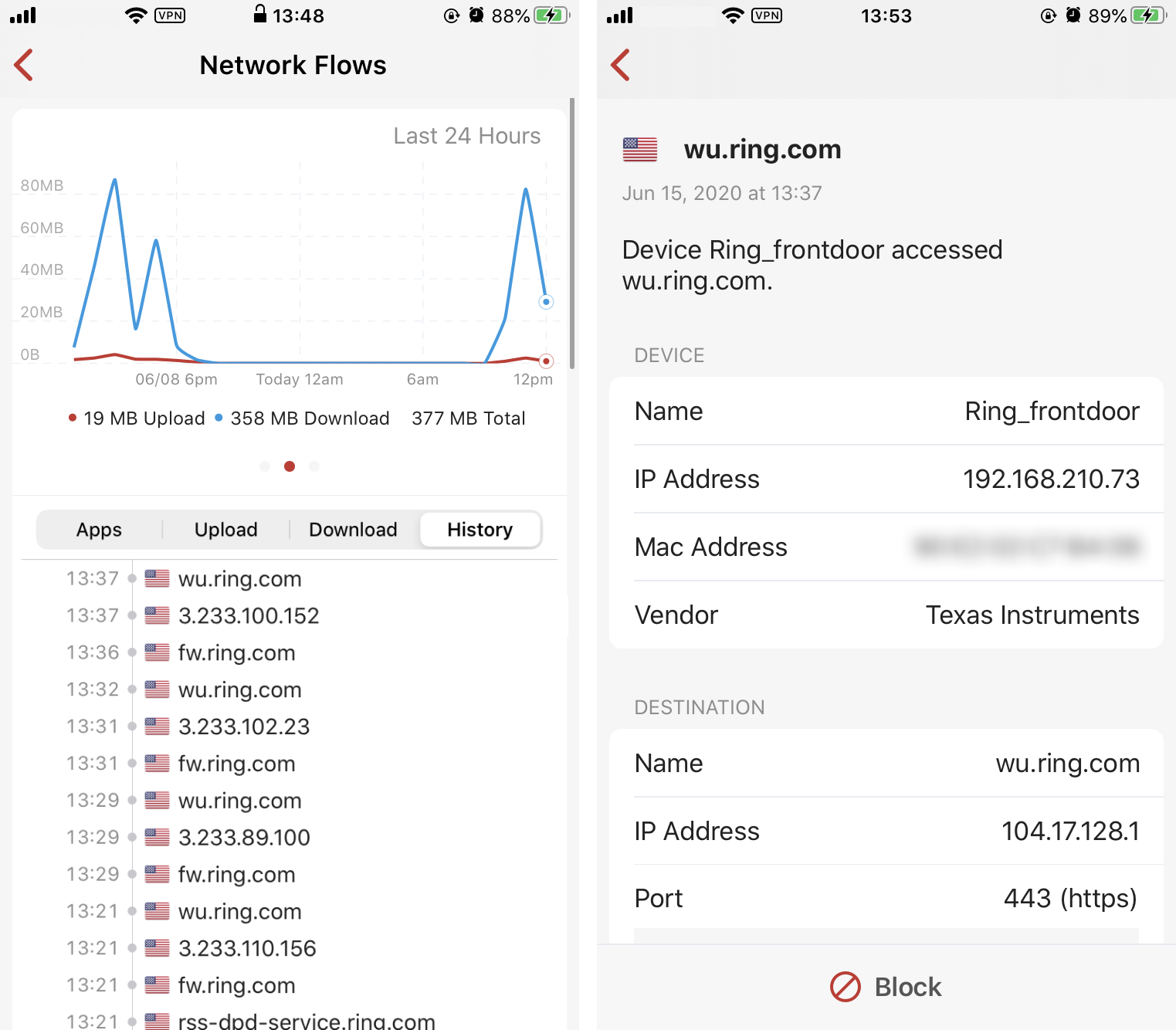 Examine Open Ports
Your router's NAT + Firewall protects your home network from getting accessed externally. But it is fairly simple and somewhat common for devices to open, or ask you to open an external port on your router to make setup easier. This creates a hole from outside to your home. These open ports may be a risk.
Firewalla has the capability to detect these open ports.
Externally scanned ports: ports detected through an external scan. These ports are very likely opened by you using port mapping on your router, by the router, or through UPnP Port mapping.
UPnP ports: ports detected using the UPnP protocol. These ports are opened by other devices/services via UPnP.
You can see these ports by tapping on the "Open Ports" button. If the list is not empty, make sure you know why they are there. Learn more about open ports and open port alarms.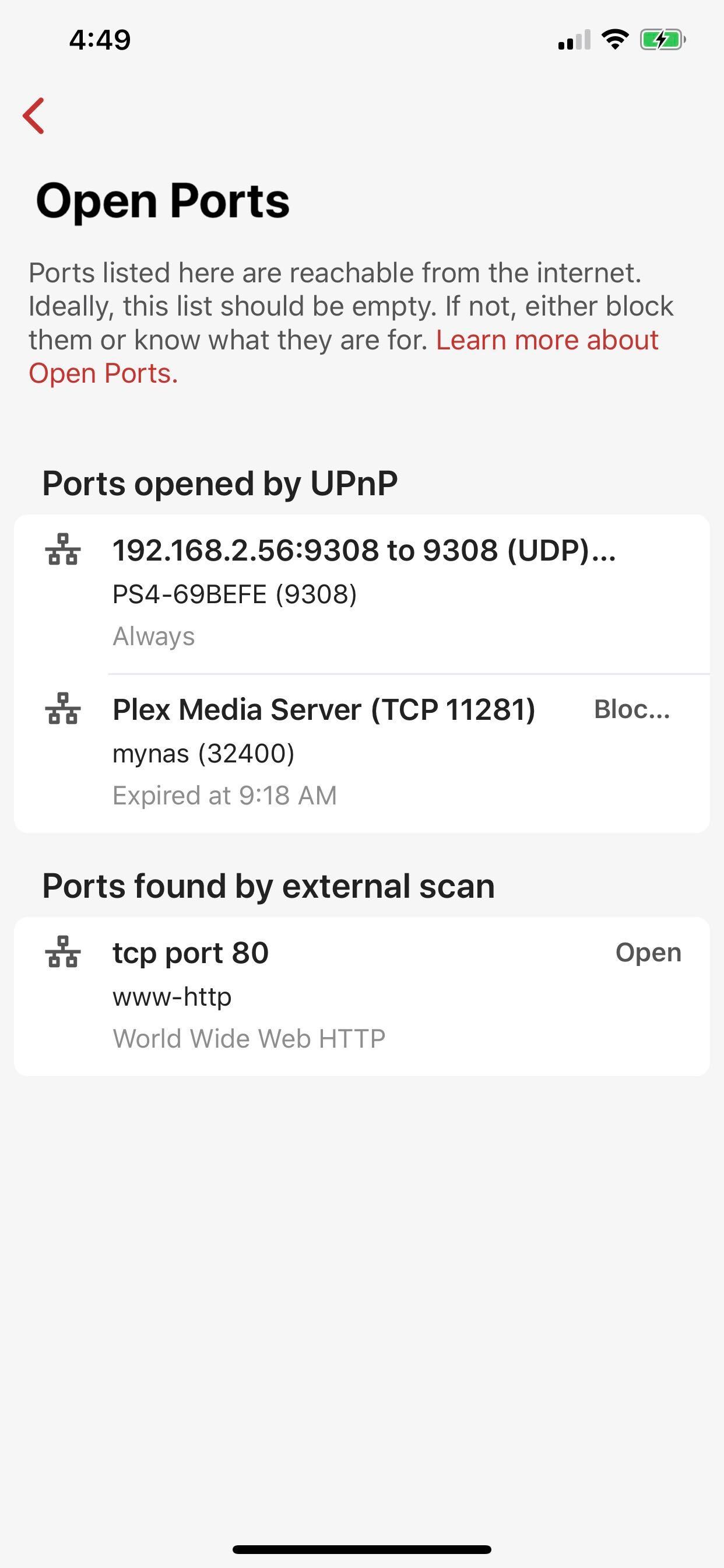 Review and Manage Alarms
Firewalla will alert you with alarms and notifications when suspicious activities occur, such as access to your camera from a foreign server. It also generates alarms when abnormal upload or large bandwidth usage is detected on your devices. These alerts help you understand your home network dynamically.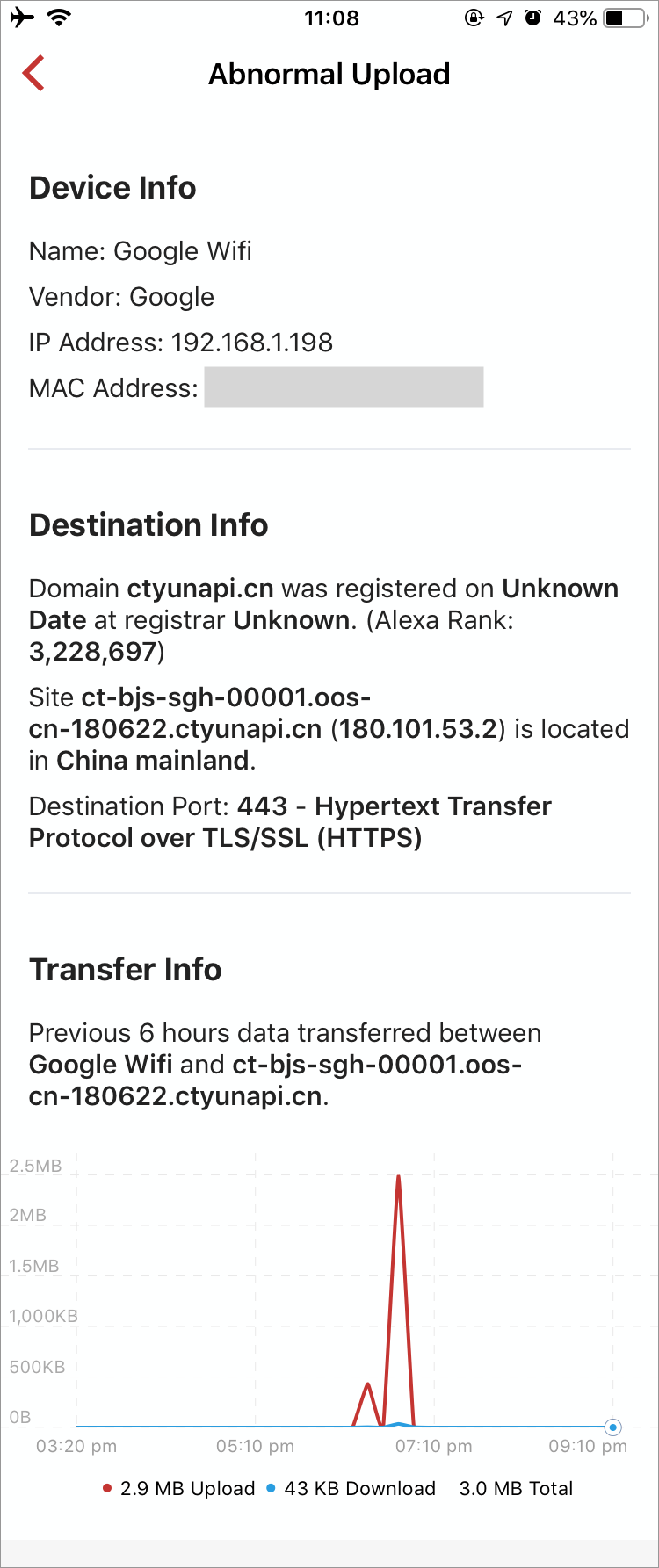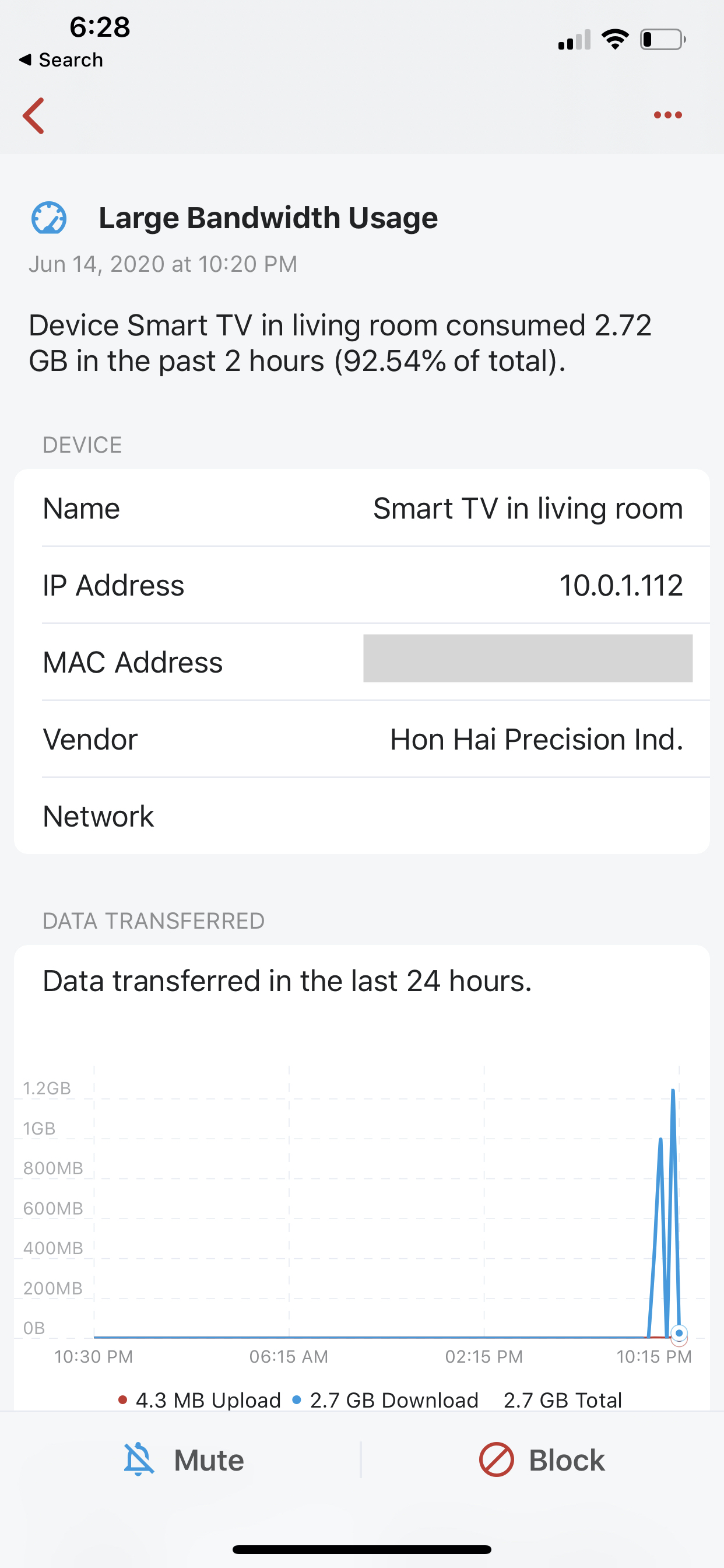 If an alarm is associated with normal operation or a trusted service, you can ignore or mute it. However, if an activity is unexpected of a device or you don't recognize the server that it's talking to, you should investigate or block it. Learn more about managing alarms.
Learn more about Firewalla Visibility: Deep Insight