Firewalla is able to block any device's internet access either at IP address level, site domain level, or a certain category of sites. When you block something, a rule will be generated under "Rules".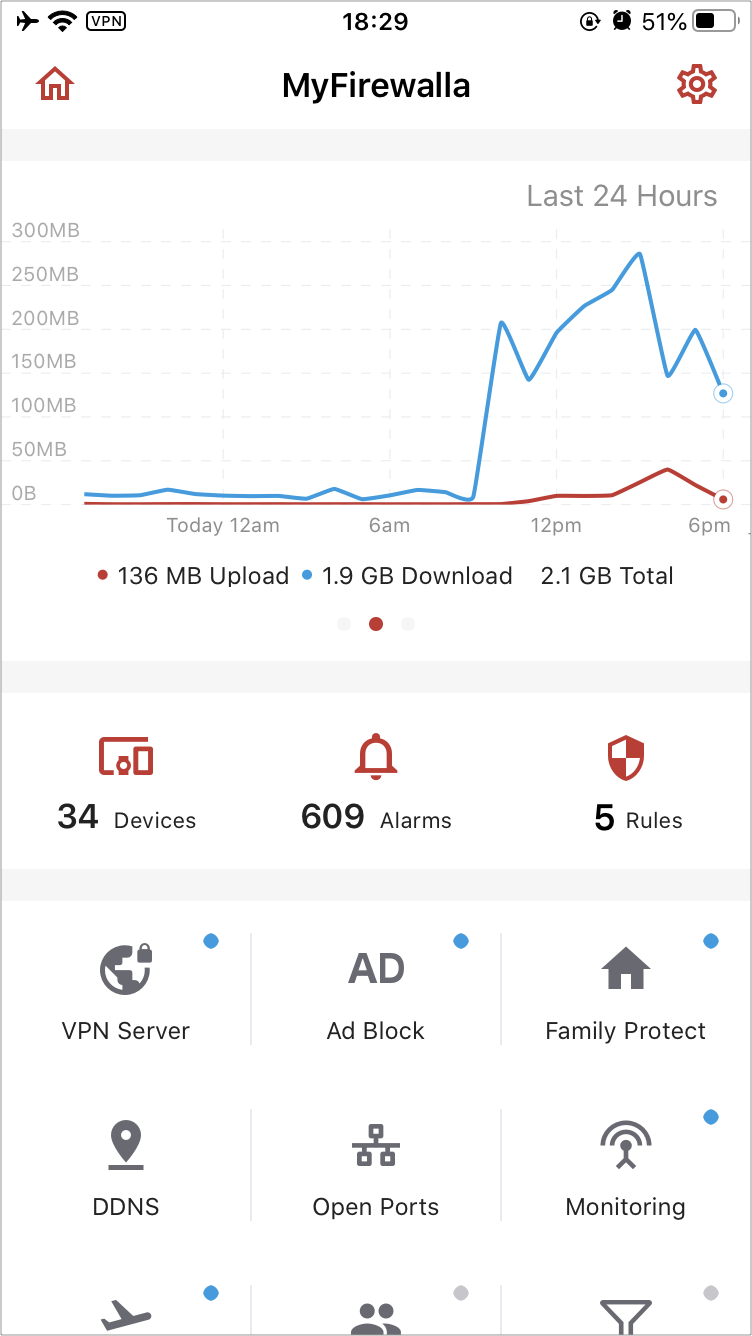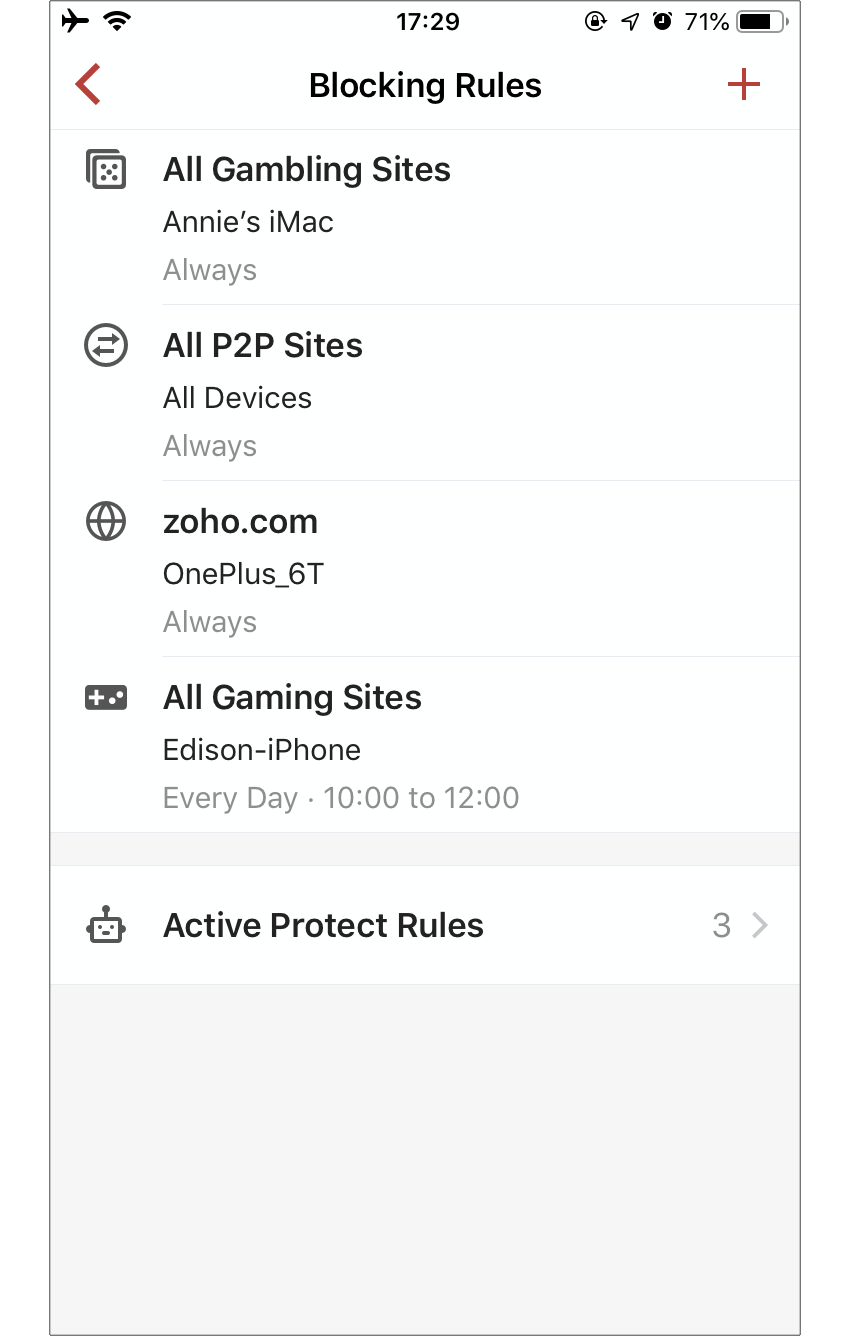 Create a Rule:
Tap on the "+" on the top right of "Blocking Rules" Page will bring up the adding a new blocking rule UI.  To add a new rule, you need to specify three things:
1. Block target (what to block)
You can set to block:
Domain/IP address
a range of IP addresses
Remote port
Region 
A certain category of internet access
All internet access
All category-based blocking rule set is automatically managed by Firewalla cloud's intelligent AI agent. The categories include:
Gaming
Social
Video
Porn
Gambling 
P2P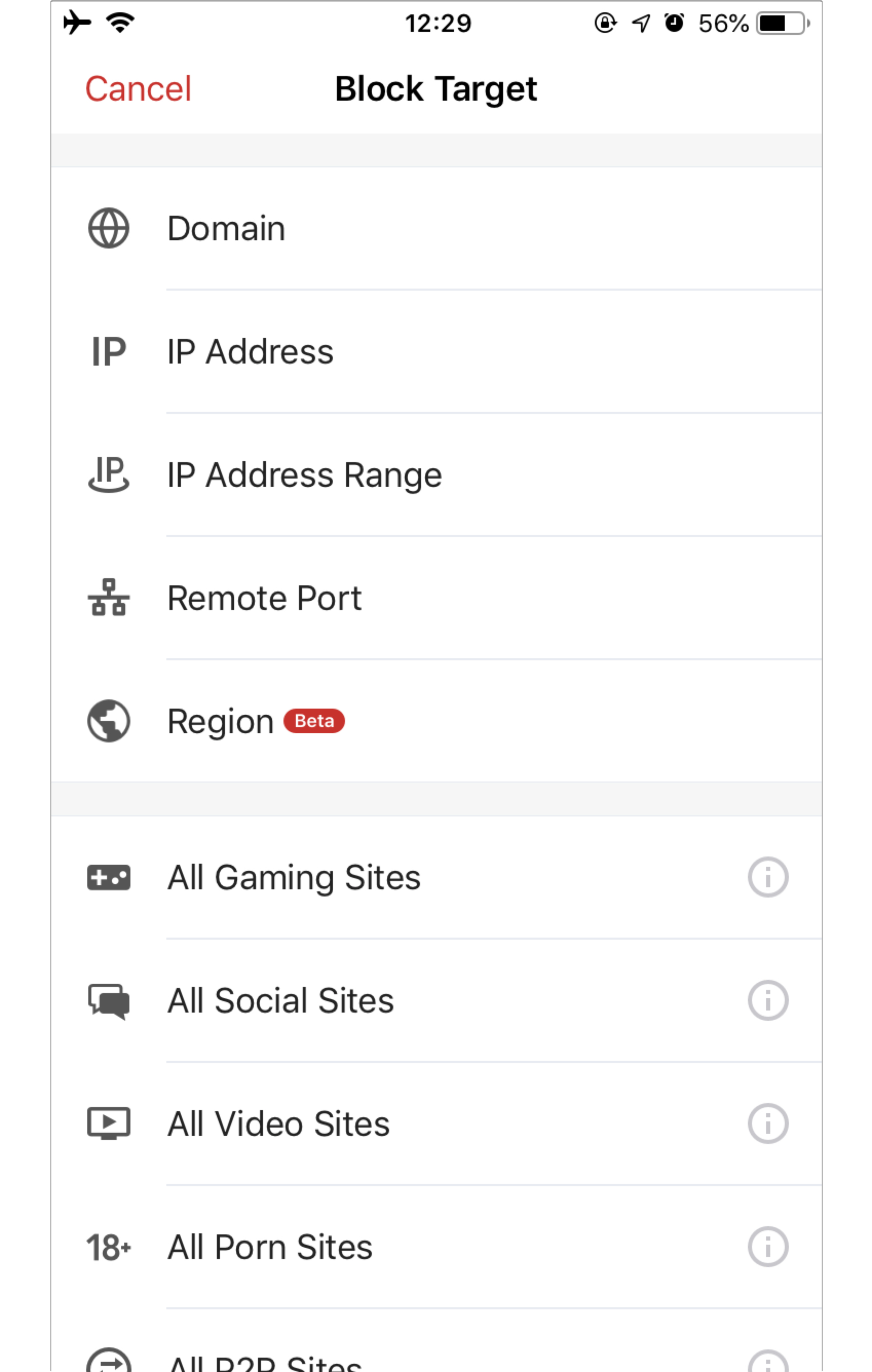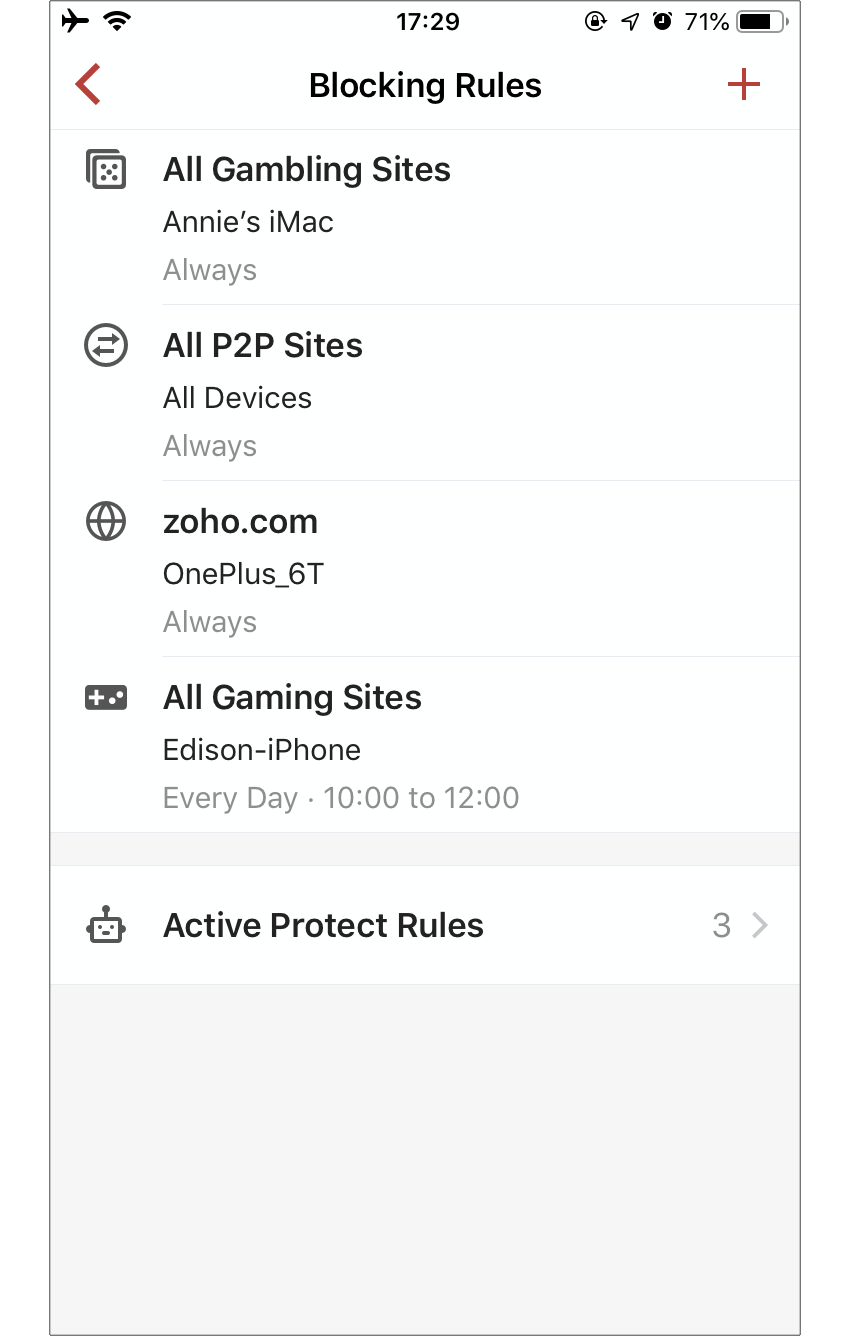 2. Apply to (taking affect on which device)
A blocking rule can be applied to either all devices or one specific device in your network, a selected group of devices is not supported yet.
3. Schedule (duration of the blocking)
The active time of a blocking rule can be set as "Always" (never expires unless deleted), "One-Time Only" (expires after configured time), or scheduled to be active during a certain period in every day or certain days throughout every week.
For example, if you want to block a device's from accessing Facebook every night from 9 PM to 7 AM(next day), what you can do is create a new rule for this device, set the block target to "domain" -> "facebook.com", then schedule the active time to "everyday, from 9 PM to 7 AM (next day)", and save your rule.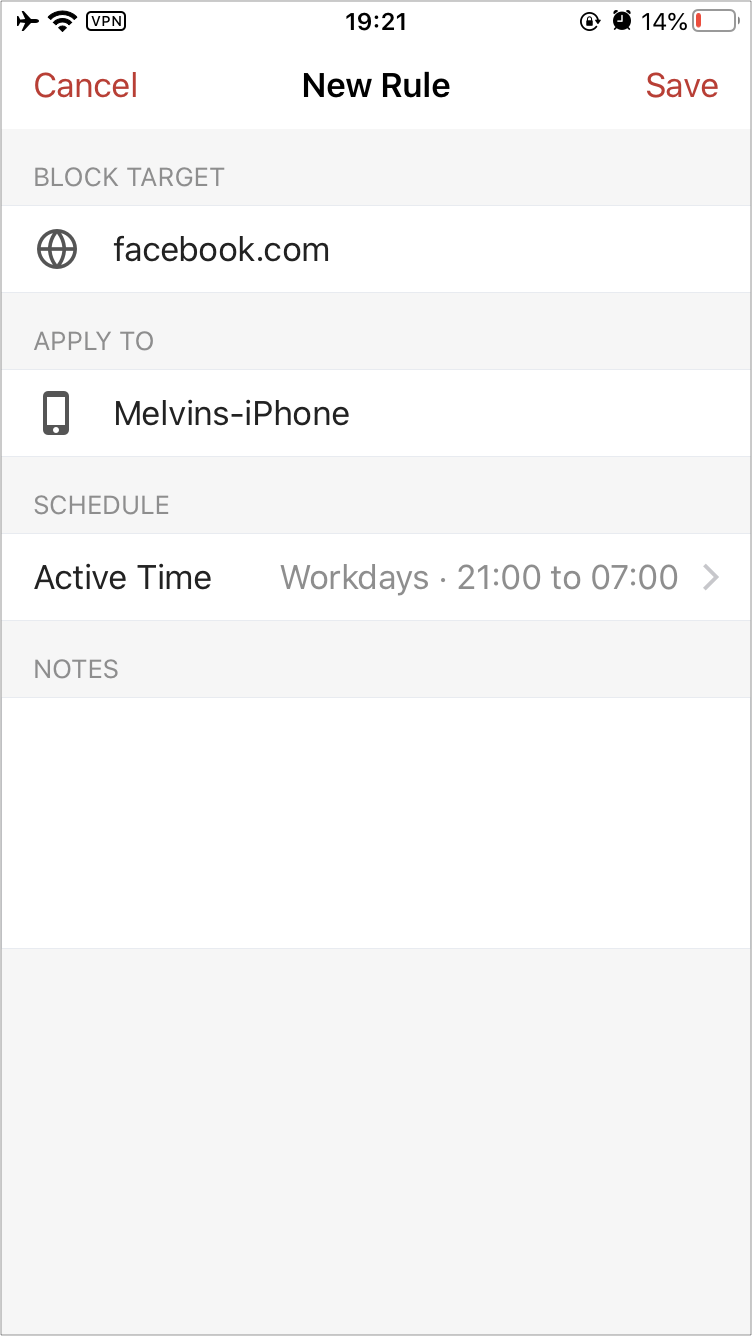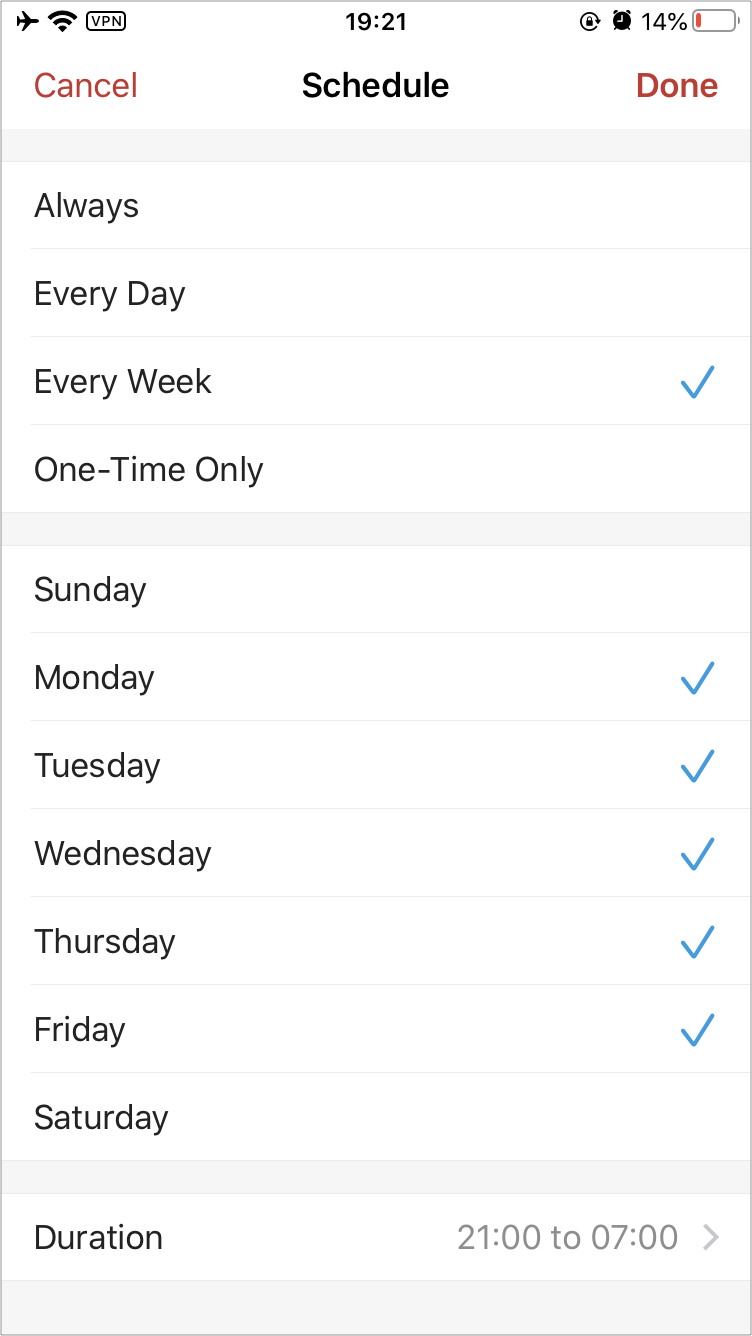 Modify a Blocking Category: 
Firewalla App provides various categories of block target, each category contains a group of domains or IP addresses.
When creating or modifying a category blocking rule, you can tap on the "i" icon on the right side, to view all destinations in the category, you can remove or add any destination from this category.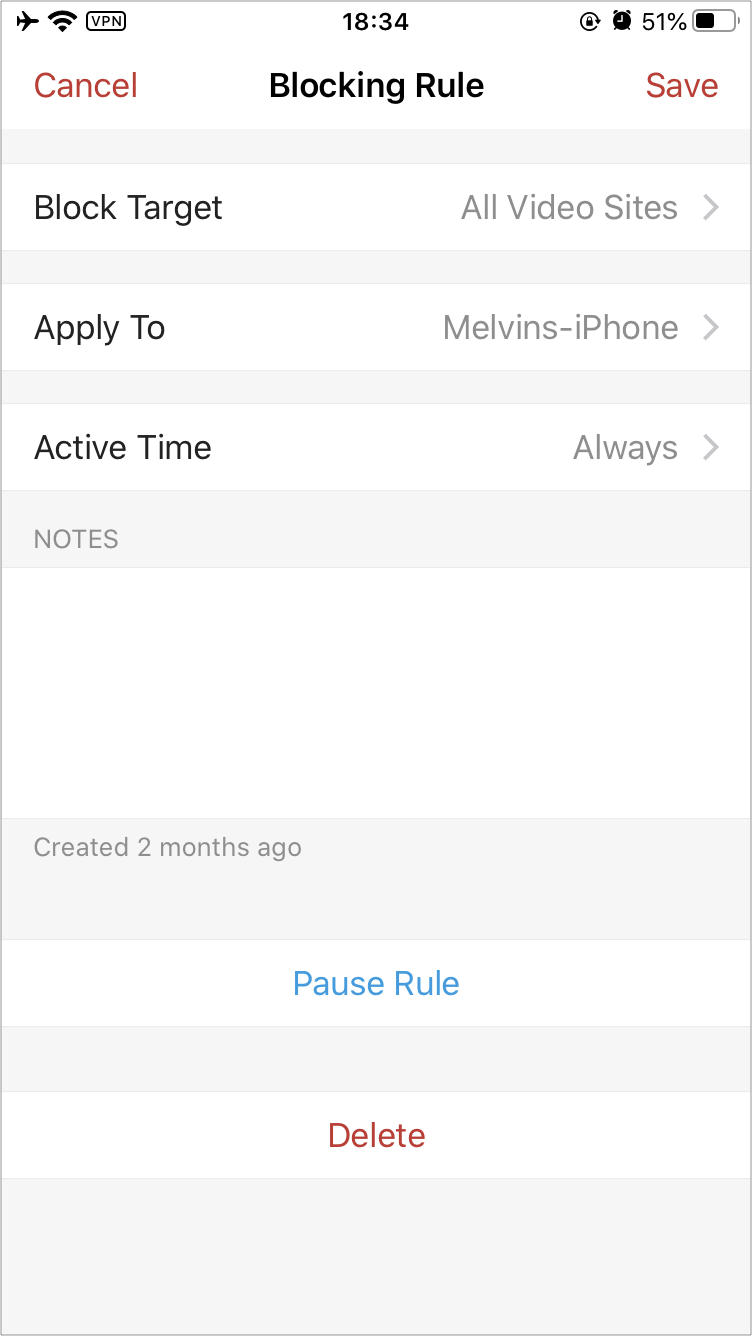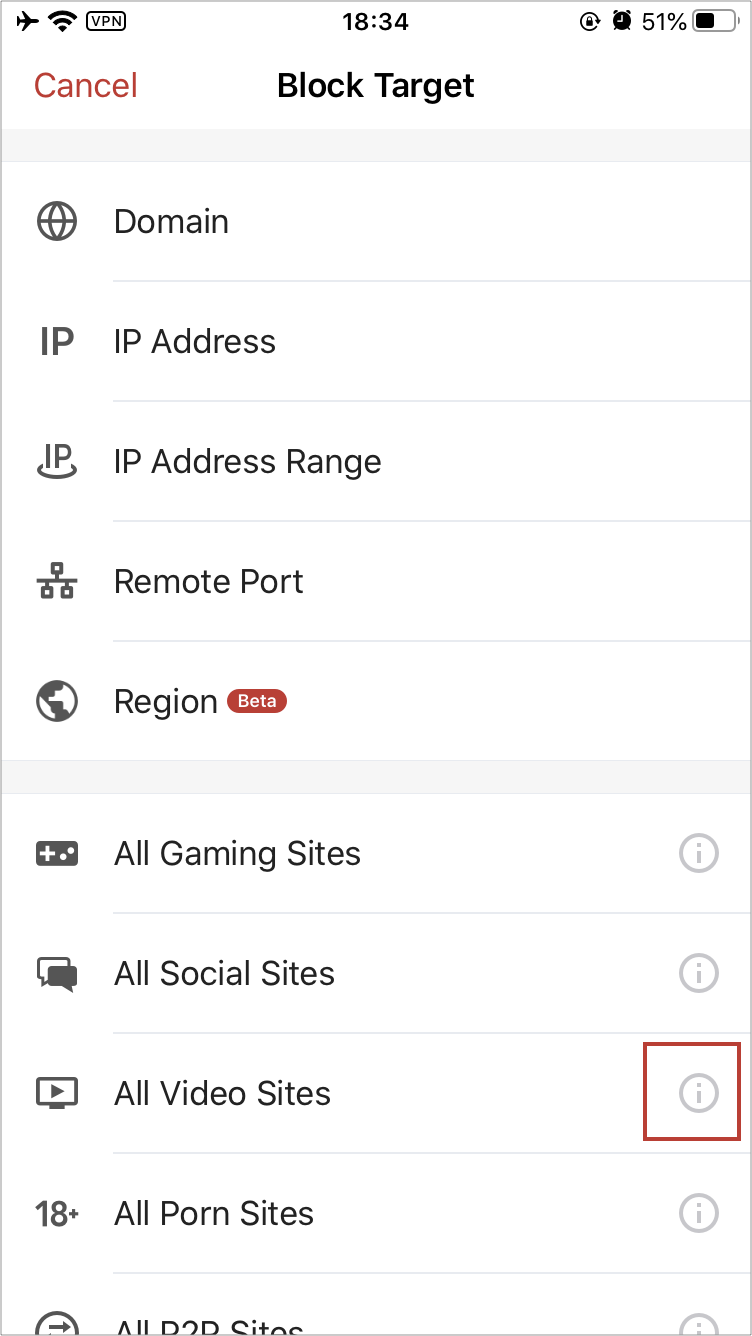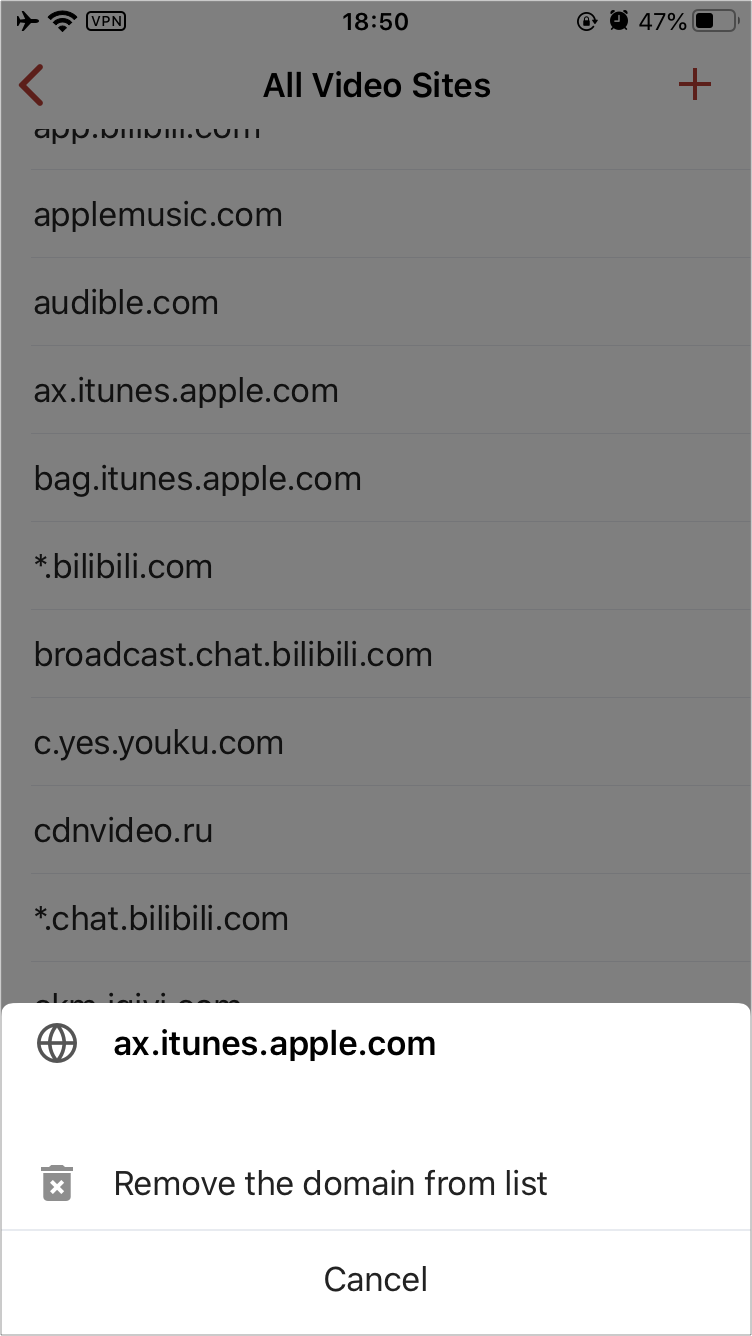 For example, you've blocked "All Video Sites" for your phone, yet iTunes Apple store is in the "All video sites" ruleset, and it caused your device not able to access iTunes Apple store.  You can easily remove this destination from all video sites.
Delete / Pause a Rule:
Any blocking rules can be modified or deleted.
You can also pause a rule to temporarily disable it without deleting or rescheduling the rule.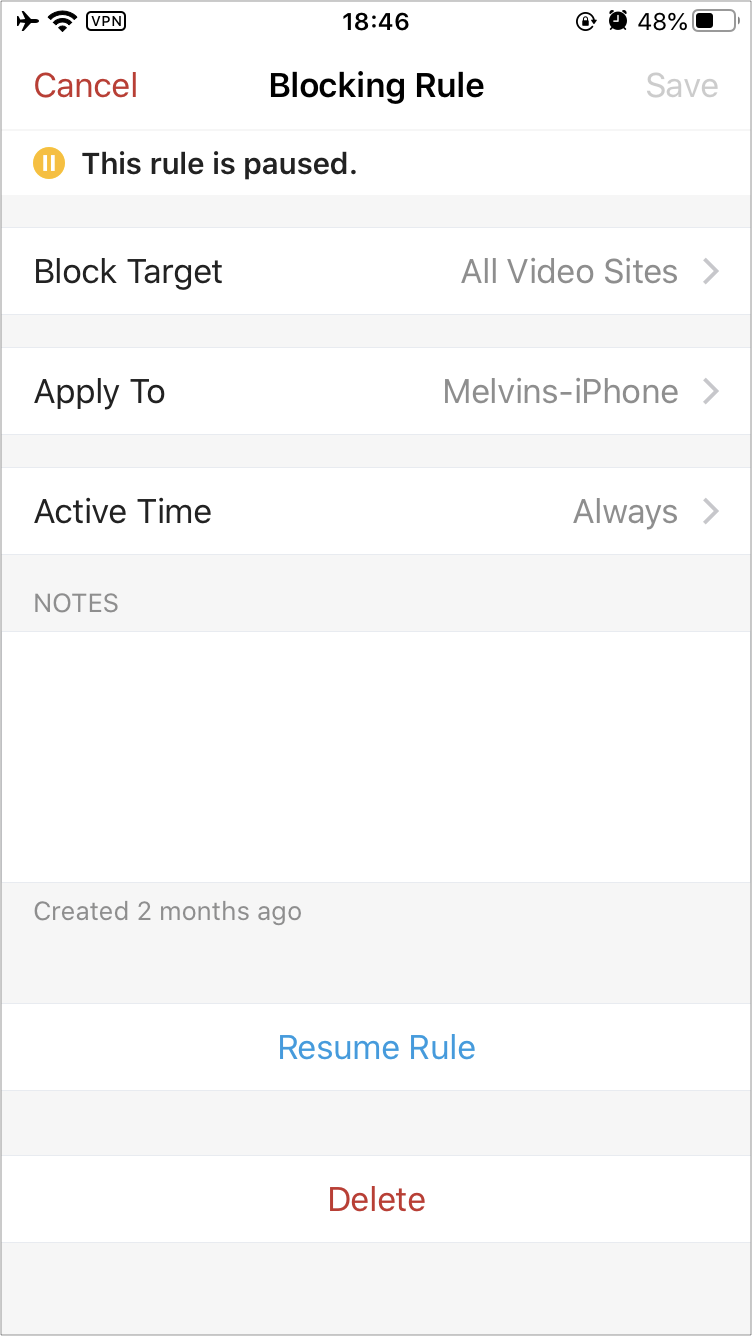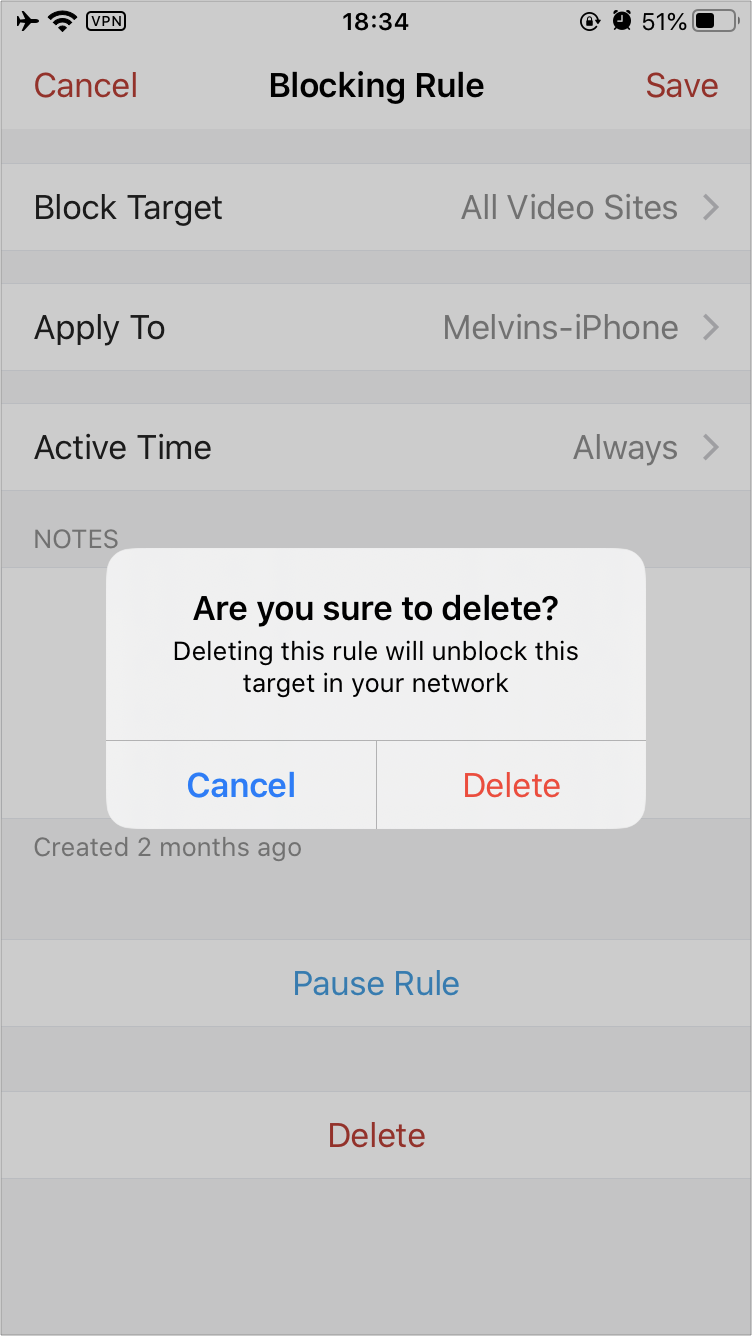 *NOTE. We have noticed that in some cases, users maybe overly cautious about alarms, which results in blocking websites that shouldn't be blocked. In case some of your normal internet access is blocked, you can check your rules and pause the suspicious ones.
In addition of manually creating rules from Rules UI, we also provide easy ways of creating rules from device UI and alarm UI:
Blocking from Devices UI:
1. Enter the device list, tap on the device that you want to control.
2. Locate the "control" section and tap on what to block.
You can either block all internet access on this device or only block certain category of internet access (e.g. Games, Social, Video activities).  Each of the buttons can be toggled between "Block off" (not block), "Block for 1 hour" (temporary block), "Block on" (permanently block). 
All blocking rules regarding this device will appear in "Blocking Rules" under the device detail page. You can also create additional rules on this device by tapping the "+" icon on the top right. The rest of the process is the same as creating rules from the "Rules" page.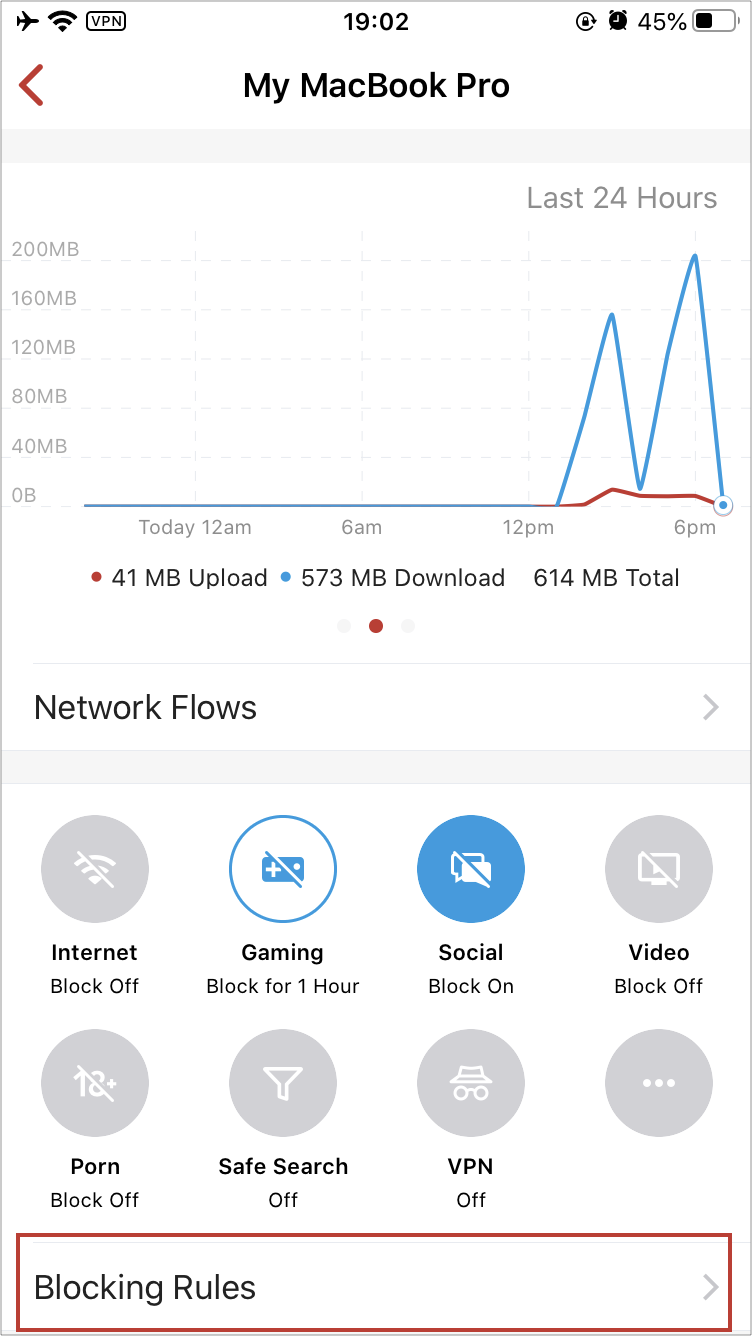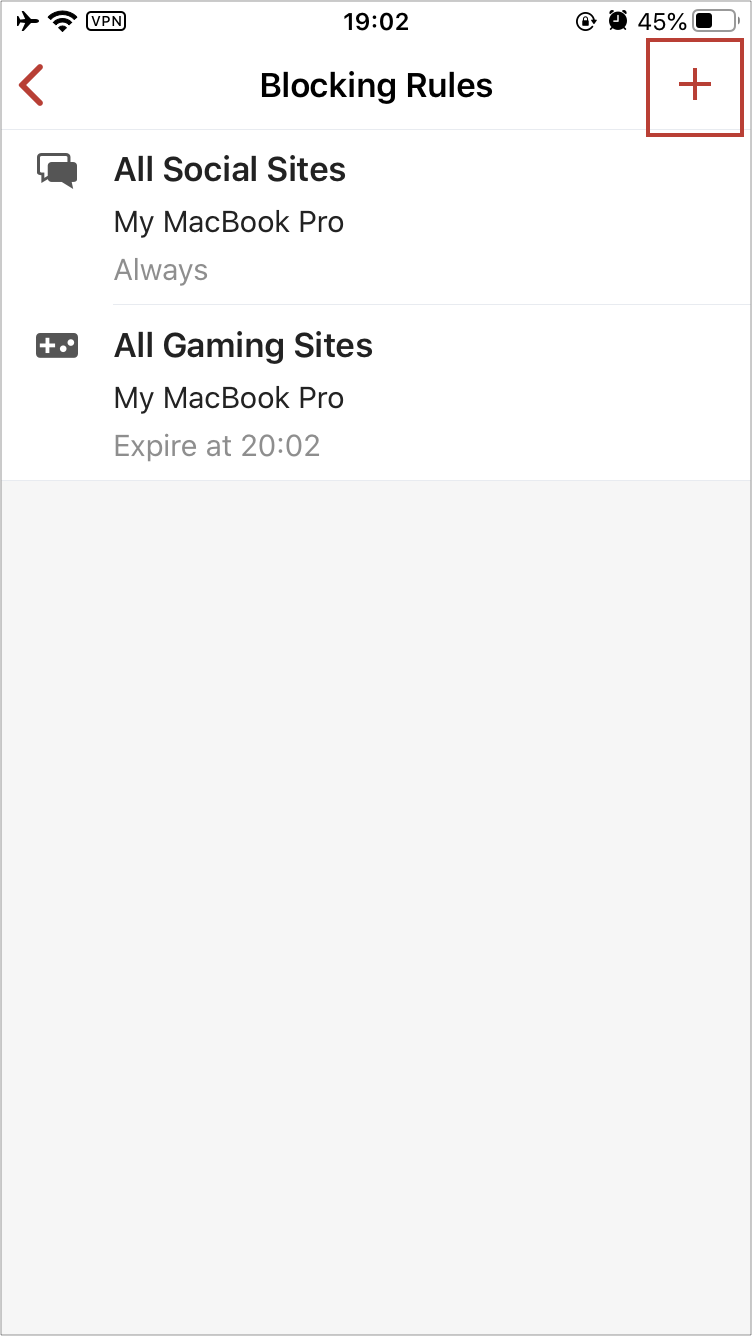 Blocking from Alarms UI:
Under the alarm that you want to Block, tap "Block" button. Determine whether to block for one time only, a specific domain, or a certain kind of activity, then tap on the choice.
By blocking access, Firewalla will create a blocking rule to the little box for determining how to handle similar activities when it shows up again, active time of the rule will be set as always, you can manage it in "Rules" page.