If you have a monthly data cap from your ISP, (or are experiencing network congestion) the following few features can help you stay on top of your bandwidth usage to avoid overage charges.
Disclaimers:
Firewalla measures the number of bytes excluding the IP (Internet Protocol Header) and MAC headers. Your service provider may measure differently. (Service providers may measure more since they are likely to include IP headers and MAC headers)
There are certain long-lasting (TCP connections that never terminate) which will get accounted for when the session is terminated. Your service provider may measure differently.
Please make sure you compare the number reported by Firewalla with your ISP's number
Firewalla will only measure devices with monitoring on.
Live Throughput
If the App is connected to Firewalla's local network, you can view the Live Throughput chart on the detail page of each device and network. It will show you how much throughput your devices are using in real-time. If you are using dual wan, you'll find two charts showing the throughput on each WAN separately.
The live throughput chart can also be found inside each device/group/network's detail page.
Note: If you are using iOS, and not able to see the live throughput chart when connected to the local network, the "Local Network" Access for Firewalla App is turned on:
On your iOS device's home screen (iOS 14 or later), tap Settings. Privacy -> Local network.
Turn on local network access for the Firewalla app.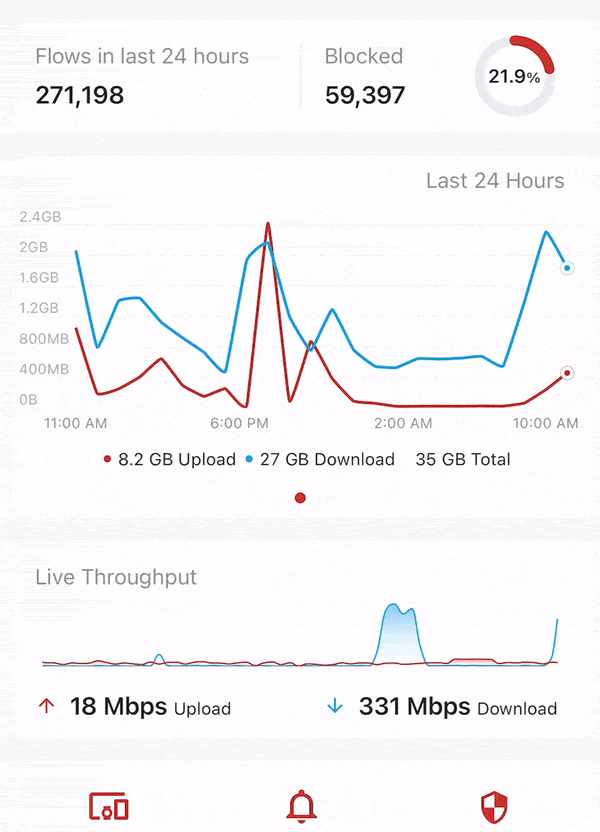 Data Usage
If you want to look into the data usage in the past, on your box's main page, scroll to the bottom of your screen, tap More, and you'll find the feature Data Usage.
This feature will show you a monthly data usage chart and a daily usage chart, you can tap on each chart to drill down and see the detail, so you can trace back and compare your data consumption with the previous months.
If you have the "monthly data plan" feature enabled, the monthly cycle will be calculated based on the reset date of your data plan.

Monthly Data Plan & Alarm
If you have a monthly data cap from your ISP, inside the data usage feature, tap to turn on Monthly Data Plan, and fill in your data plan and the reset date accordingly.
Data Usage Plan - Based on your monthly data plan, set a limit or threshold
Reset Date - When to start the tracking of a new cycle
In general, it is a good practice to set the limit 20% lower than your ISP limit. (For example, if you have a 1T limit, set 800GB). And always use the ISP number as the standard.
After Monthly Data Plan is enabled, you will find a new widget on your Box's main screen. It shows you how much data (and its percentage) has been used in your current month, and how many days are left in the cycle. You can tap on the panel and enter the data usage page directly.

Monthly Data Plan Alarm
If you'd like to receive alarms when the data usage exceeds 80%, 90%, and 100% of the threshold to avoid overage, make sure the alarms setting is set to Send Both Alarms & Notification.
Example:
The network has consumed 148.16 GB during the month, and the data plan is set to 100 GB. When the data usage reached the 100GB threshold, Firewalla will generate an alarm. Below is a sample of the alarm.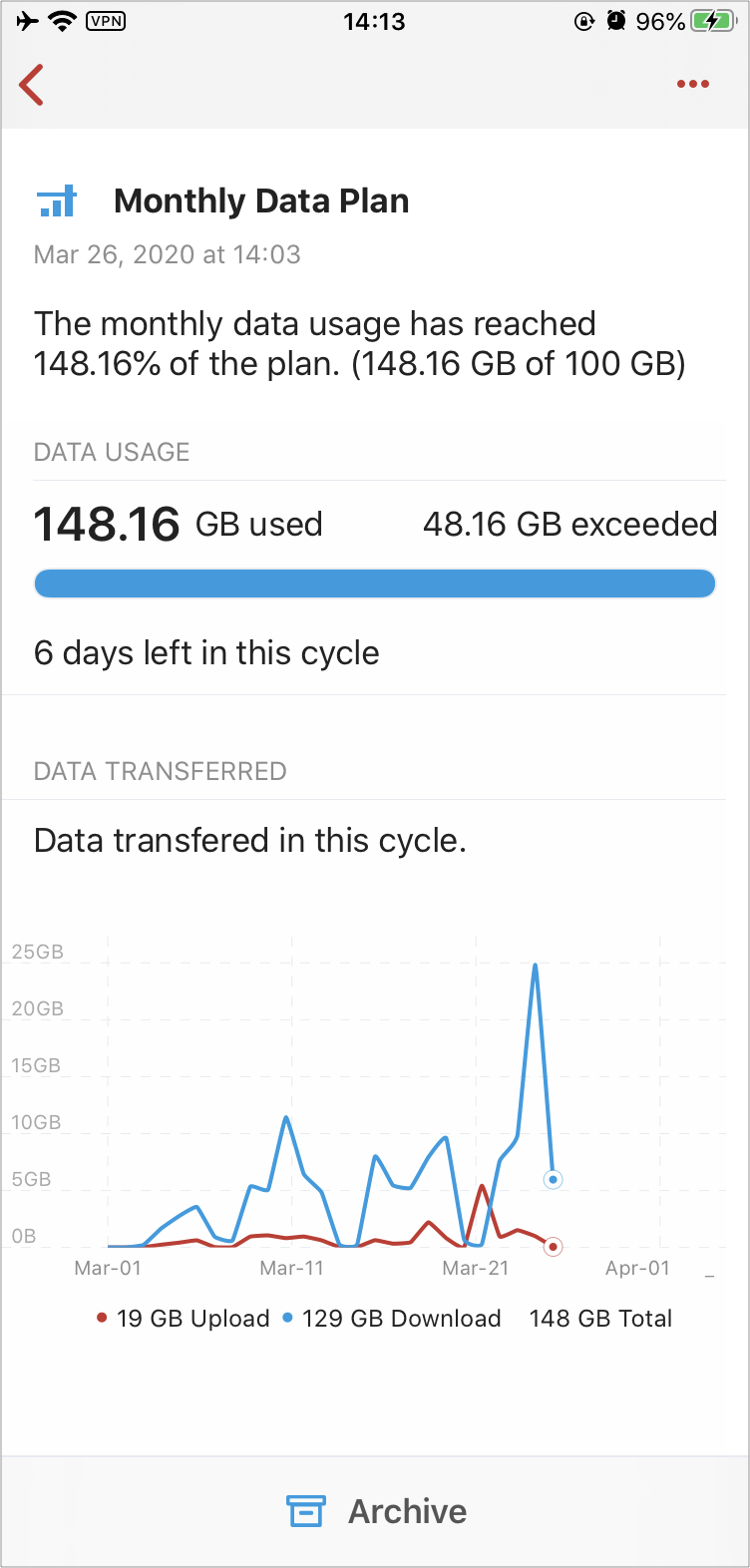 Large Bandwidth Usage Alarm
Left Netflix or Youtube running? Firewalla can notify you when a device has consumed a large amount of bandwidth over a short period of time. It helps you identify devices or activities that are draining bandwidth and take action. This type of alarm is on by default, it can be turned off in Alarm Settings.
The alarm will show the following:
Device - Which device is causing the alarm
Data Transferred - Data transferred on the device in the last 24 hours
Top Destinations - Top 5 destinations based on the data transfer volume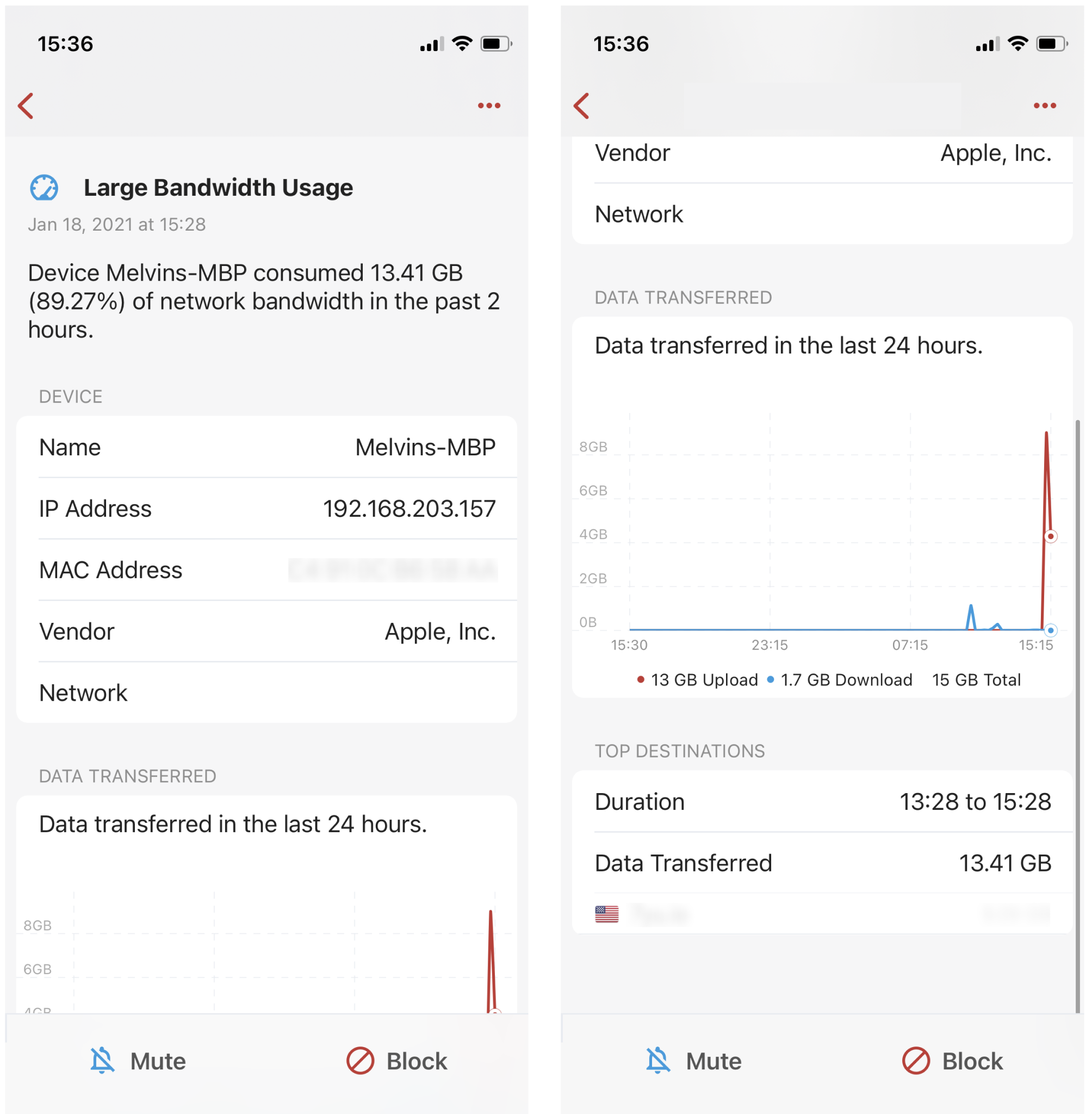 Finding Large Bandwidth Devices
If you want to know which devices are consuming the most amount of bandwidth, or which destinations your devices have been uploading data to, Firewalla App is now providing you with the insights.
Tap the Network Flows of any devices, groups, networks, or all devices, the App will show you the lists of top destinations and flows sorted by data downloaded and uploaded, the time range can be any specific hours or the last 24 hours in total. You can tap on any device or destination to drill down and view the detail. If you find any suspicious connections, just tap Block to stop it directly.
Top devices feature is in beta and requires box version 1.9732 and above.
Top destinations and top flows will be supported on all boxes.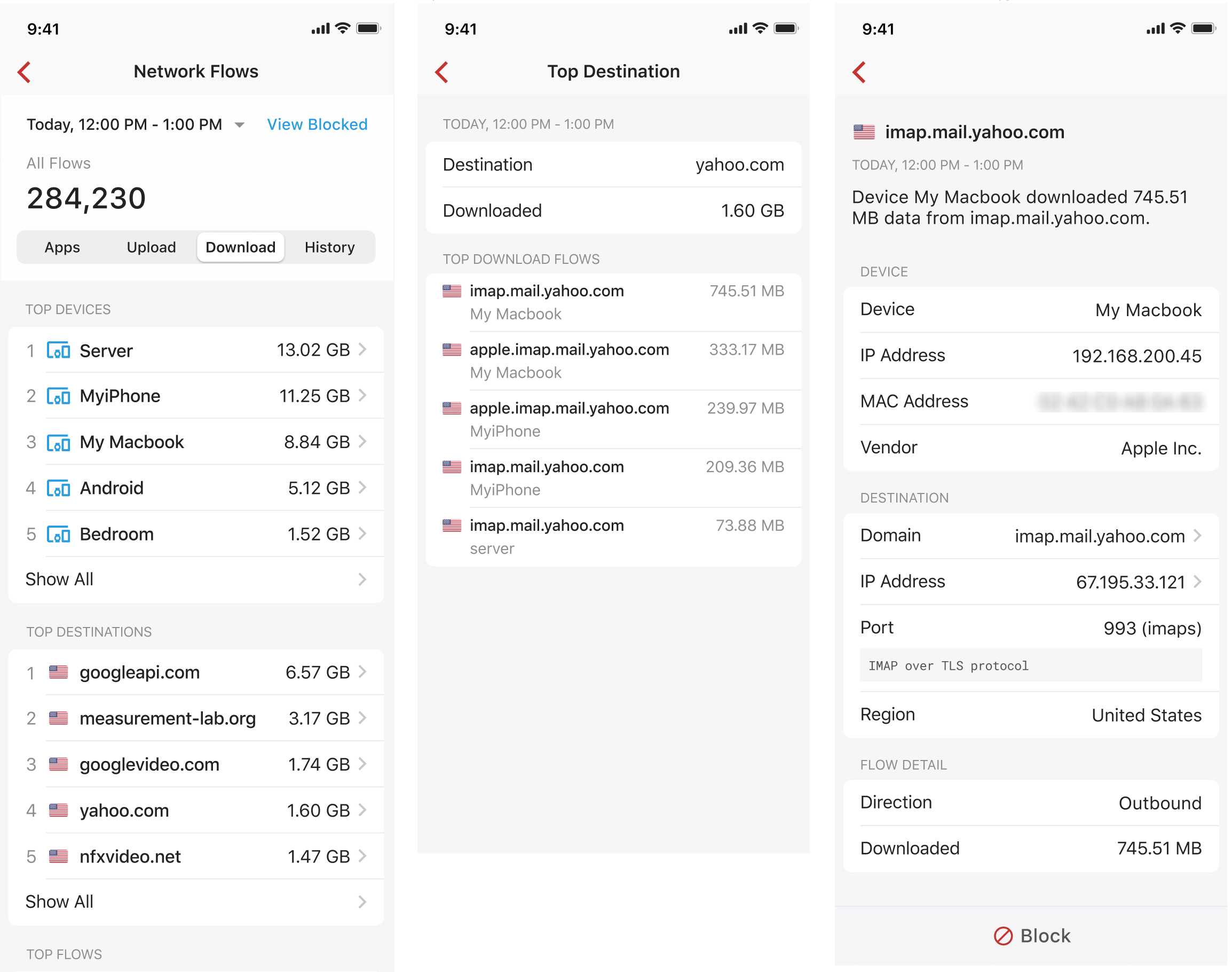 For box version 1.972, you can find which device consumes the most in the past 24 hours on device list.
Tap on Devices
Tap on the top right sort button
and sort on Top Download (or top upload)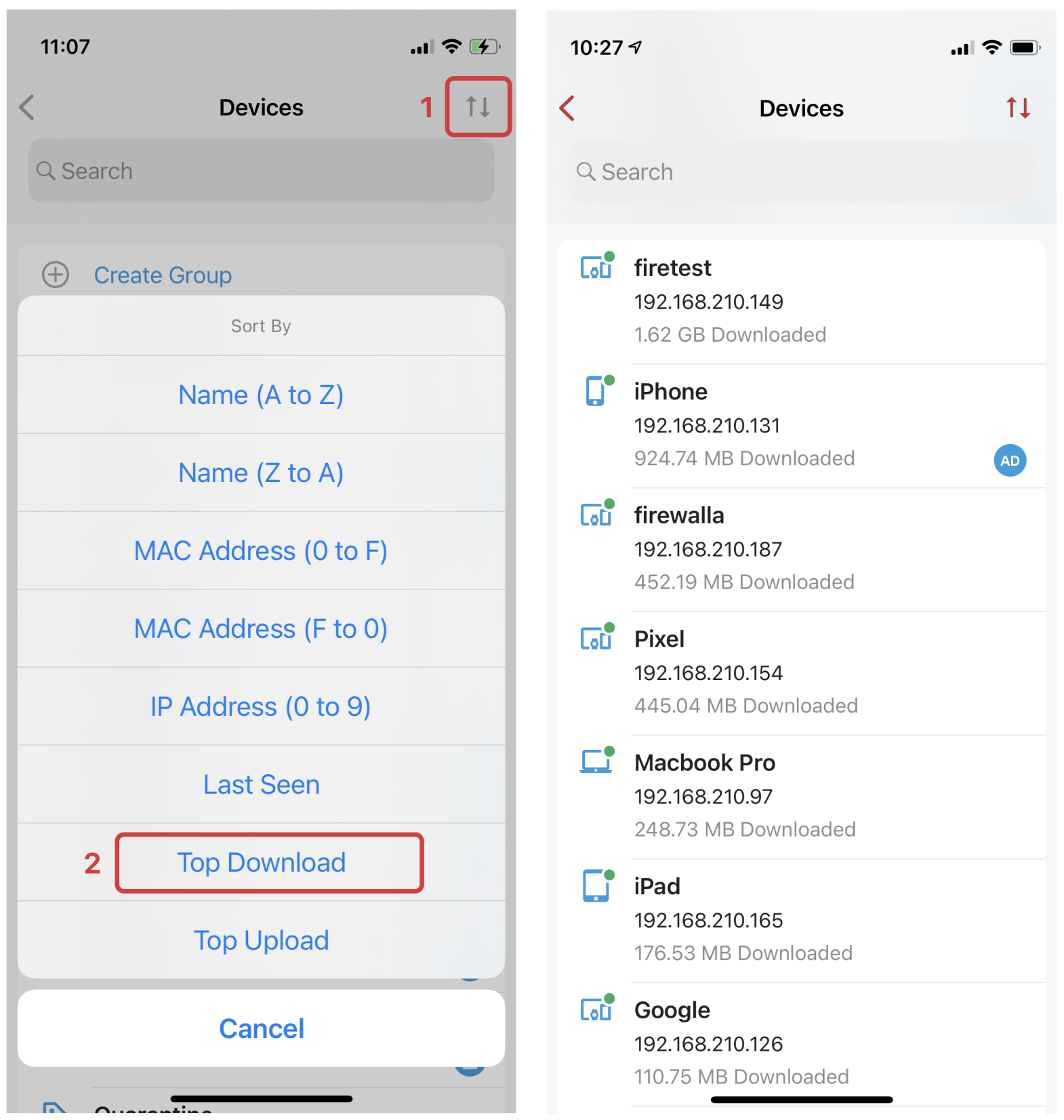 Firewalla Data usage measurement explained
Measurements from Firewalla as written earlier are done over the data size (excluding IP header and MAC headers). Your ISP is likely to measure the whole packet size, which means, you may want to reduce the total usage alarm by a percentage.
For example, Comcast is reporting internet usage as 922GB, while Firewalla reporting 836.04GB. In this case, the ISP is measuring 10% more than Firewalla.