Definition of Rules
A rule defines how you want to control network access for one or more devices. A rule has four basic elements: action, target, device, and schedule. It can be interpreted as the following:
Take an action on matching target(s) and apply to device(s) 
following a schedule
For example, if you want to block YouTube access on Melvin's laptop between 7-9 PM every day, you define a rule like this:
Action: block
Target: googlevideo.com
Device: Melvin's laptop
Schedule: 7-9pm daily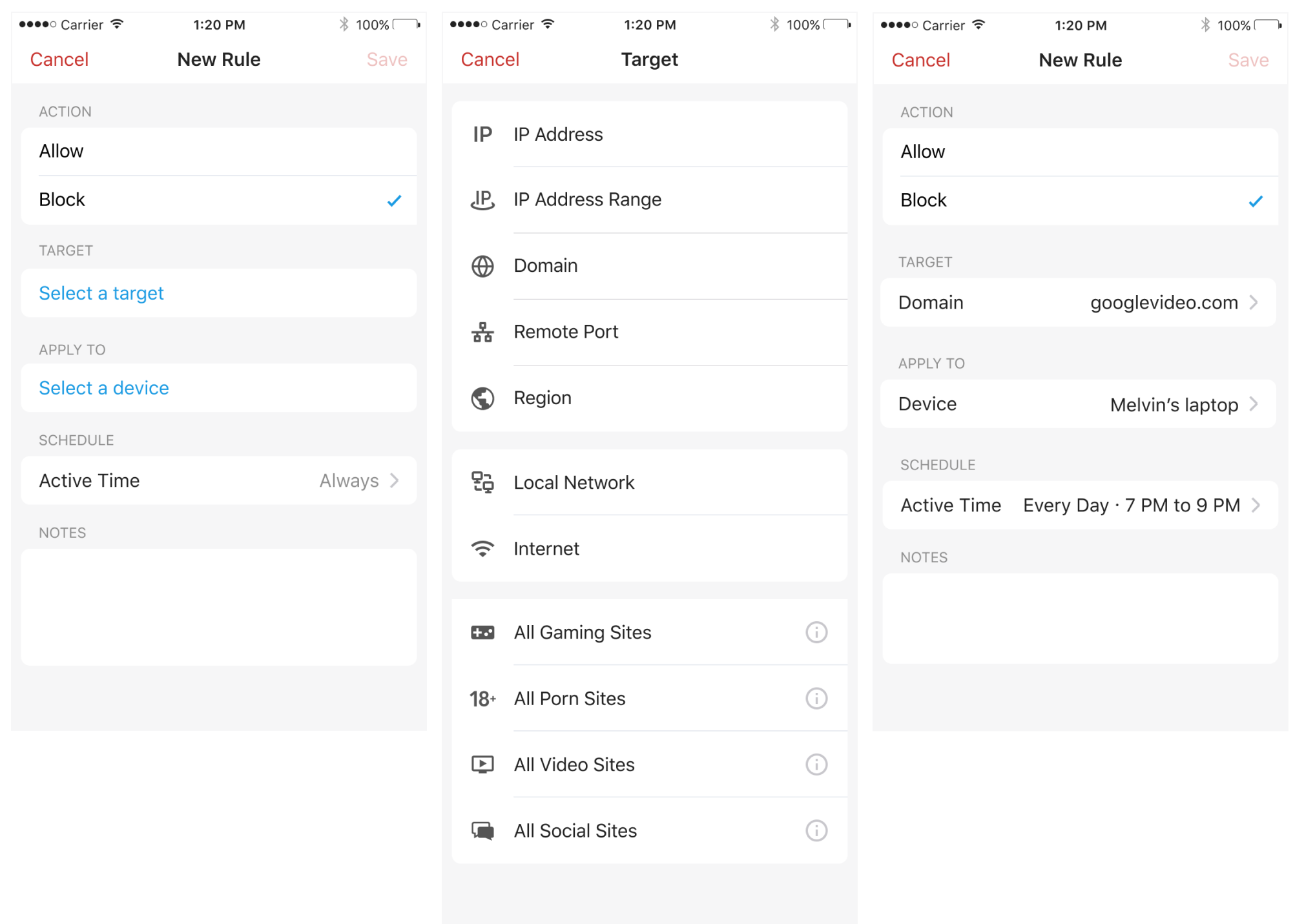 Rules List
All user-defined rules are shown on the Rules Listing screen under Home -> Rules. When you use the control buttons on the device home screen, such as block/unblock all gaming sites, a rule will be automatically created and appear on the Rules list.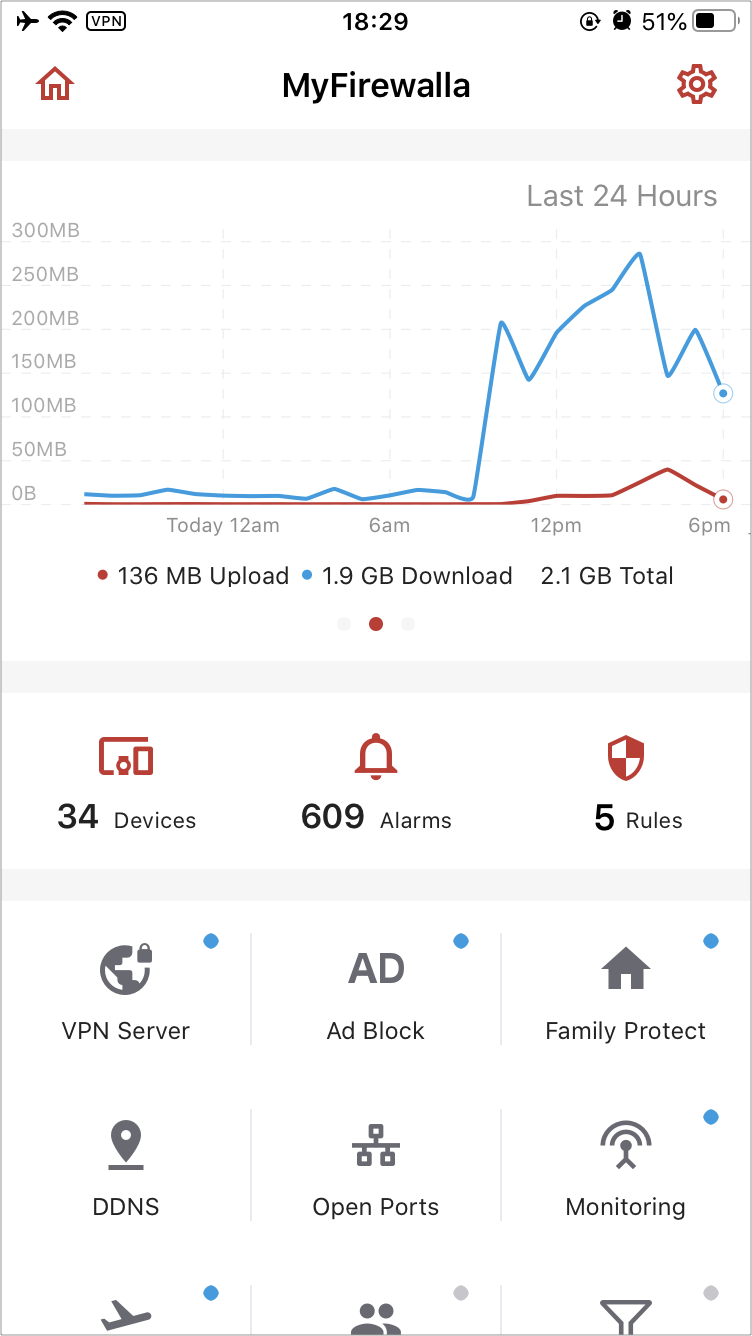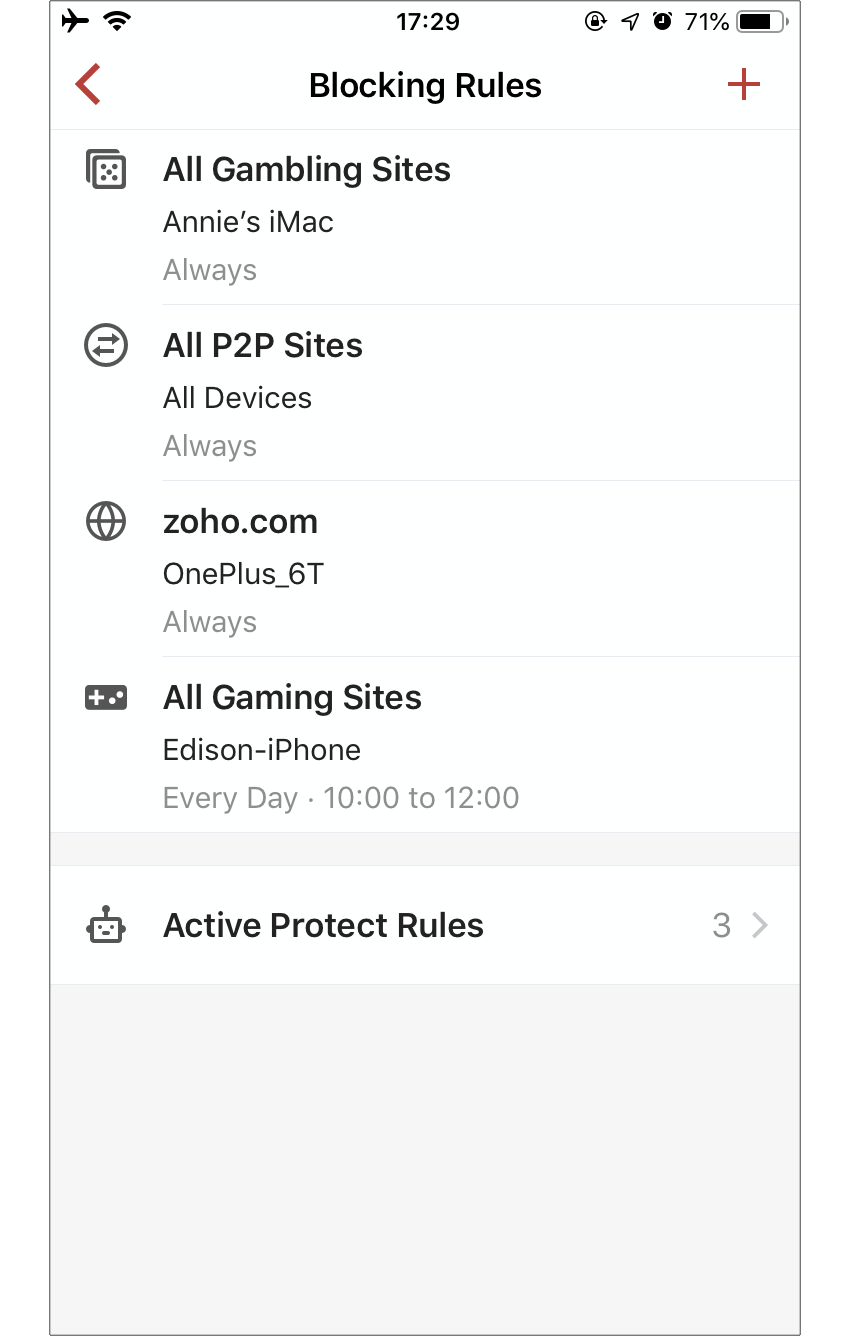 Create a Rule
To create a new rule, go to Home screen -> Rules button -> Add Rule. You'd need to specify the following:
1. Action
Action can be one of the following:
Allow
Block
Allow rules will always take precedence over Block rules and Ad Block feature. However, Allow rules will not be able to overwrite family mode blocked sites and safe search feature.
2. Target and Target Category
You can choose target(s) to allow/block based on one or a combination of the following items:
IP Address
Range of IP Address
Domain name
Remote port
Region
Local Network
Internet (all internet sites)

Domain Name: You can define the target as a domain (e.g. abc.com) or subdomain (e.g. x.abc.com).
When you block a domain, all subdomains and IP addresses mapped to the domain and subdomains are blocked as well.
If two different domains map to the same IP address, then blocking one would cause the other, seemingly unrelated domain, to be blocked as well.
IP Range: You can define a group of IP addresses by specifying an IP range in CIDR notation (e.g. 192.168.100.14/24)
Remote Port: You can block/allow certain applications using a port or a range of ports. For example, block remote port 6881-6889 will block p2p traffic (typical p2p traffic uses these ports).
Local Network: On Firewalla Gold, You can block traffics between local networks by selecting any local network -> Traffic from/to the local network, then apply the rules to another network or device.
Here are more details on How to use rules to segment your network (Gold only).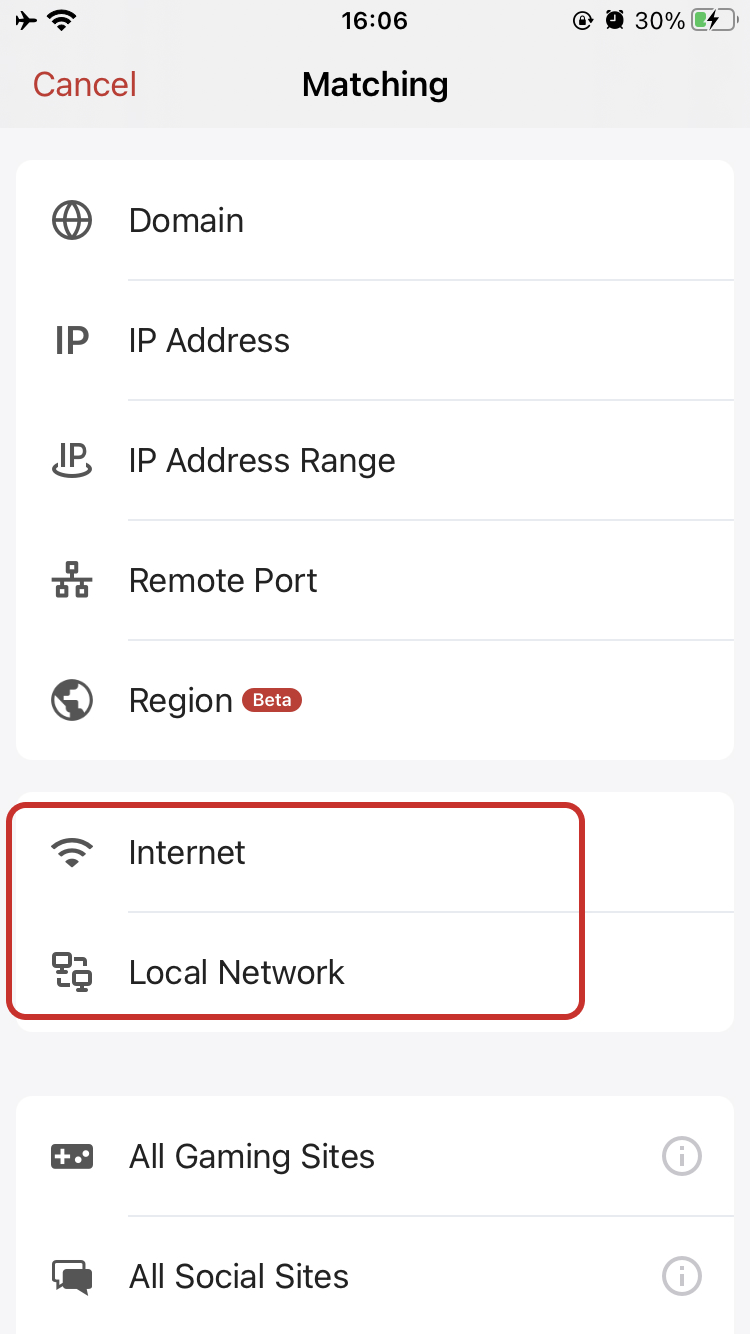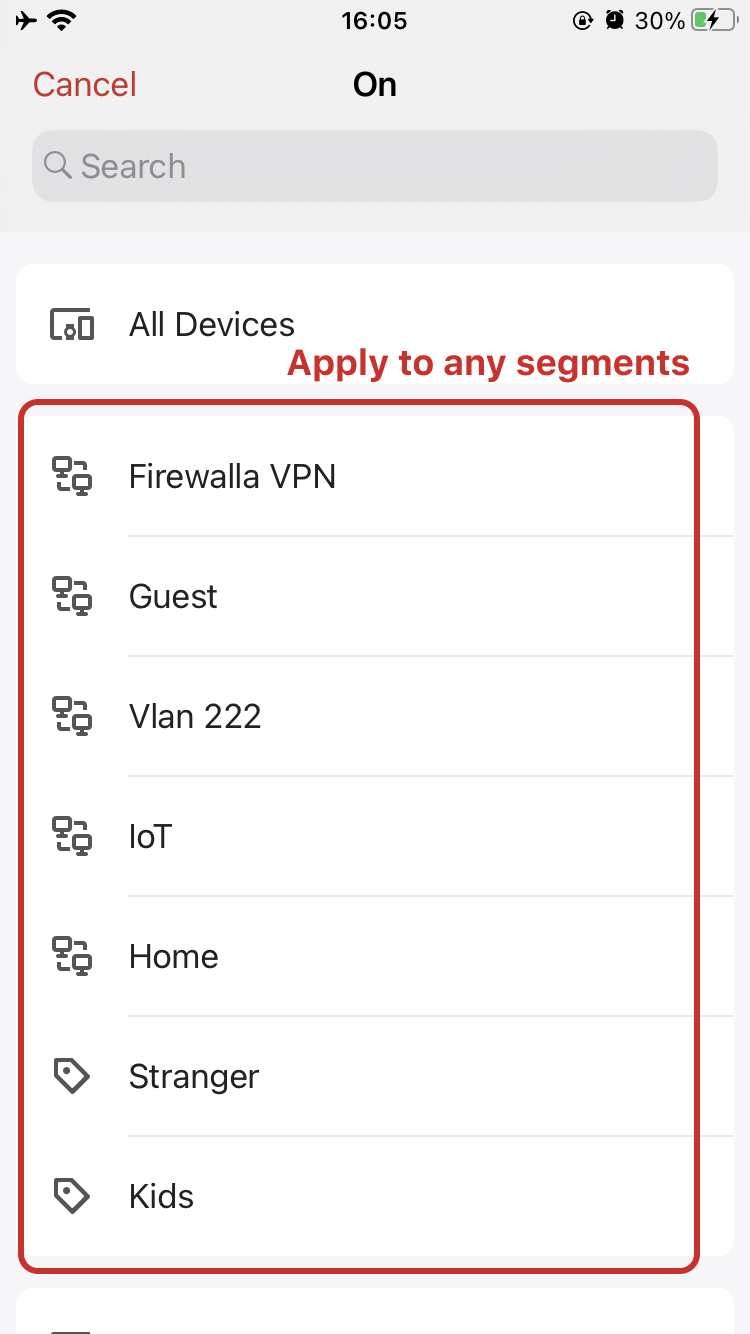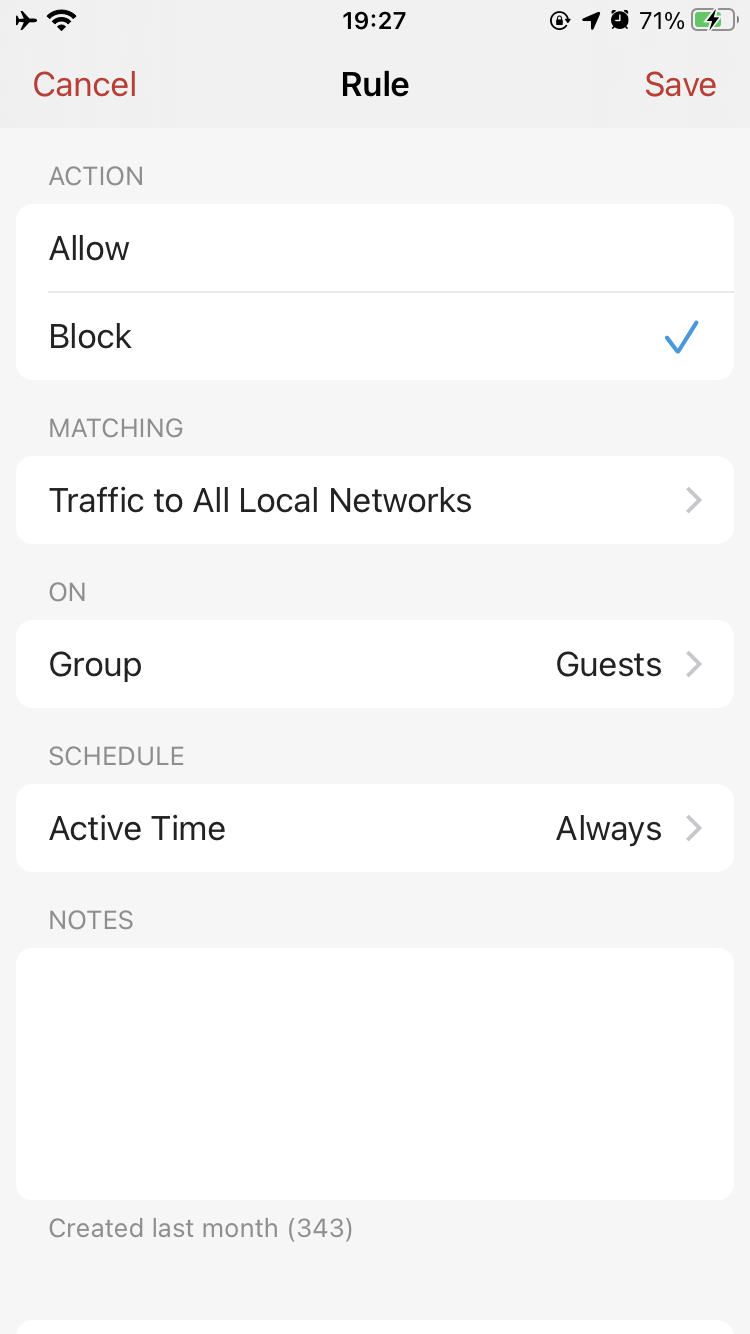 Target Category
You can also choose from a set of system-managed target categories. The following categories are supported:
Gaming
Social
Video
Porn
Gambling
P2P
VPN
Shopping
Each category contains a list of domains or IP addresses associated with specific types of activities. Firewalla automatically populates the list in each category by learning the traffic in your network, but you can also view and edit the list manually.
The list of target categories can be found on the Target screen. Tap on the "i" icon next to a category, you will see all targets included in the category. Tap on "+" to add a new target, or tap on an item to see the delete option.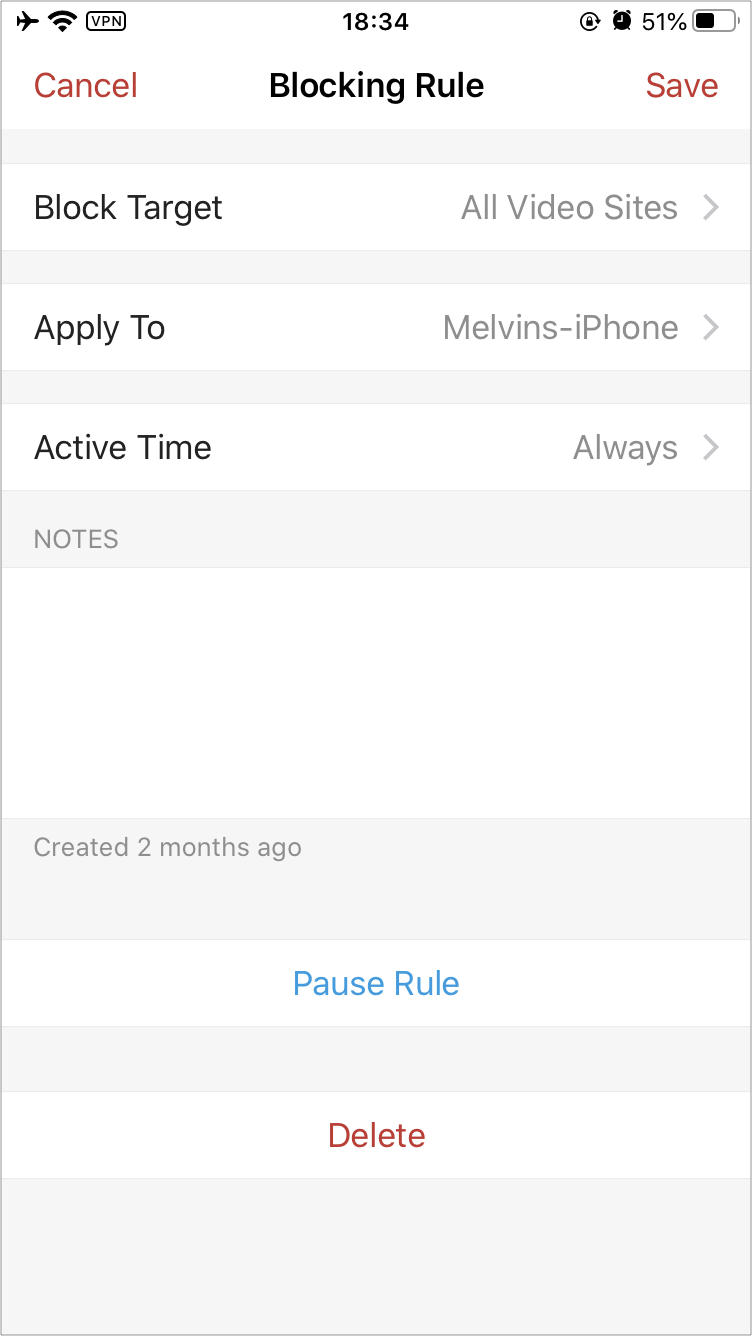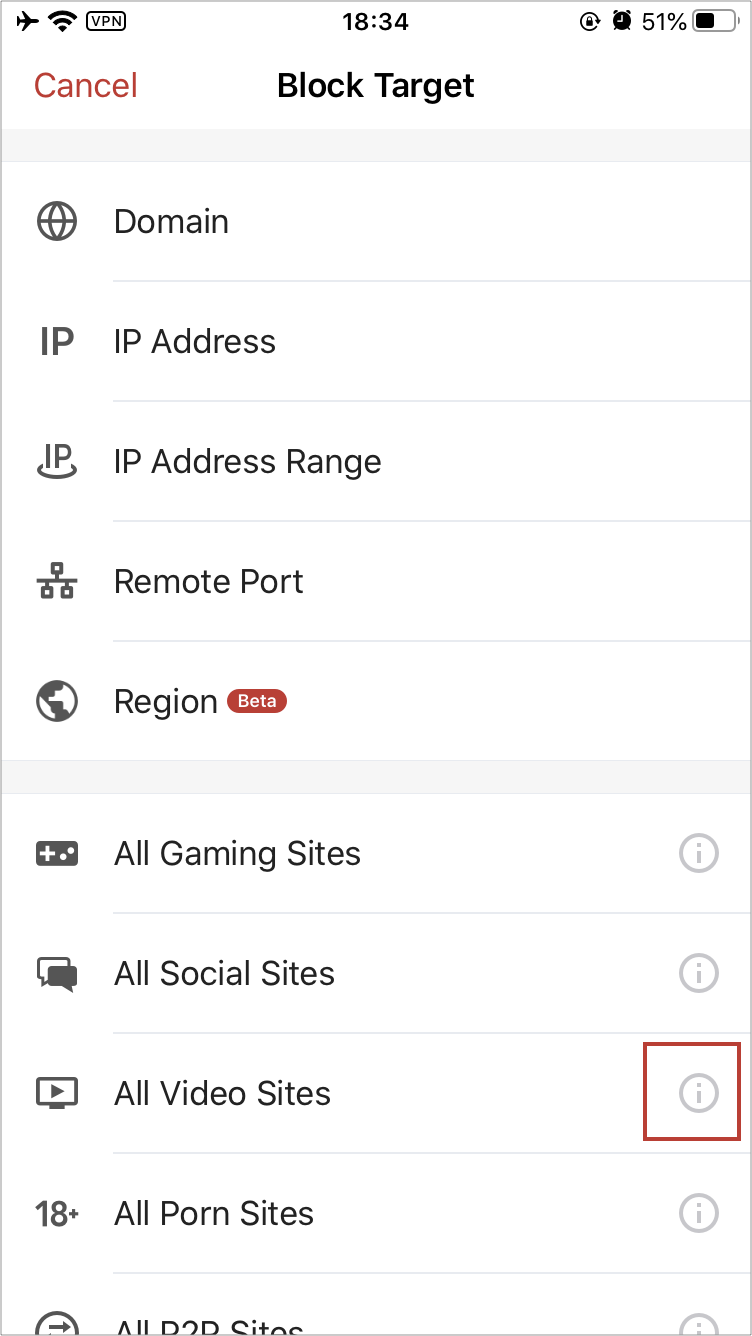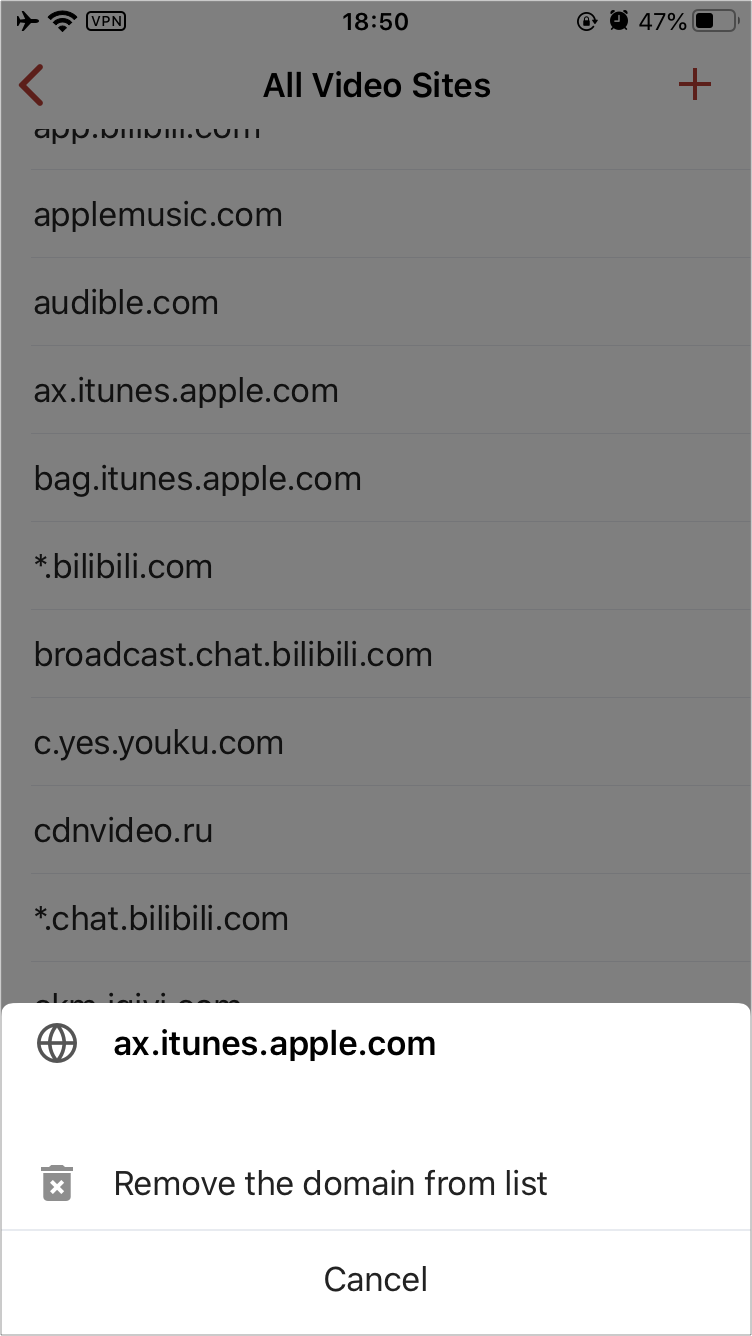 For example, you've blocked "All Video Sites" for your phone, but iTunes Apple store is automatically included. If you want to be able to access the iTunes Apple store, you can simply remove this destination from the All Video Sites category.
3. Apply To (Device)
Once you've defined the target, choose which device(s) to apply the rule. You can select:
4. Schedule
The active time of a rule can be set as "Always" (never expires unless deleted), "One-Time-Only" (expires after configured time), or recurring following a daily or weekly schedule.
For example, if you want to block Melvin's iPhone from accessing Facebook every weeknight from 9 PM to 7 AM(next day), you can create a new rule:
block

target: "domain" -> "facebook.com"

apply to: Melvins-iPhone

schedule: "every week, Monday through Friday, from 9 PM to 7 AM (next day)"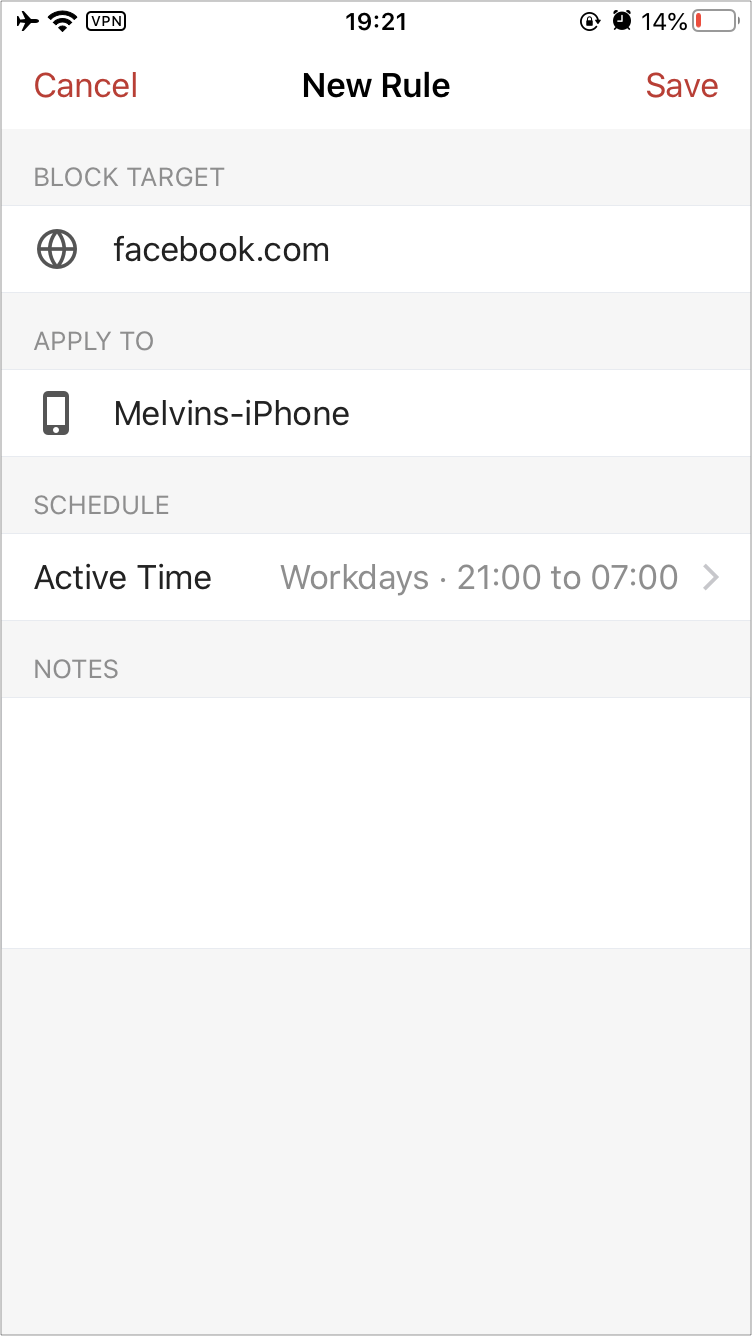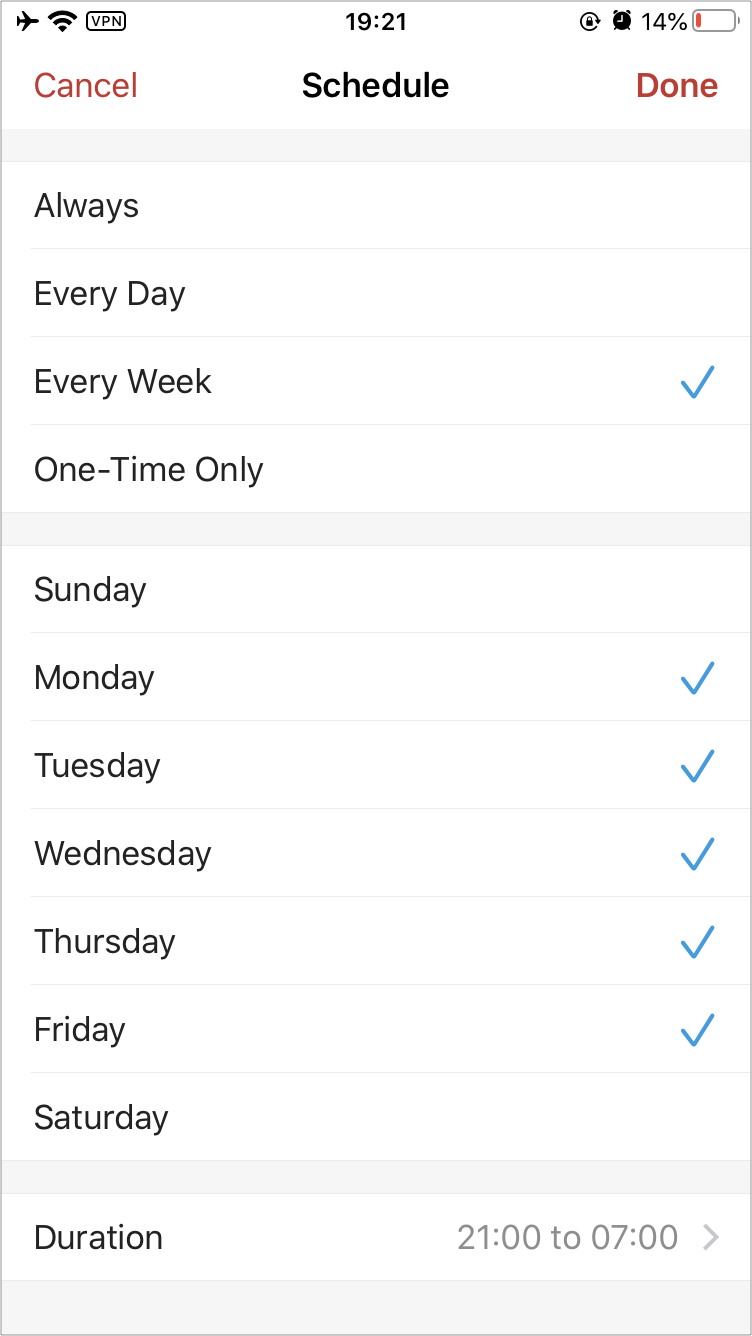 Delete / Pause a Rule
You can pause or delete a rule from the rules detail screen. Pause is useful when you want to temporarily disable the rule without having to delete or reschedule the rule.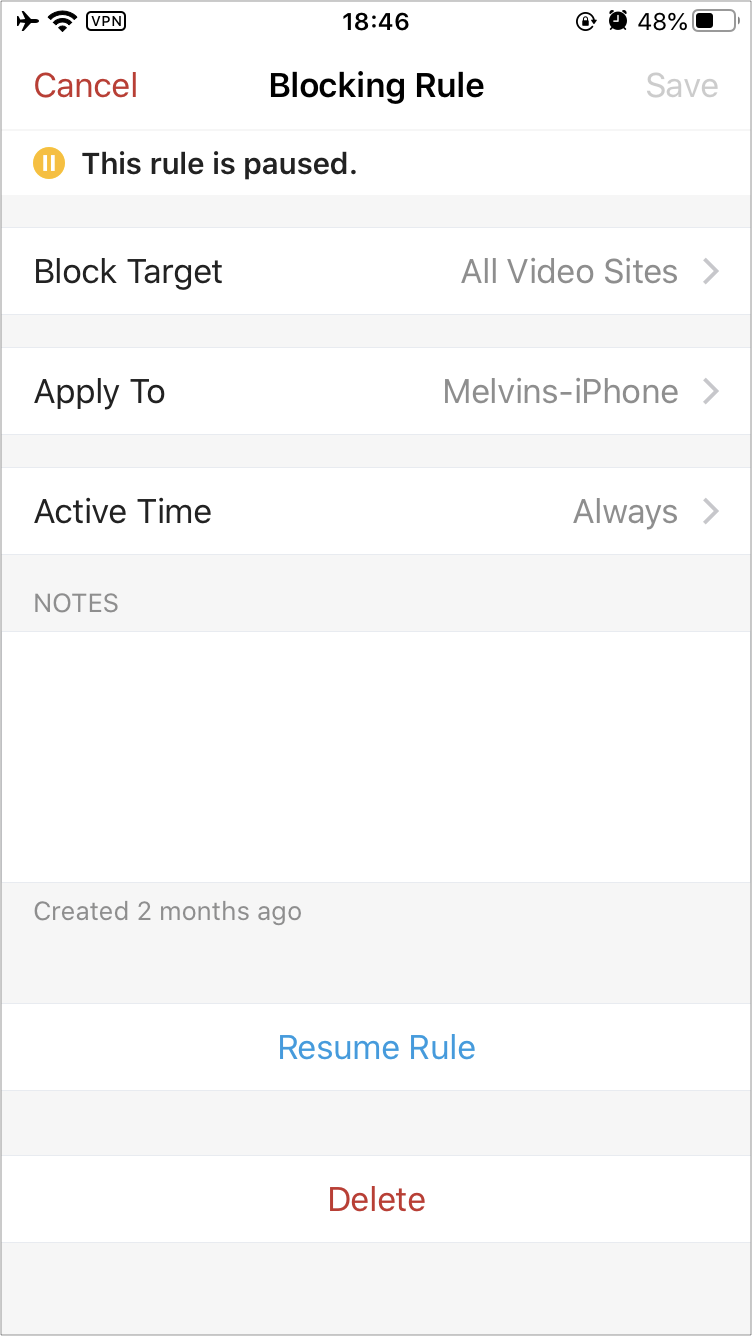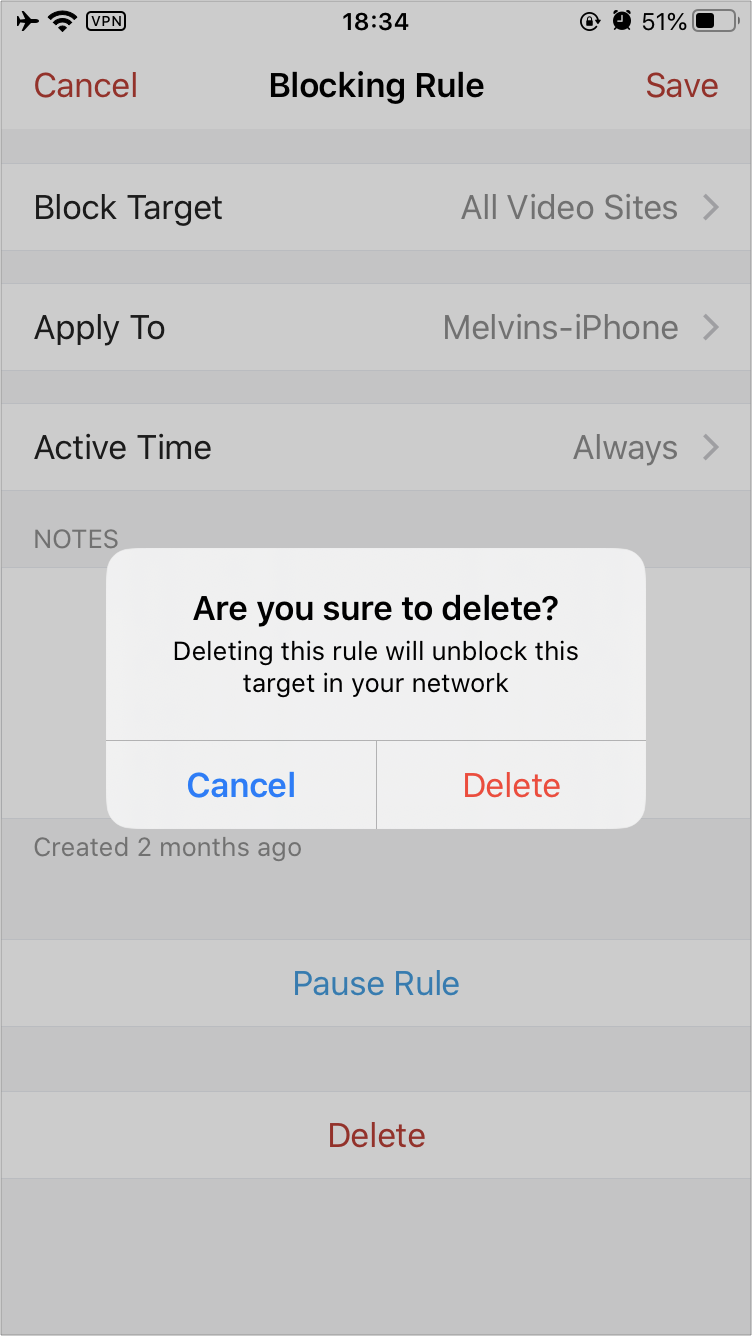 Add/Remove Rules at Device Level
You can easily block/unblock internet access for a device. On the device detail screen, there is a set of control buttons. You can block all internet access on this device or only block certain categories of access (e.g. Games, Social, Video activities). The button can cycle through "Block off" (unblock), "Block for 1 hour" (temporary block), and "Block on" (permanently block) with each tap.
All blocking rules activated by the control buttons will also appear under the Rules listing screen. You can also create additional rules on this device by tapping the "+" icon.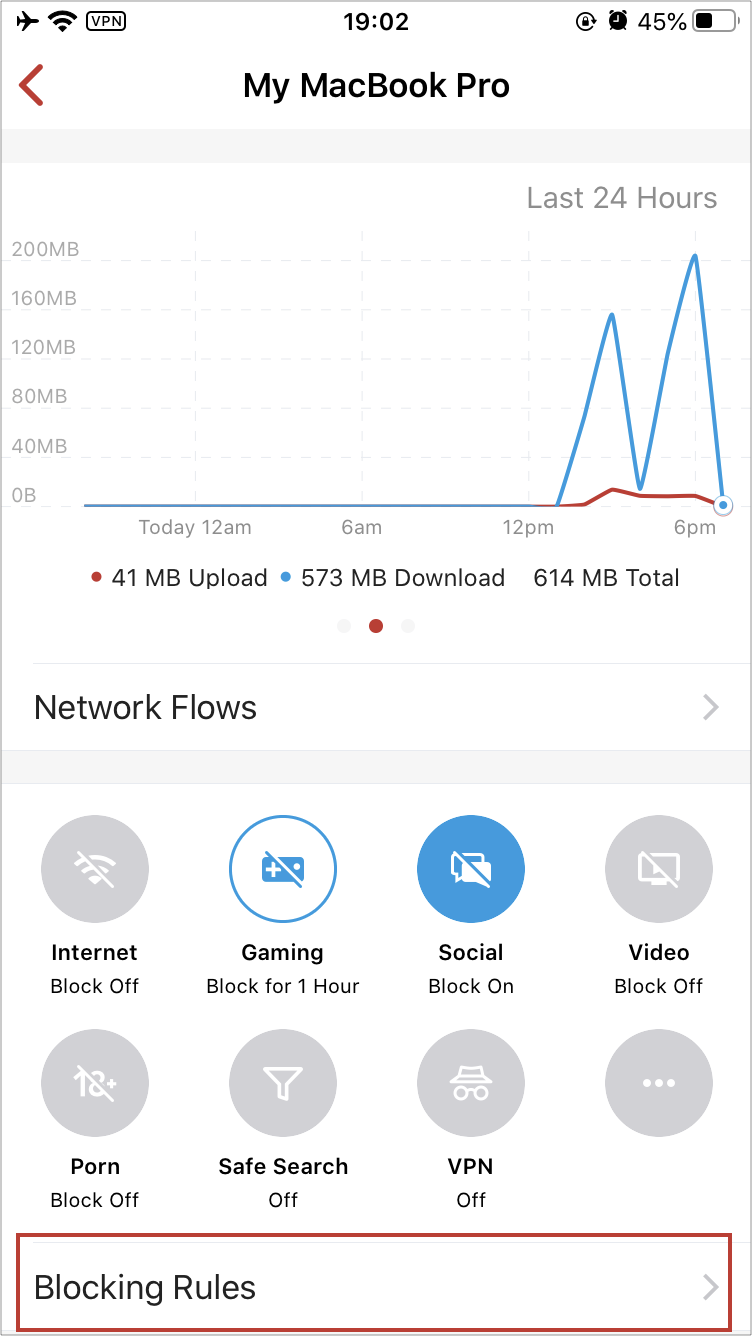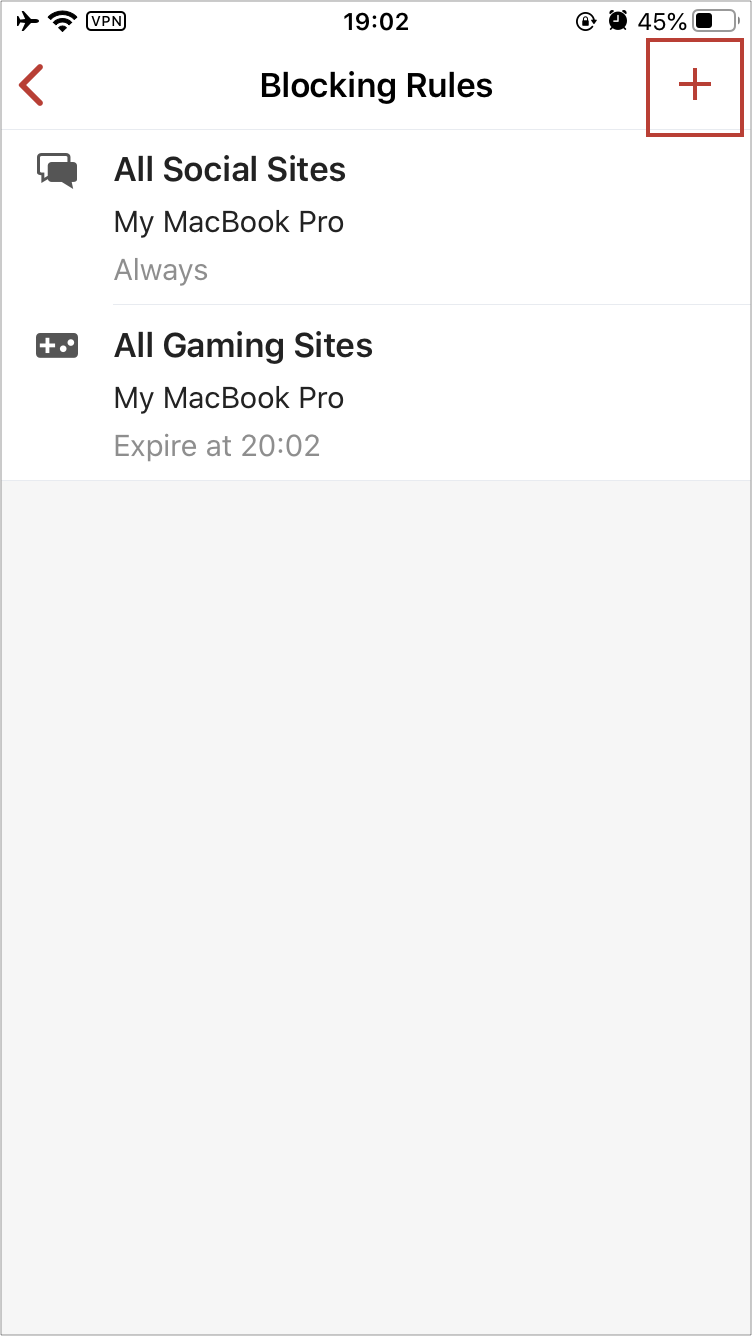 Block Rules Created from Alarms
When you receive an alarm, you'll see an option to "Block" under the alarm summary. Depending on the type of alarm, you may see multiple options under Block. In the following example, you can either choose to block the specific domain or block the type of activity (Gaming) altogether. Depending on your selection, a new rule will be created. You can view and manage the rule on the Rules screen.
Layered Logic in Rules
The operational state of network access on a particular device can be determined by multiples rules defined at different layers:
Rules for the device itself
Rules for the device group that includes the device
Rules for the network segment where the device is connected
Global rules applied to all devices
A network segment is a special device group. Its group membership is dynamic based on physical connectivity. Rules defined for a network segment will only apply to devices in that segment.
Device group membership is static. When a member device changes segment, it still stays with the group. Group rules apply to member devices regardless of which segment the device is in.
Rules Logic
The logic for rules processing is the following:
When a device joins a group, all previously defined device-level rules will be removed. The device will adopt the rules defined at the group level (block rules can still be created at the device level from alarms).
A device or device group will inherit the Network and Global rules if there is no conflict.
When there is conflict, device group rules will take precedence over Network rules.
When there is conflict, Network rules will take precedence over Global rules.
Rules Priority
Rules can be applied on different levels, and the priority of different levels are
device > group > network > global
At the same level, allow rule takes precedence over block rule. Therefore, if you allow a domain globally but block the internet on a specific device, the device still cannot access that domain.
Examples
1. If a segment has a rule to block games, and a device (or a device group) in that segment doesn't have a rule to block games, then the device will have games blocked.
2. If the above segment also has a region block on USA, then only non-US games can be played by devices in that segment.
3. if a segment has a rule to block games, and a device (or a device group) in that segment allows nintendo.com, then the device's rule overwrites the segment's rule, i.e. the device can play games on nintendo.com.