Firewalla's mission is to make managing different types of activities more effective and less intrusive. Whether you are at home managing your kid's internet access or at work managing your employee's activities, we want you to have complete visibility and control.
Example of Parental Control Settings


Network Visibility
The deep insight Firewalla provides can help you to "see" what everyone is doing.
Activity Alarms - tells you if people are playing games, watching videos, or visiting porn sites...
Online/Offline Alarms - tells you when your kids get home and connect their phone/iPad/computer to the home network. Learn more about Alarms
Network Flows - you can remotely monitor what people are doing online. Locate the device from the device list, tap the device name, and click to view "Network Flows". This shows what devices are doing, and for how long. Learn more about Network Flows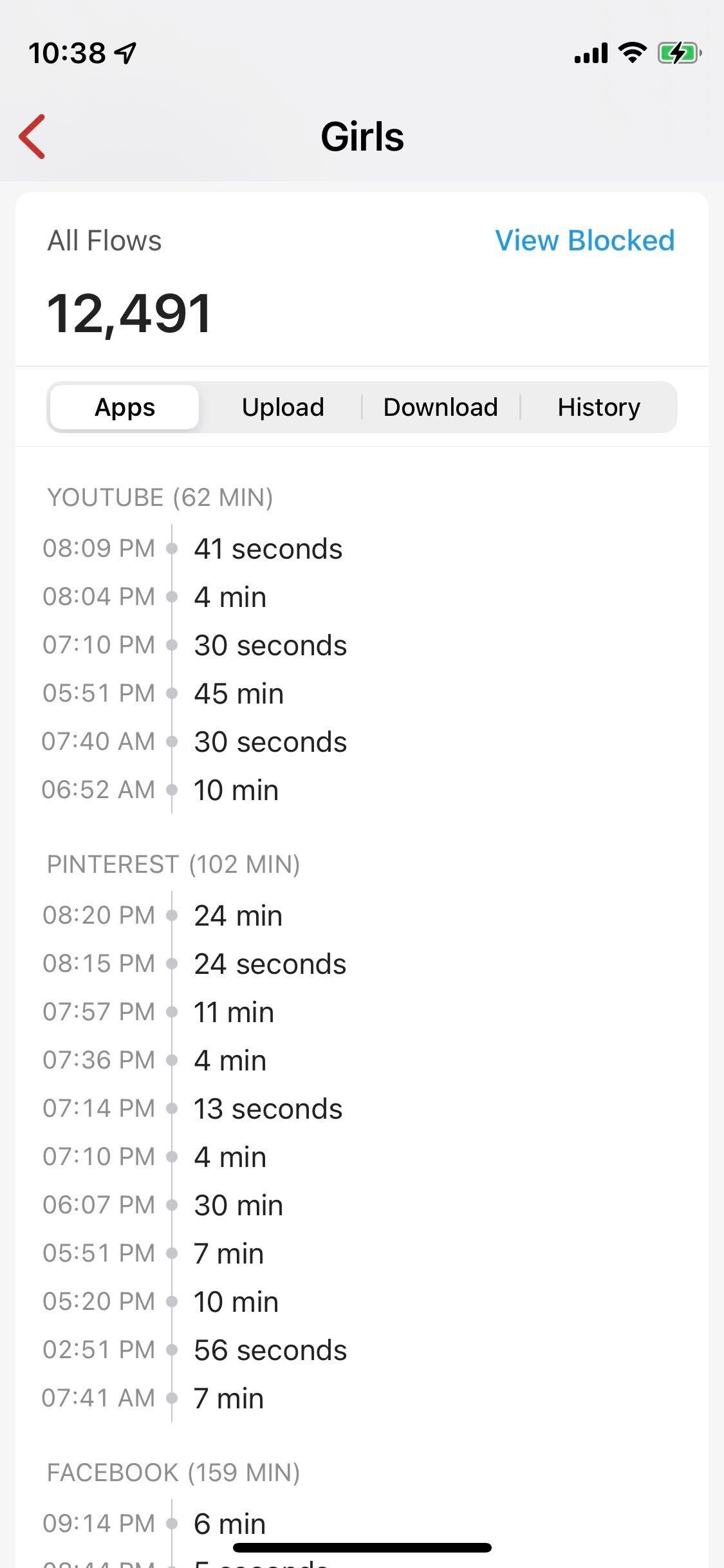 Using network flows can help you to gain information on what each connected device is doing. With a bit of knowledge of basic networking, you can detect and block any abnormal activities.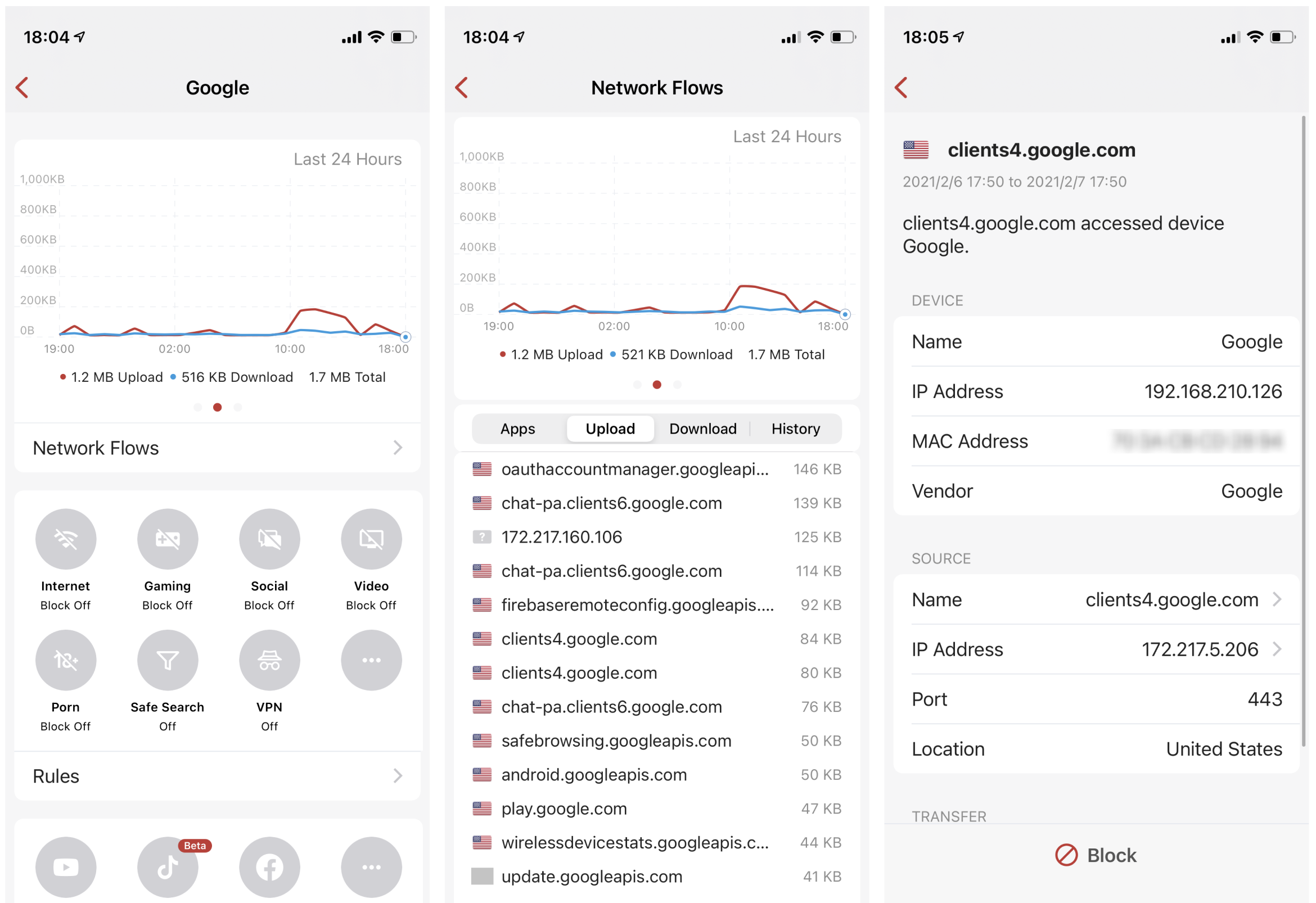 Note, Firewalla looks at everything that is happening on your network. Our customers have discovered that PS4s were downloading Porn and routers which were "phoning home" extensively sending suspicious amounts of data outside of the network.
Basic Controls
Out of the box, we provide some basic controls that you can use to block unwanted content from the internet. These features automatically identify and block inappropriate content for kids. You just need to turn them on, and Firewalla will do its job.
Safe Search - automatically filters out offensive content in search results. It supports popular search engines including Google, Youtube, Bing, and Duckduckgo.
Learn more about Safe Search


Family Protect - automatically blocks access to sites with porn and violent content. Learn more about Family Protect
Ad Block - automatically blocks pop-up or embedded ads (as much as possible) in browsers and mobile apps. Learn more about Ad Block
Social Hour

- temporarily blocks social networking access for one hour on all devices. One-tap to turn it on and you can enjoy some family social time.
One-Tap Category and Application Blocking
All the blocking actions are conveniently located on the device detail screen. With one tap, you can block permanently, block for an hour, or unblock access to video, gaming, social sites, and even Apps like Facebook, TikTok, etc.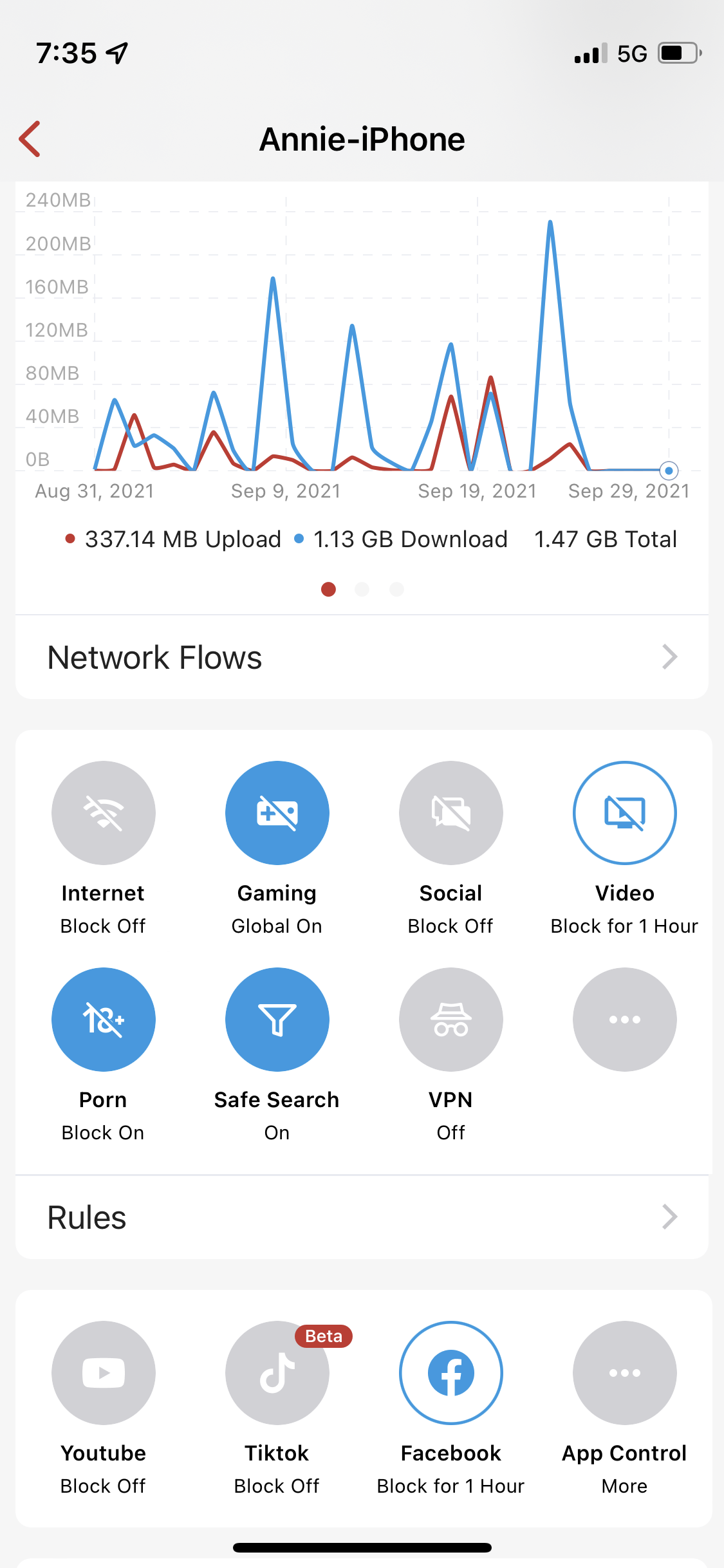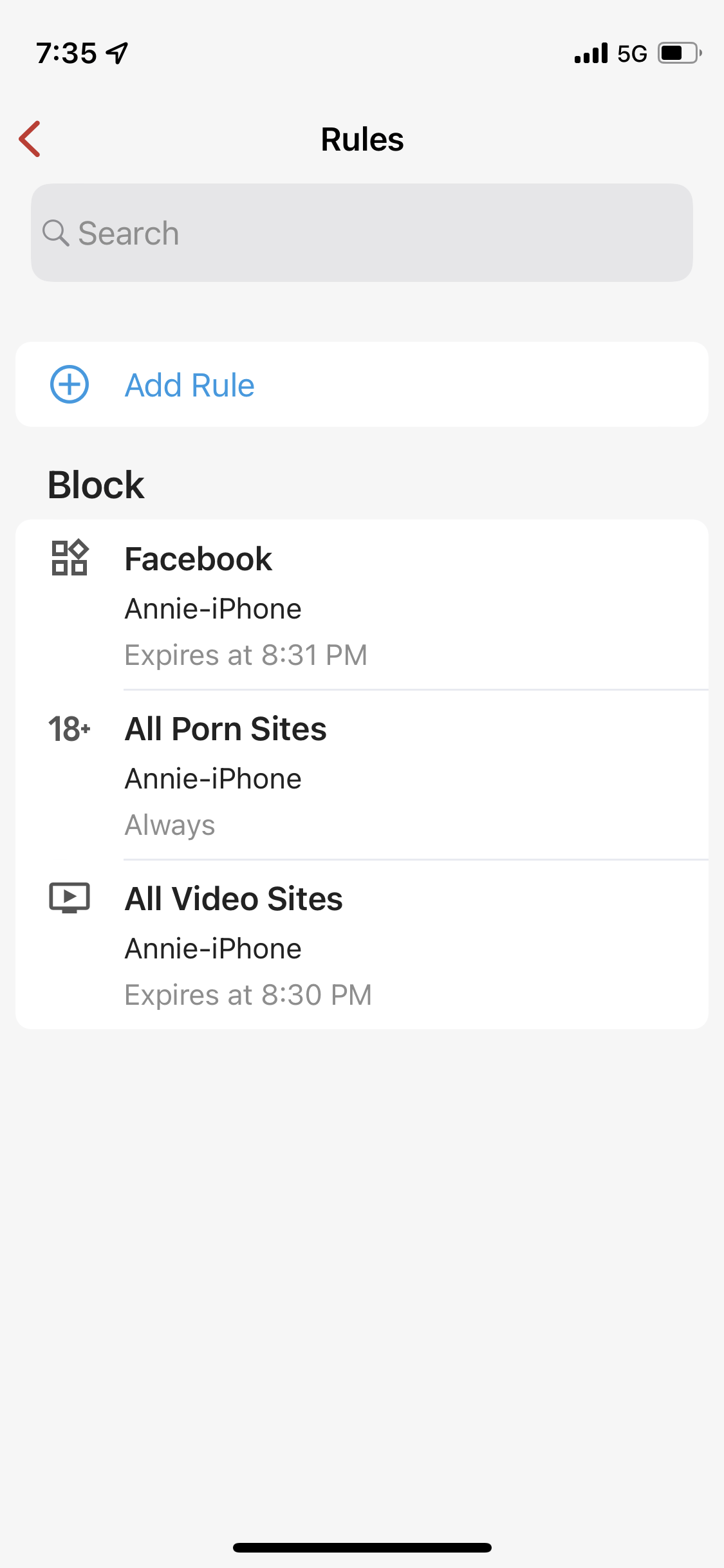 Advanced Controls
Firewalla also includes many sophisticated ways to observe and provide the network. You can create rules and policies based on specific target domains or activity categories, and apply them to individual devices or globally to all devices.
Rules
You can create a rule to block a specific activity category including:
Social networking
Video
Gaming
Porn
Gambling
P2P
or a specific target including a:
Domain name
IP subnet
Region
or better yet, specify the application:
Discord
Facebook
Instagram
Netflix
Roblox
Snapchat
Twitter
Tiktok
YouTube
... and apply the rule to selected devices or everyone on your network. Learn more about Rules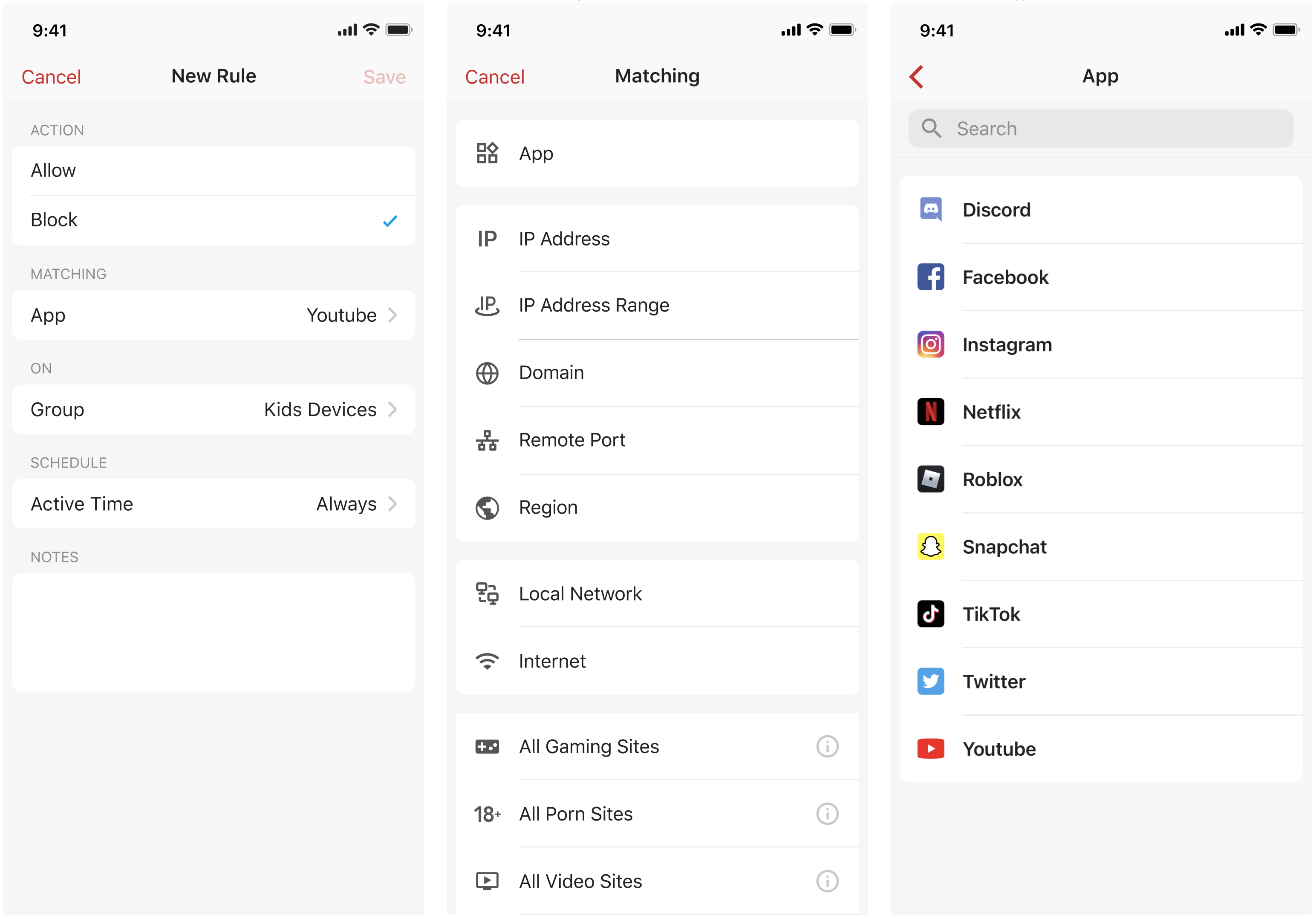 Scheduling Rules
You can also set a schedule for a rule to take effect. This allows you to manage internet access based on the screen time rules you have for the kids. Turn off some activities, but allow them to do homework or turn off the internet entirely. Your choice.
For example, if you want to block a device from accessing Facebook every night from 9 PM to 7 AM (next day), you can create a new rule for this device, with the target set as "domain" -> "facebook.com", then schedule the active time to "every day, from 9 PM to 7 AM (next day)".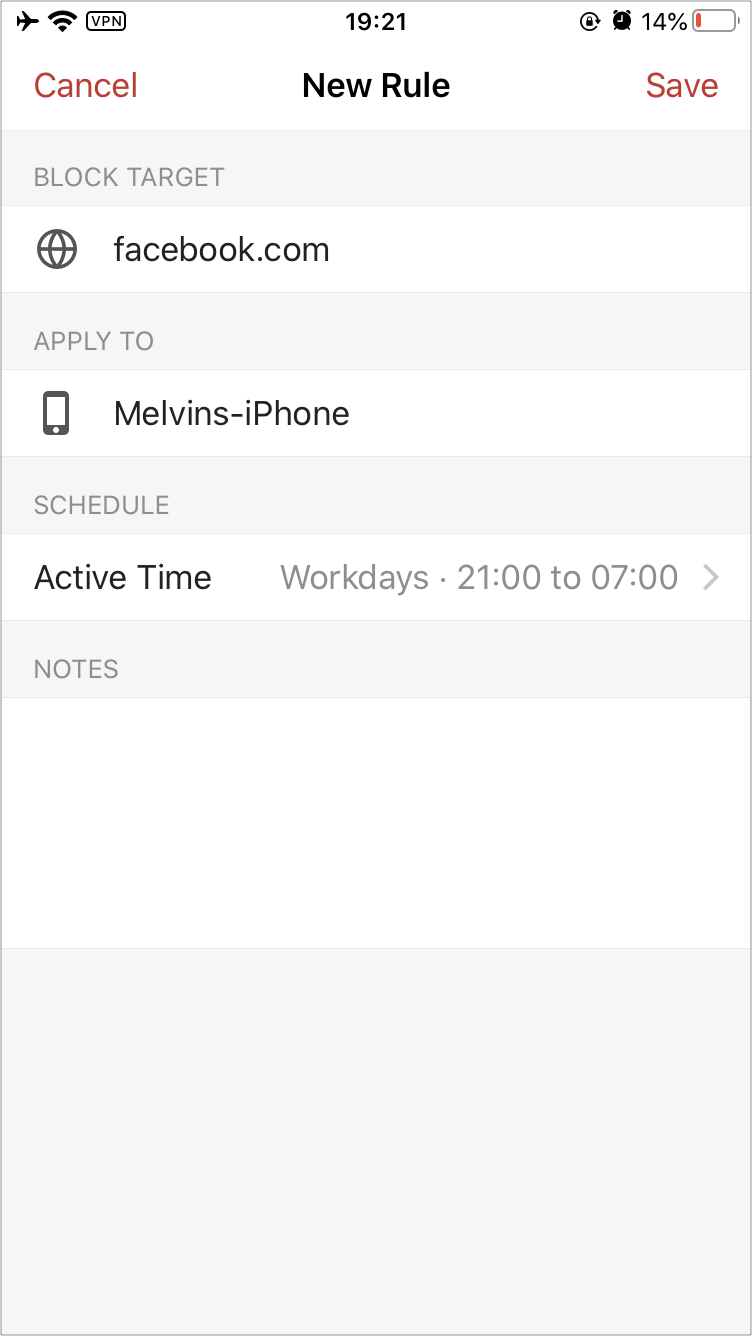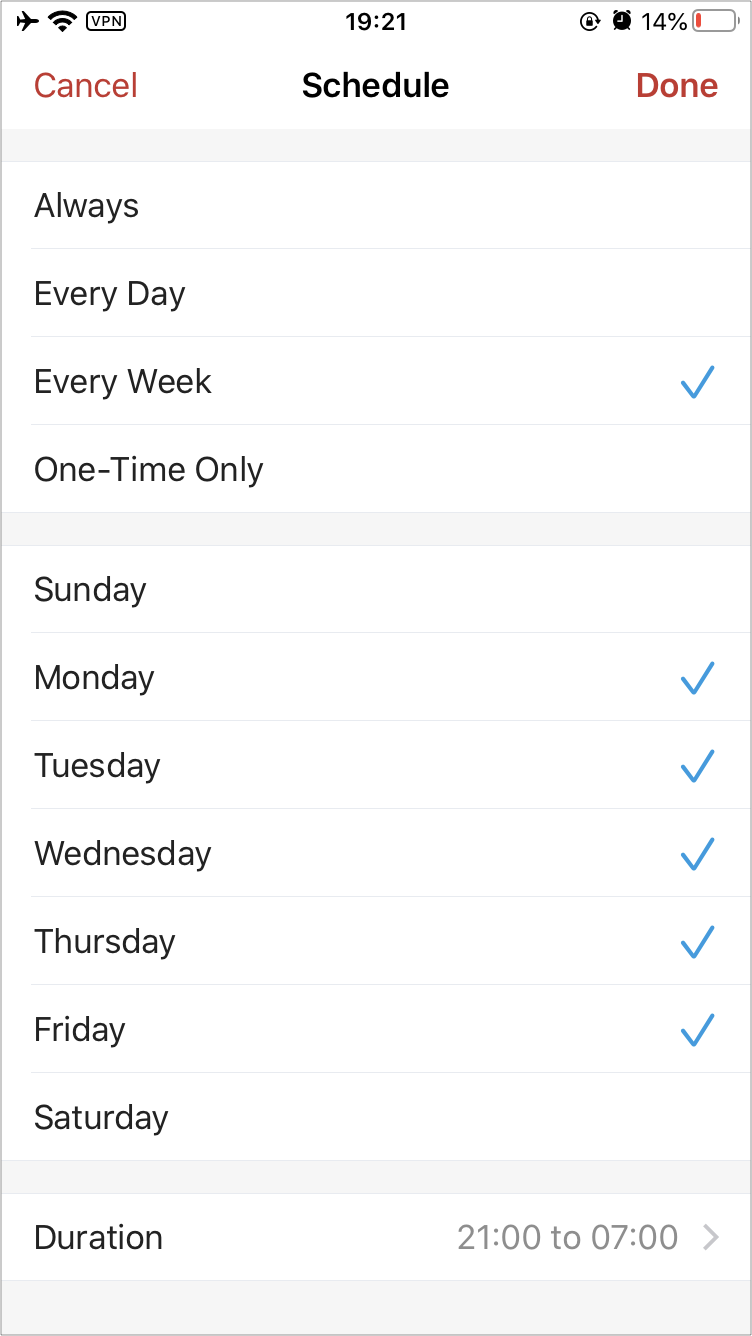 Emergency Access
Under each device/network detail page, there is an Emergency Access button to control whether a device's internet access is controlled by Firewalla. When turned on, it means Firewalla can no longer block you from accessing any site.


Scheduled Emergency Access to give kids extra hours:
Similar to pausing rules, emergency access can be turned on for 15 minutes, 1 hour, always, and more importantly, any custom time you'd prefer. At the end of the specified period, Emergency Access will automatically be turned back off. No more forgetting to turn off Emergency access.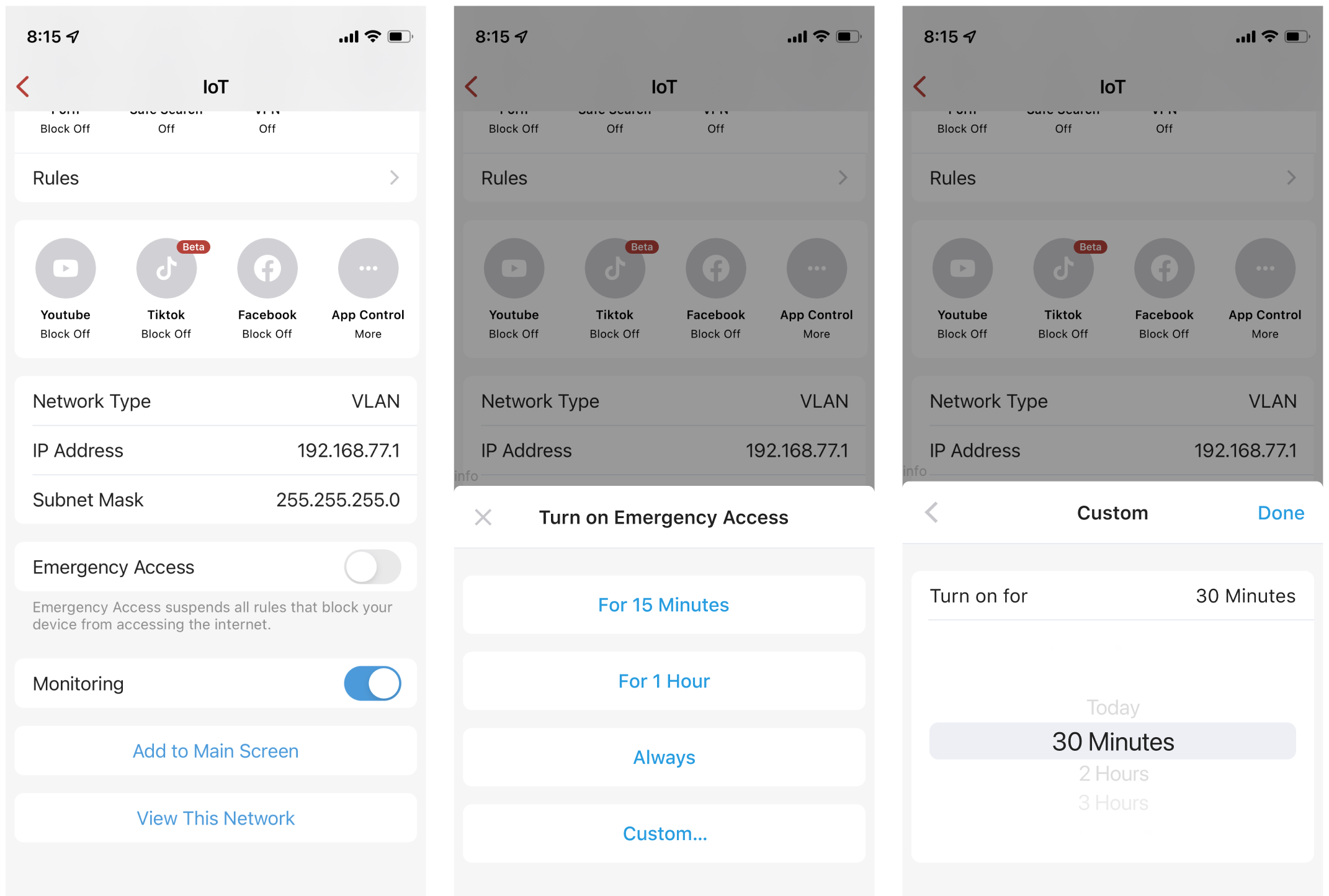 Smart Kids and Nosey Neighbors
If a device isn't recognized by Firewalla it could be an unwelcome neighbor looking for free Wi-Fi, a guest, or a (very) smart kid trying to get around your bedtime rules.
With Firewalla, you can decide how much to trust or not trust unfamiliar devices.
Private Addresses
Android, iOS, and Windows have a feature called, Private Addresses to protect consumers when they are on public Wi-Fi. Smart kids may try to get around the rules you set is to turn on Private Addresses to hide their identity. Firewalla allows you to shut off access to unknown devices using Rules and Device Quarantine.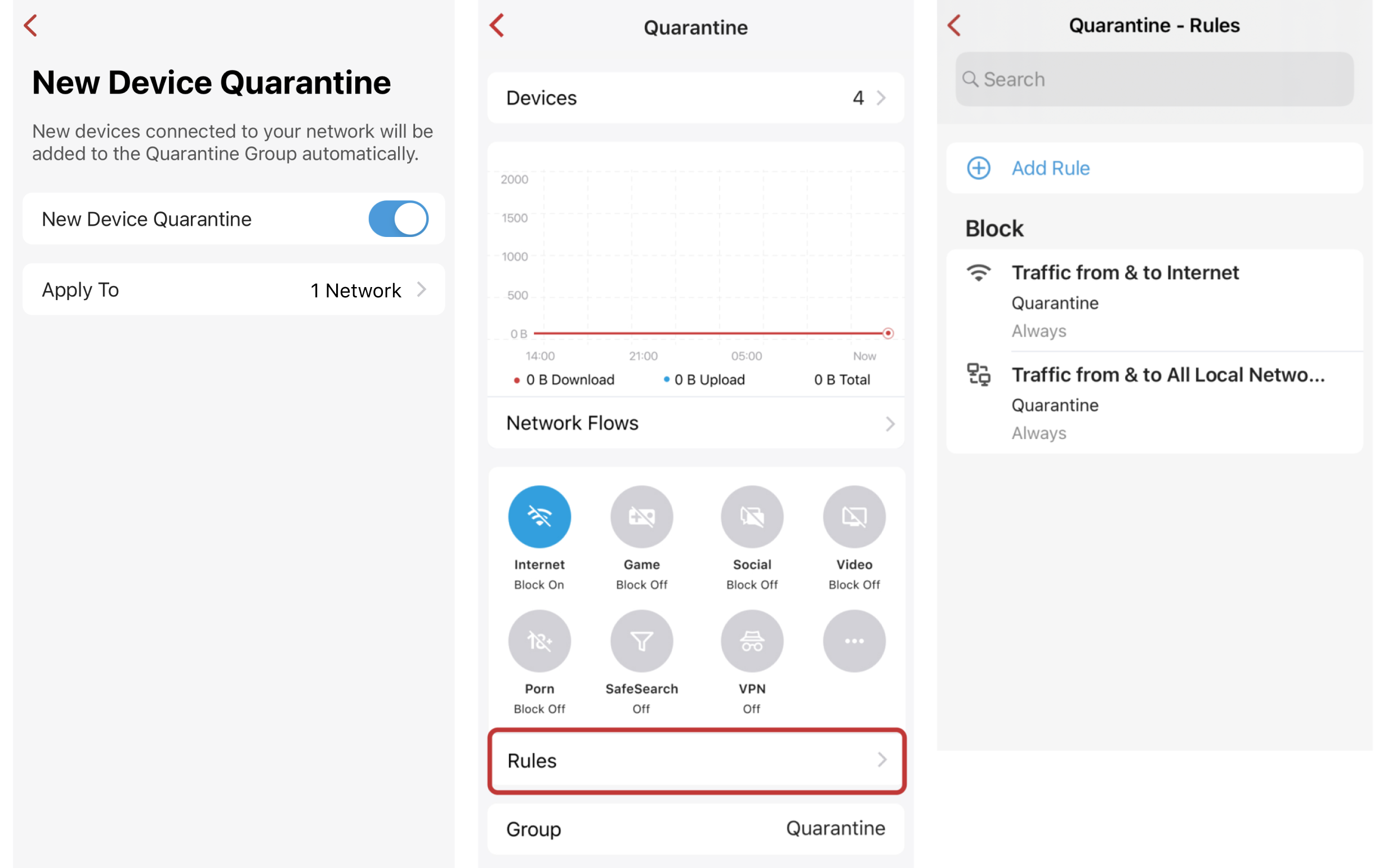 iCloud Private Relay
Apple's iCloud Private Relay is another way of protecting your privacy particularly on public Wi-Fi. Using it on your home network may mean Firewalla has less information about network traffic than it would otherwise have. If you wish, you can disable Private Relay with a Rule without negatively affecting users and you will be able to have visibility and enforce any rules or policies you wish. It is your network and your choice.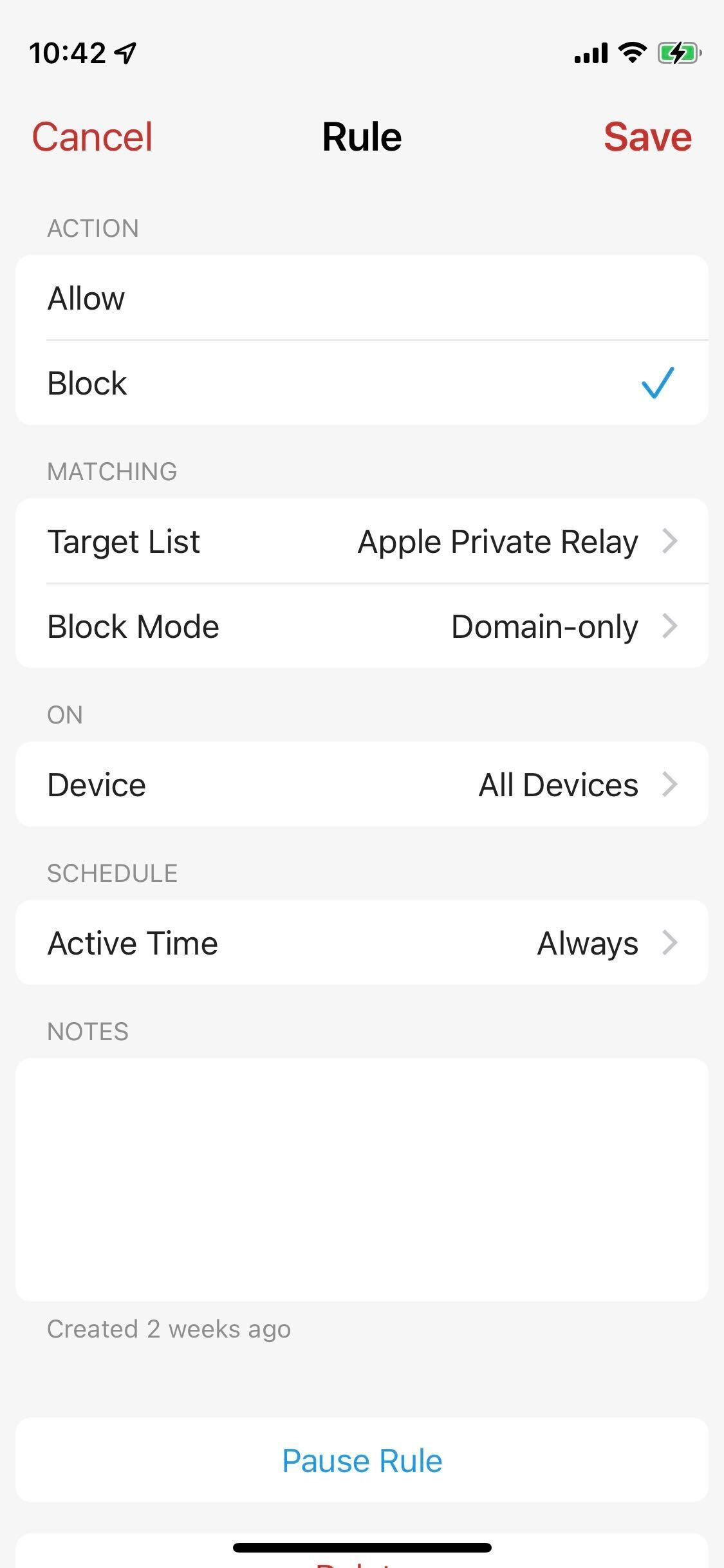 Physical Security
There's a saying, "Information Security is only as strong as the weakest link". So here are some final recommendations:
Peel off the license sticker on your Firewalla and store it in a safe place to prevent kids pairing with the unit.
Make sure kids have no physical access to the units, so they can tinker with them. And watch out for notifications, in case kids power off the unit.
Kid Lock can lock the app with Touch ID, Face ID, or PIN Code to prevent kids who share or have access to your devices from getting into the Firewalla App and accidentally changing settings.
This option is by default off, you can go to App Settings -> Kid Lock to turn it on.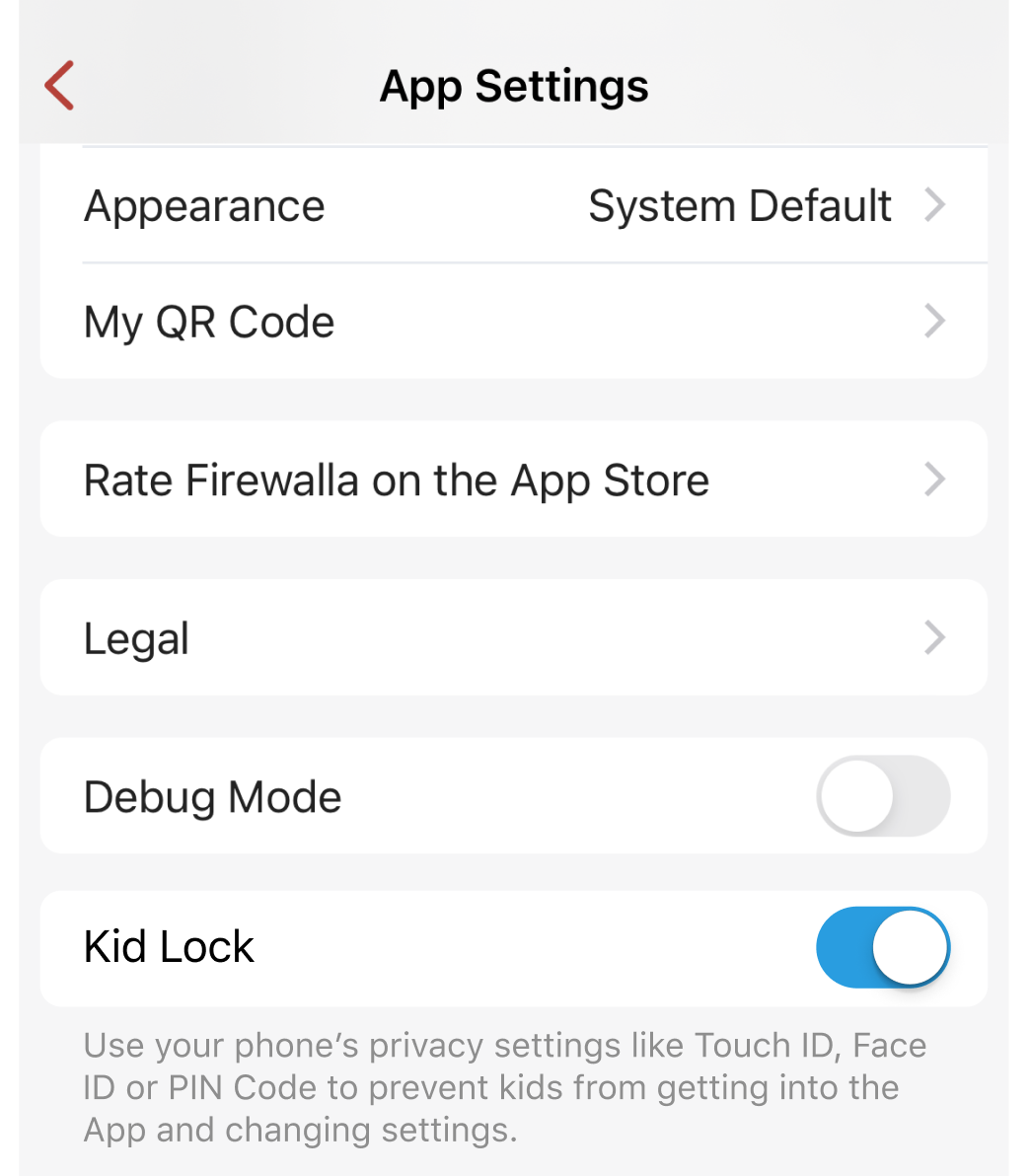 ---
Please send feedback to help@firewalla.com if you would like to see more detailed articles about these or other topics. Just tell us what would help you get more value out of your Firewalla.
---