Connecting to Firewalla VPN Server
Using a VPN while traveling is essential to ensure the safety and security of your online activity. Public Wi-Fi networks in airports, hotels, and other public places are often unsecured, making it easy for cybercriminals to intercept your data and steal sensitive information. A VPN creates a secure and encrypted connection between your device and the internet. By using a VPN while traveling, you can have peace of mind knowing that your online activity is secure.
If you are traveling with one or two devices that do not interact much, you can just place a Firewalla at home and connect to it remotely using the Firewalla VPN server. By connecting back to your own Firewalla through a VPN, you get the same protections as you are at home. However, each device you want to connect must have a VPN app installed and configured.
Creating your Trusted LAN with Firewalla Purple
Firewalla Purple is the perfect portable router and firewall to give you peace of mind while away from home. This is what we call a Trusted LAN. With Firewalla Purple, you get:
The same level of protection you get at home, anywhere in the world.
Easy access to your home devices without opening additional ports on your router.
A simple way to connect all your devices to a VPN server.
The ability to enforce restrictions on your kids' devices even when on holiday.
A trusted LAN with you anywhere you go.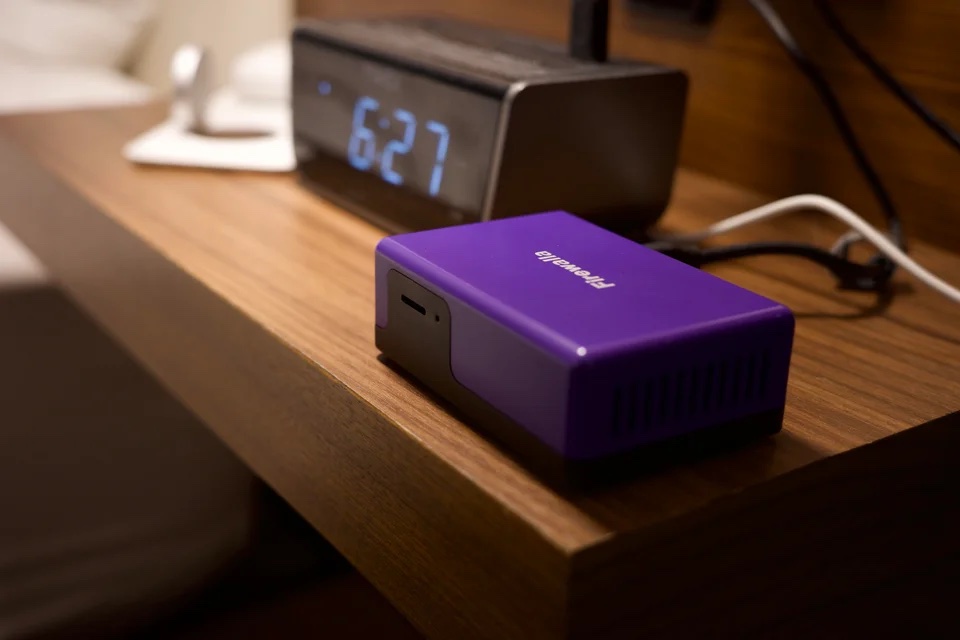 Follow the steps below to configure Firewalla Purple for traveling:
Step 1. Initial Setup
You should complete the initial setup process using your home network before setting out to travel. Just plug in a WAN connection directly from your modem or router and pair your Purple with your Firewalla app, following the usual initial setup process. Make sure you choose Router mode.

Step 2. Connecting to Public Wi-Fi
When traveling, power up the Purple box from a USB adapter and open the Firewalla App. After the Purple box is up and running, the app will show you a banner asking whether you'd like to set up a wireless connection.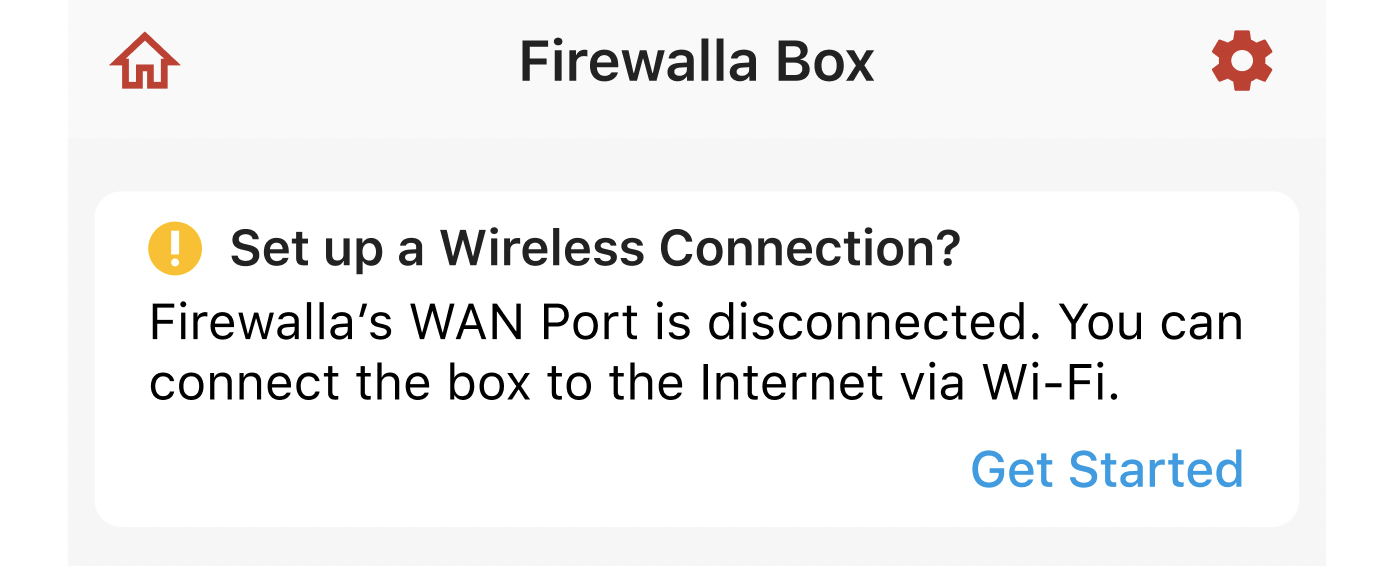 Tap "Get Started" and follow the app's instructions to connect to a public Wi-Fi. Then, create a local Wi-Fi network on the Purple for your devices to connect to.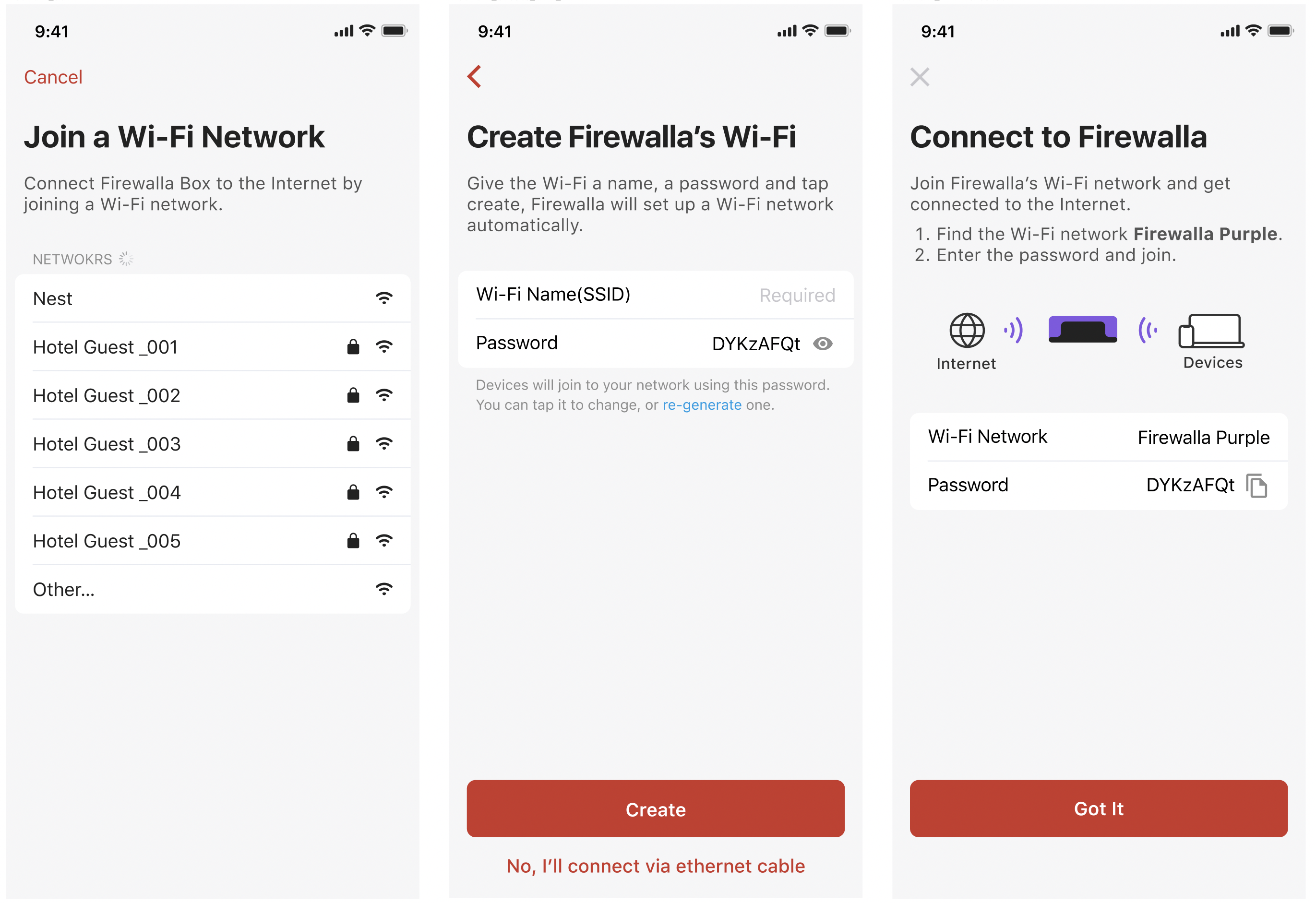 Captive Portal:
If the Wi-Fi network you're using as a WAN connection requires you to log in through their captive portal, the app will prompt you to connect your phone or laptop to Purple's local network and turn on Emergency Access. The captive portal login should pop up automatically. Follow the ISP's guide to logging in, and your Firewalla will connect to the Internet.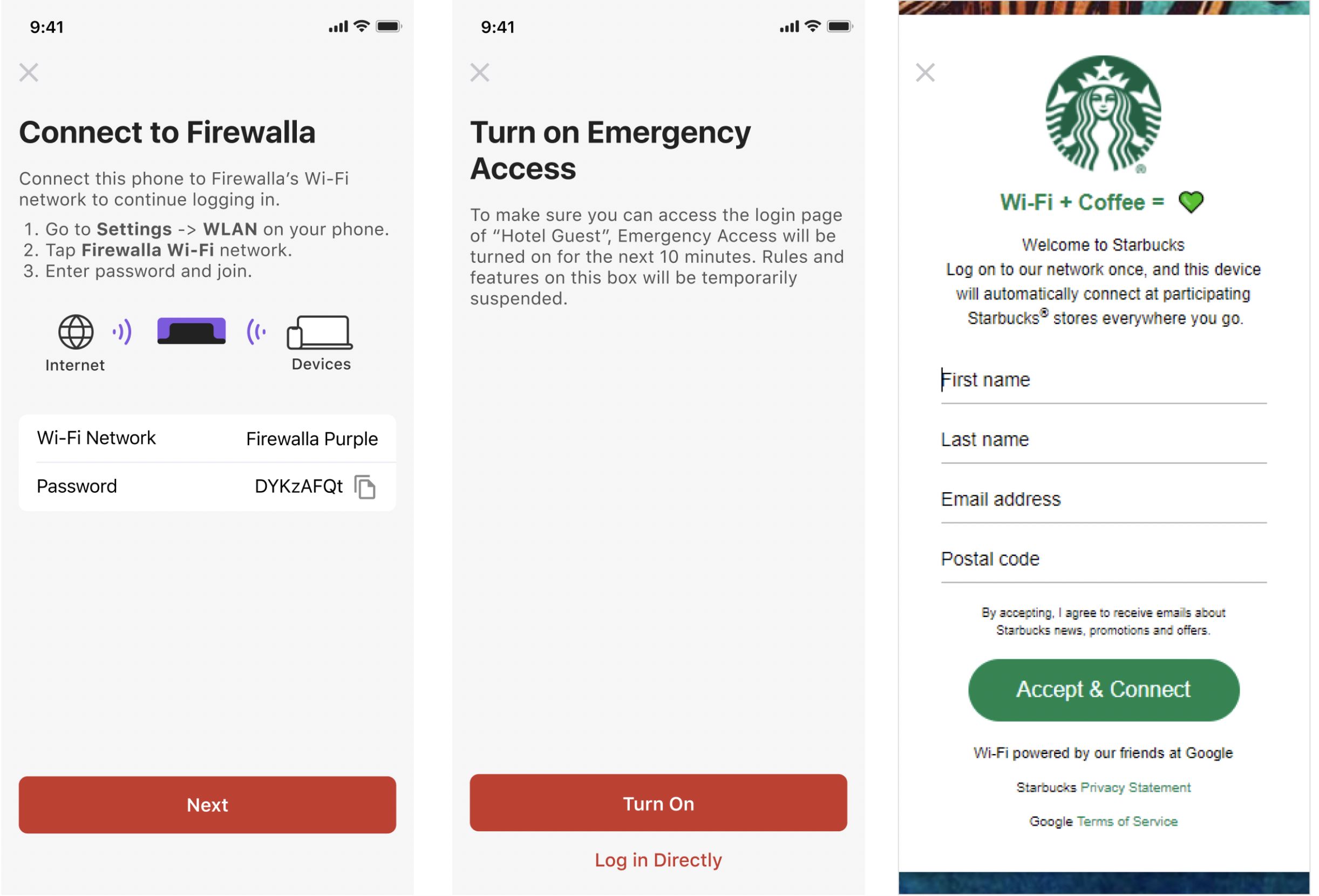 If the captive portal/website uses non-standard implementations, the Firewalla app may not be able to detect it. Here are some workarounds:
Turn off DoH. This feature may interfere with captive portals that intercept DNS.
Turn off Ad Block. This may interfere with registering with some captive portals.
If the above doesn't solve the issue, see this guide: How to open the captive portal.
Step 3: VPN Back Home
If you have a VPN Server running on a Firewalla box at home, and you want to have Purple connect back home via VPN, a few more steps are required:
Create a remote VPN to connect to your home network (box main page → Network → VPN Client → Create VPN Connection).
Choose Remote Access VPN, and select the Firewalla you want to VPN to.
Choose a VPN protocol (WireGuard is often more efficient).
Select the devices you want to connect via VPN.
Here is a full guide on how to set up Remote Access VPN on Firewalla.