If at any stage you have problems, please feel free to open a support case by sending an email to help@firewalla.com. Customer satisfaction is built into our team culture. We will guarantee to respond in less than 24 hours.
Notes, all the traffic graphs in firewalla can be tapped.  After tapping, a flow table will be presented, you can then navigate the hours.  Sometimes the graph may appear to be empty, tapping into the graph may show minor flows. 
If your Firewalla Box is unreachable
There are several things you can try to get Firewalla box back:
1. Check your physical connections.
2. Power Cycle the Box
While booting please check the status lights.  If anything abnormal, please send an email to help@firewalla.com
When booting is done (maximum 5 min), please kill the app and relaunch it.
Old Version of Firewalla Red (Firewalla Red purchased before May 2018, likely is the with blue light inside.)
New Version of Firewalla Red (Red light inside)
Firewalla Blue (Red light inside)
3. Reset App Data, and repair Firewalla Box. 
Do this as last resort.  If possible feel free to contact us help@firewalla.com before doing the reset.  
Not able to access the network? (Simple Mode)
Most problems encountered in this mode are compatibility issues.  Firewalla software tries its best to predict compatibility, but it is not perfect.  Please consult router compatibility, there are tips in this document.  
If your phone can no longer talk to Firewalla
If all devices are not able to access network
Turn off monitoring of the Box. This should restore your network.
You should try to switch to DHCP mode. 
If everything fails, send an email with your router model to help@firewalla.com
If one device is not able to access network
Check if there is any blocking rule applied to the device. Tap on Device-> Blocking rules.
Check device network setup. (IP address, DNS, gateway and etc)
If only wired network works, or only wireless network works
check router compatibility page to make sure your router is compatible with the simple mode
You will very likely need to switch to DHCP mode
Not able to access the network? (DHCP Mode)
First please check if your device is getting an IP address, and that address should be in 192.168.218.x range.  If not please reboot Firewalla Box. If you still do not have access to the network, please send email to help@firewalla.com.
If only certain websites or Apps you can't access
Check out this article: https://help.firewalla.com/hc/en-us/articles/360008178794-What-to-do-when-can-t-access-certain-website-
Example: One of our customers weren't able to stream ESPN Sling content over Roku.  This problem was solved by turning off Ad-block.
(The same problem may also apply to family mode).    
Not able to see network traffic?
If the graphs come out empty, please check following:
Make sure the box monitoring mode is on. If there is a light gray dot on the monitor button, tap on the monitor button and either turn on Simple or DHCP mode.
If you are in DHCP mode, likely some devices don't have the new IP.  Disconnect and reconnect the device to the network and you should be fine. Double check that your router's DHCP server is off. 
Check the device menu and make sure the device internet or monitoring option is not off.
Check if the device is an ipv6 only device.  Tap on "+" and enable the ipv6 service.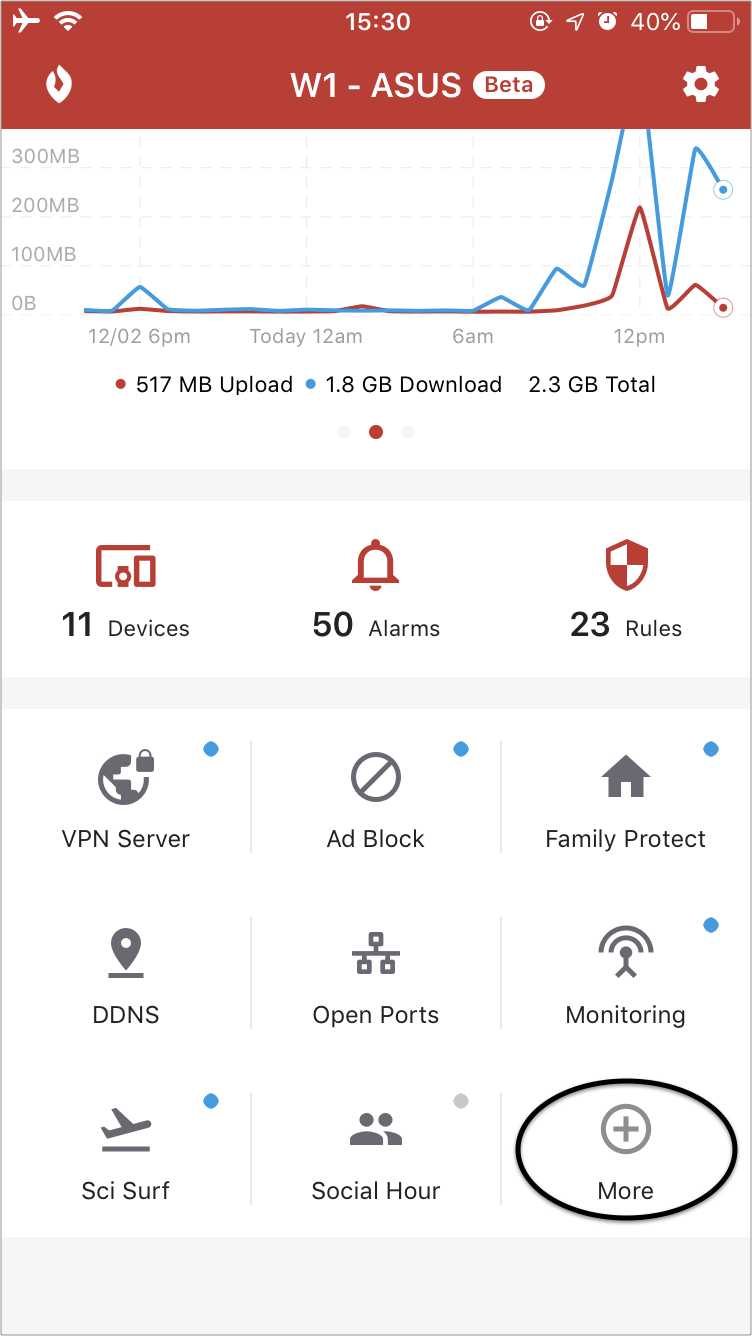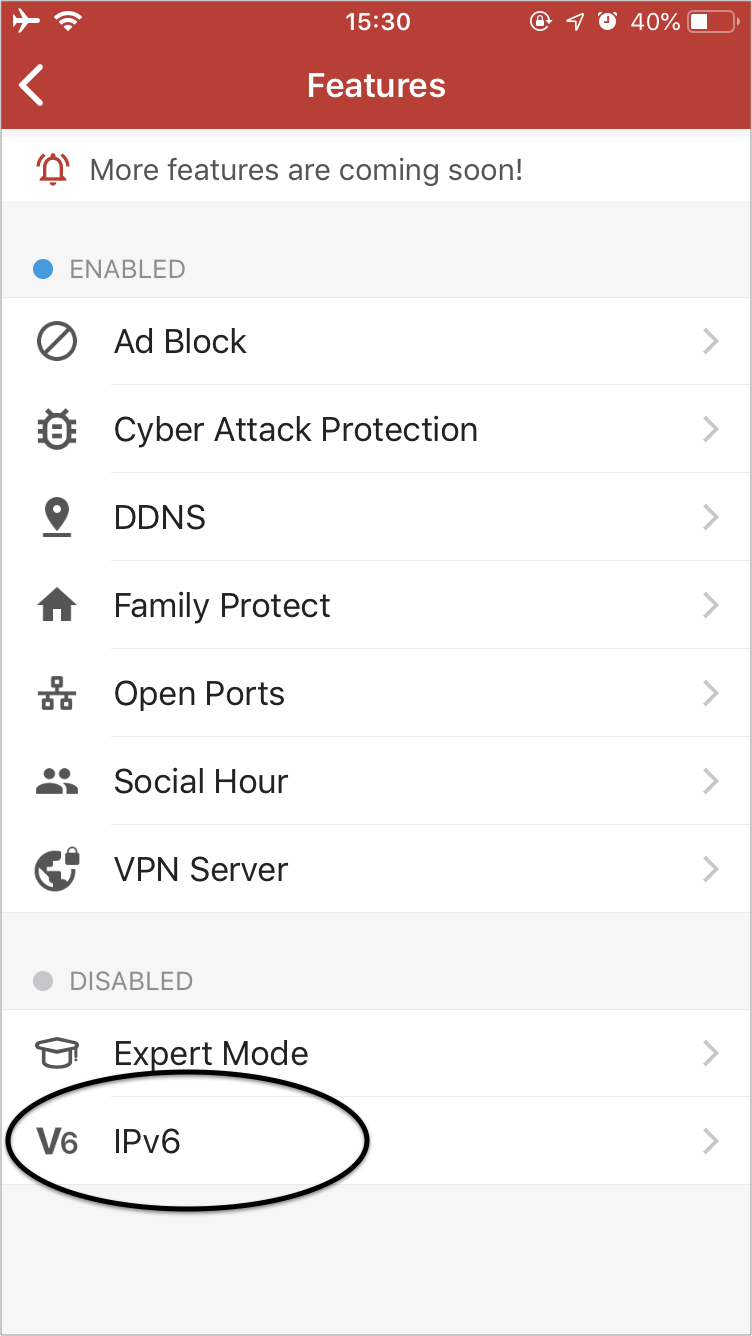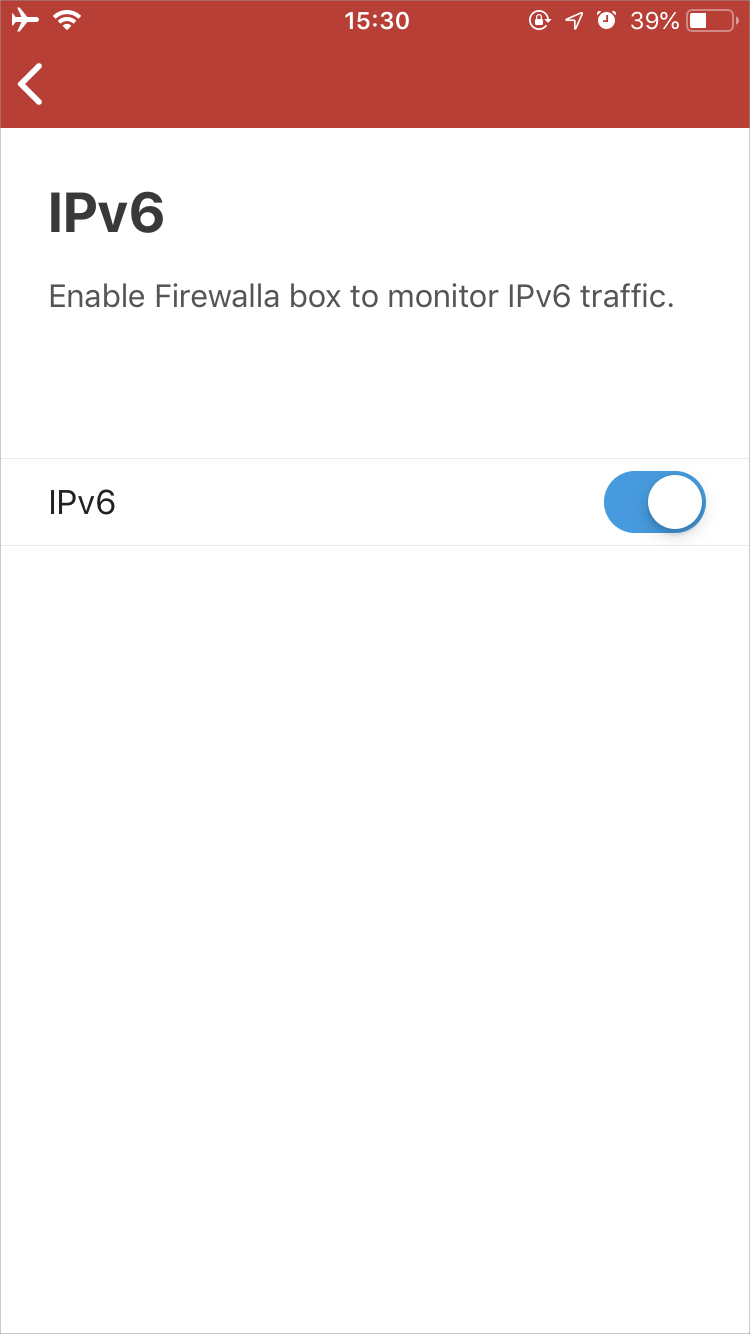 5. Check if you have any network extenders such as EX3700.  These extenders will hide MAC or randomize the real MAC addresses, which make tracking impossible.  
If the graphs are showing something
Not able to block ads, porn or some domains?
Firewalla can only block if it can see the network traffic.  If you can't block, likely Firewalla can't see.  Please see "Not able to see network traffic".
Network slow down
If your network is slow down to under 30Mbps, your router is probably not compatible with Firewalla. Check Router Compatibility here.
The Firewalla box should be connected to your main router, or off a switch connected to the main router.  If should not be connected to a satellite unit of a meshed router, or a network extender. (please see https://firewalla.com/install for details)
Please be aware that the maximum packaging processing speed of Firewalla Red is 100 Mbps. (Why there are limitations in Firewalla speed?)  If your Internet connection is greater than 100 Megabits, you should consider getting a Blue, which is optimized for power and speed. Find the difference between Blue & Red.
Please also make sure your router's firmware is up to date.  We have seen one case with NETGEAR R6220 where the router firmware was slowing down firewalla to 30% normal throughput.  Upgrading to the latest firmware solved the problem. 
Not able to connect to VPN?
To test VPN, please test outside of your own network (or the separate network that Firewalla is installed on).  Many routers do not have this feature called NAT-hairpin, which doesn't allow you to VPN back to your own network.  (Best way is to go to LTE/4G/3G on your phone).
For other problems, please see:
Step 1: Double NAT
Double check if you are under double NAT.  That is, you have another router in front of the router that Firewalla is plugged into.  If you have this configuration, you will need to port forward 1194 UDP to the second router from your first router.  Here is an easier way to see.
$ traceroute 8.8.8.8




traceroute to 8.8.8.8 (8.8.8.8), 30 hops max, 60 byte packets


 1

  

gateway (192.168.8.1)

  

0.573 ms

  

0.352 ms

  

0.409 ms
 2

  

192.168.1.1 (192.168.1.1)

  

0.888 ms

  

1.569 ms

  

1.578 ms
Step 2: Port Setup
If your router has UPnP enabled, (most router does) setting up VPN is simple, Firewalla will do everything for you.  
If your router doesn't support UPnP, Firewalla will prompt you to manually setup port forwarding on your router. Check out this website on how to setup port forwarding.
If you use the VPN feature very often, we recommend you do a static port mapping to Firewalla.  UPnP is not always reliable on certain routers. 
If you have problems with port forwarding in simple mode, try this 
Turn off global monitoring on Firewalla
https://help.firewalla.com/hc/en-us/articles/360008407613-Turn-on-off-Monitoring
Reboot your router
Try again and see if the VPN works.
Step 3: VPN Client Setup
To use VPN, you will need to install OpenVPN client First. The OpenVPN profile generated will be compatible with all systems and can be shared.  There will be a password attached to each profile, that can be viewed in the OpenVPN page.
Here are some instructions on VPN setup for different devices:
Expired VPN Certificate on Firewalla Blue
Newer Firewalla Blue VPN profile may expire (depend on the revision of the software) around 30 days.   If you encounter this issue, please just regenerate a new one. 
Step 4: Public IP
Make sure you are assigned a public IP assigned to your router from your ISP. 
If you still have any problems, feel free to open a support case by sending an email to help@firewalla.com.