We started Firewalla to help you create a secure network. With the introduction of Router Mode for Firewalla Gold and Purple, we want to help you create a better network as well– one that's tuned for a better experience, not just better security. This means:
Quality of service is enforced and measured
Your network is available when you need it
You have full control over everything that happens in your network
Here are the features that make this possible:
Network Performance and Quality Monitoring: Understand your network better.
Improved Internet Availability and Backup: Back up your network, so it is always available.
Smart Traffic Management: Monitor and control what goes through your network.

Rules: Control what traffic can or can not be on your network. (Supported on all platforms)
Smart Queue: Decongest your network, prioritize important traffic, reduce delay, and make your video conference and phone calls smoother. (Supported on Blue Plus, Gold, and Purple)
Routes: Easily manage where your traffic is routed using policy-based routing. (Supported on Blue Plus, Gold, and Purple)
1. Network Performance and Quality Monitoring
Firewalla Gold, Purple, and Blue Plus provide tools to help you monitor and better understand your network speed and quality, so you can make informed decisions to improve your network.
Firewalla's Network Performance feature can help you:
Measure WAN Performance: Detect network congestion and problems with your ISP


Network Speed
Latency
Packet Loss

Measure Wi-Fi Performance: Understand and troubleshoot your Wi-Fi connection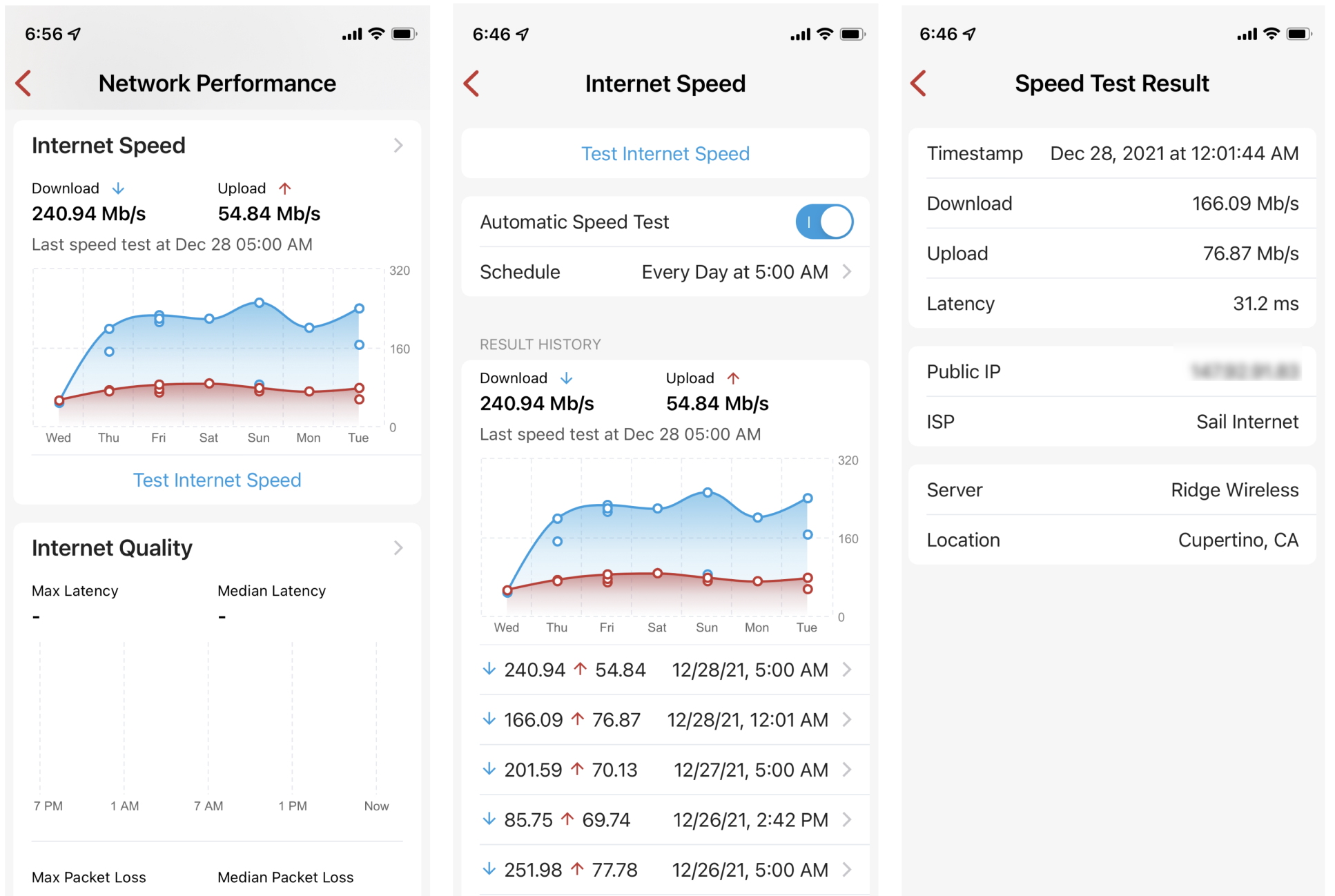 Learn more about network performance and quality monitoring.
For more information about how Firewalla can give you insight into everything happening on your network, including network performance, check out our article on visibility with Firewalla.
2. Improved Internet Availability and Backup
While most consumers will only have one WAN (internet) connection, there are times when two WAN connections may be better than one. For example:
Your primary internet is not stable and needs a backup internet connection.
Your primary internet is slow, and you need to add another line for bandwidth (and redundancy).
Firewalla's Multi-WAN feature will help you manage a maximum of two WAN connections in either primary/failover or load balancing mode. Using a multiple WAN network should be no different than using a single WAN, if not a bit better, due to the added availability and bandwidth.
If you have a Firewalla Gold:
You can use one of Gold's ports as a new WAN interface, just like your primary WAN.

Additionally, you can use the Firewalla Wi-Fi SD alongside the Firewalla Gold (and future Gold products) to tether your mobile phone or another hotspot when your primary network is down. Firewalla's Multi-WAN support will automatically swap your main internet with your phone's hotspot and automatically swap back once your primary internet is up.

If you have a Firewalla Purple:
Firewalla Purple allows a maximum of one Wi-Fi and one ethernet WAN connection for a total of two WANs. The Purple can tether to your mobile phone and create a dynamic backup internet for your whole house while your primary WAN is down.
Learn more about multi-WAN configurations.
3. Smart Traffic Management
Firewalla also enables you to understand and fully control what traffic can travel through your network, how much bandwidth it can take up, and what route it takes.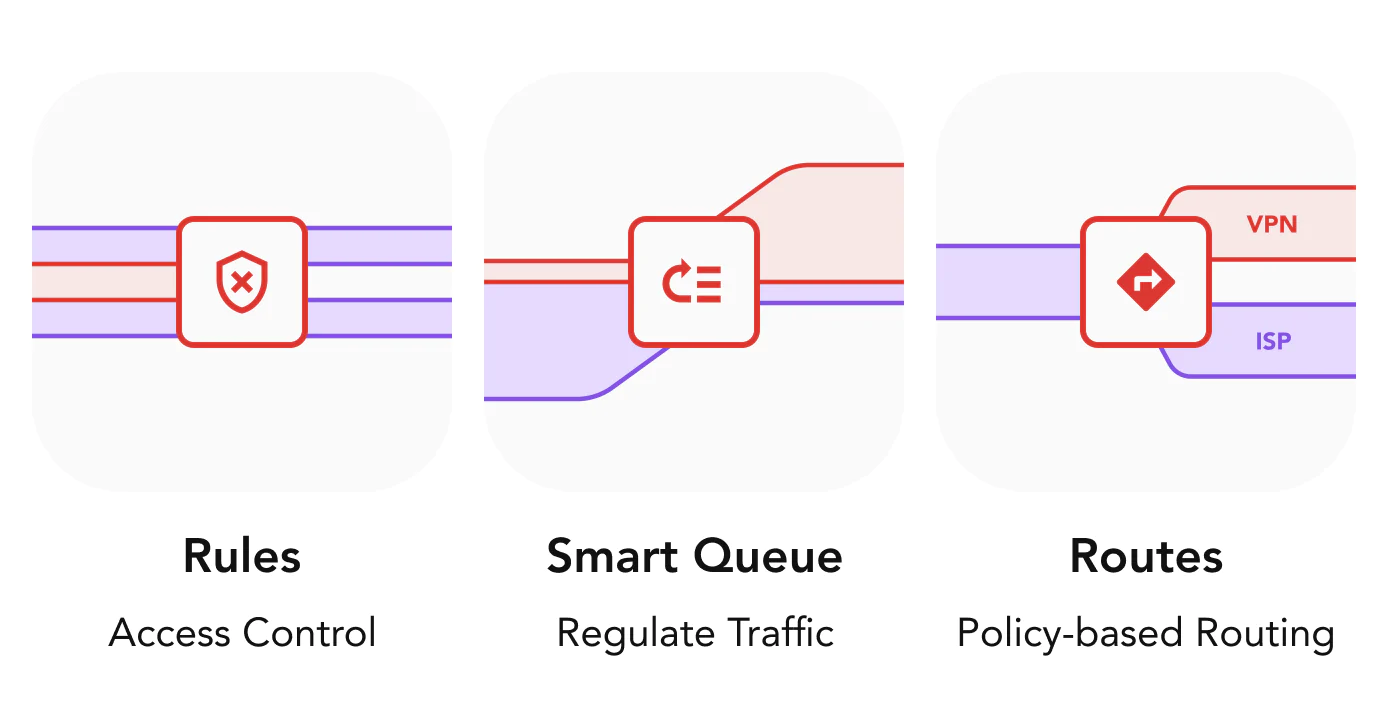 Rules
Rules can be used to control traffic on your network and devices. The targets for your rules can be Applications, Categories (gaming, adult, video, etc.), Regions, or Network Flows (IP, domain, port). Here's a video on how you can set and manage rules.
You can customize your Firewalla rules to fit your needs. For example, you can:
Schedule Rules: Customize network access with specific times

Filter Access: Manage access (e.g., kids' or employees' access) by filtering out traffic based on content type (gaming, adult, video, etc.)
Control Application Use: Prevent or limit how much a devices uses certain apps (e.g., Facebook, YouTube, etc.)
Target Lists: Use predefined or self-defined target lists for complex rules
Geo-IP Blocking: Block countries or regions off your network
New Device Quarantine: Isolate new devices and prevent them from accessing the internet
Smart Queue
The core function of Smart Queue is to help you to decongest your network, decrease buffer bloat, and allow everyone to have better video calls. This feature can be turned on with a single button, and if needed, you can further customize the policies behind it.
There are several things you can do with Smart Queue:
Active Queue Management (AQM): Reduce latency (buffer bloat) across all of your flows automatically
Rate Limit: Limit and shape any traffic matching a category, an application, or IP/domain names
Prioritization: Mark any traffic (e.g., Zoom or Webex) and make sure they are always ahead of the queue with the lowest delay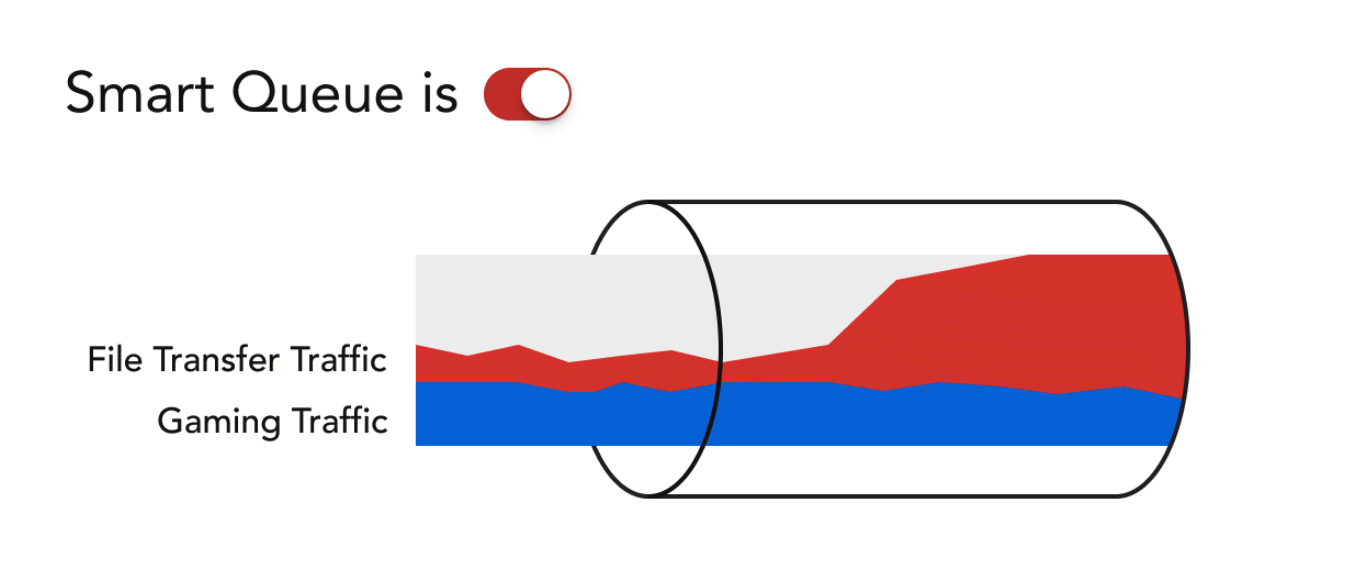 Here's a video about how to set up Smart Queue on your Firewalla.
Routes
Your system's routing table usually manages network traffic. This routing table can be static or dynamic, based on your network topology. Policy-based routing (PBR) is a technique used to make routing decisions based on your policies. While traditional policy-based routing is based on the IP layer and the services the network is running, Firewalla's policy-based routing is much more flexible. It can be mapped to the destination category (gaming, video, etc.).
With Firewalla policy-based routing, you can:
Route Anything to Anywhere: Direct any traffic from any device over any interface
Route Traffic over VPN: route traffic over the Firewalla VPN Server or a 3rd party VPN
Route Traffic to any WAN: In a dual-WAN setup, direct traffic to any WAN connection, no matter if the WANs are set to failover or load balancing (e.g., always route Zoom or gaming from a low latency WAN interface)
Additionally, with the Firewalla 1.52 app release, you can now select your Route Preference. For each route, you'll be given two options:
Static: if the selected interface is not available, the traffic will be dropped. This is the default setting.
Preferred: if the selected interface is not available, allow traffic through an alternate route.
Watch a video tutorial or read more about this feature in our 1.52 App Release Notes.
Learn more about Policy-based routing.
For more information about how Firewalla can help you monitor and understand your network, check out our article on network visibility. If you're curious about other ways to customize your network experience with Firewalla, check out our article on controlling your network.