In case anything goes wrong and the "reset to factory default" does not work, here is how to recover:
Do not delete or unpair the previous instance. You can restore configurations from it later.


Download the Firewalla Gold Installer image
Download link: firestaller-0.132.img.gz
MD5sum: 22ecc3d8d41d874338597e620ca371f0

Or download the Firewalla Gold beta installer image (Based on ubuntu 20.04 LTS)
Download link: fireupdate-3.0.0113.img.gz
MD5sum: eb64d196a7a9f9d80f6fd914334aea46


Download a flash program, we use etcher.io
Note: if etcher doesn't work on macOS Catalina (10.15), please scroll down for workaround.


Launch the etcher, select the image you've downloaded before.
Plug a USB drive (with at least 16 GB disk space) into your computer, and select it as the flash target.


Flash!


After flashing, unplug the USB drive from your computer, plug it into the other USB slot on Firewalla Gold (please DO NOT remove the Red dongle).


Power cycle the Gold box (Unplug the power cable and plug it back in).


Wait for the lights on the ethernet ports to blink from Port 4 to Port 1. It will take about 6 minutes. When the light on port 1 starts to blink, it means the re-flashing is done.
NOTE: A display monitor can be connected via HDMI to watch the flashing process.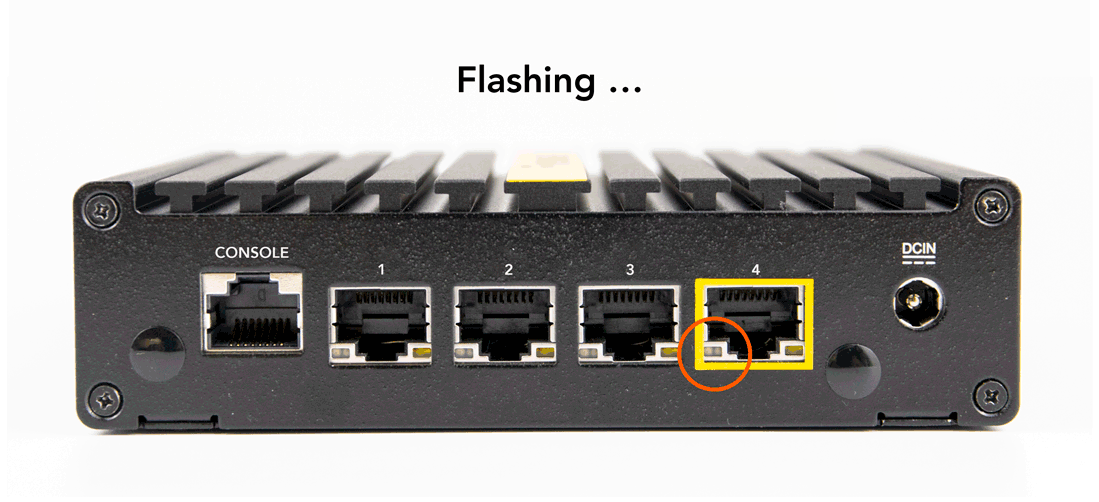 10. Unplug the USB drive, then power cycle the Gold box.
11. The box will be powered up as new, and ready for pairing.
Restoring Configuration
When installing the new version, the iOS app will use "Quick Setup" to restore the previous network configuration.
Then please use Settings -> Advanced -> Migrate from other boxes to restore rules and device names after installation. See the tutorial on how to migrate: https://help.firewalla.com/hc/en-us/articles/360015356093-How-to-migrate-data-from-one-Firewalla-Box-to-another-
Note: please do not unpair the old box before the migration. Just use the USB to flash, install, and migrate. After migration, you can tap and hold on the previous Firewalla Icon, and tap "unpair" to remove the previous pairing.
Known Issue: Etcher doesn't work on macOS Catalina (10.15)
Here is an open issue on GitHub etcher project to track this: https://github.com/balena-io/etcher/issues/2833
Here is a workaround you can use before etcher fixes this issue.
Open Terminal.app
Run this command in the terminal:

sudo /Applications/balenaEtcher.app/Contents/MacOS/balenaEtcher

Type your MacOS login password when asked.