Reset Rules
Box Settings -> Advanced -> Reset -> Reset Policy Rules
This resets all the blocked Rules and Features applied to your network. In case you blocked 1000 sites and not sure which one to unblock, this will fix that problem.
Reset to Factory Default
Reset and Recover Configuration
If you'd like to recover the previous data after the reset. The recommended sequence is :
Do not unpair the existing Box.
Do the reset

After Reset
Tap on the "+" sign to pair with the new Box.
Migrate data from your previous pairing: Go to Settings -> Advanced -> Migrate from other boxes. Here is the detailed tutorial on Box data migration.
Tap and hold on the previous Box icon on the App main page, then tap on "Unpair" to remove the previous box.
Reset Firewalla Blue/Red
1) If you can still access the Firewalla App.
Go to Box Settings -> Advanced -> Reset -> Reset to Factory Defaults
2) In case you can't access the App, you need to reset using a USB.
Get an empty USB stick. Formatted with FAT partition.
Create an empty file "firewalla_reset" and place it in the root of the USB stick.
Plugin USB stick
BOOT Firewalla
Firewalla should now be reset
Reset Firewalla Gold
1. First screen -> tap the top right icon "…" -> scroll down and tap on "Hardware Troubleshooting" -> Tap the gold -> scan QR code -> tap on 'Reset to Factory Defaults'
2. Wait for two minutes
3. When hearing a beep, the box is reset and rebooted.
4. You can use the "plus" sign to pair the Gold, and tap the "Quick Setup" to recover the network setup.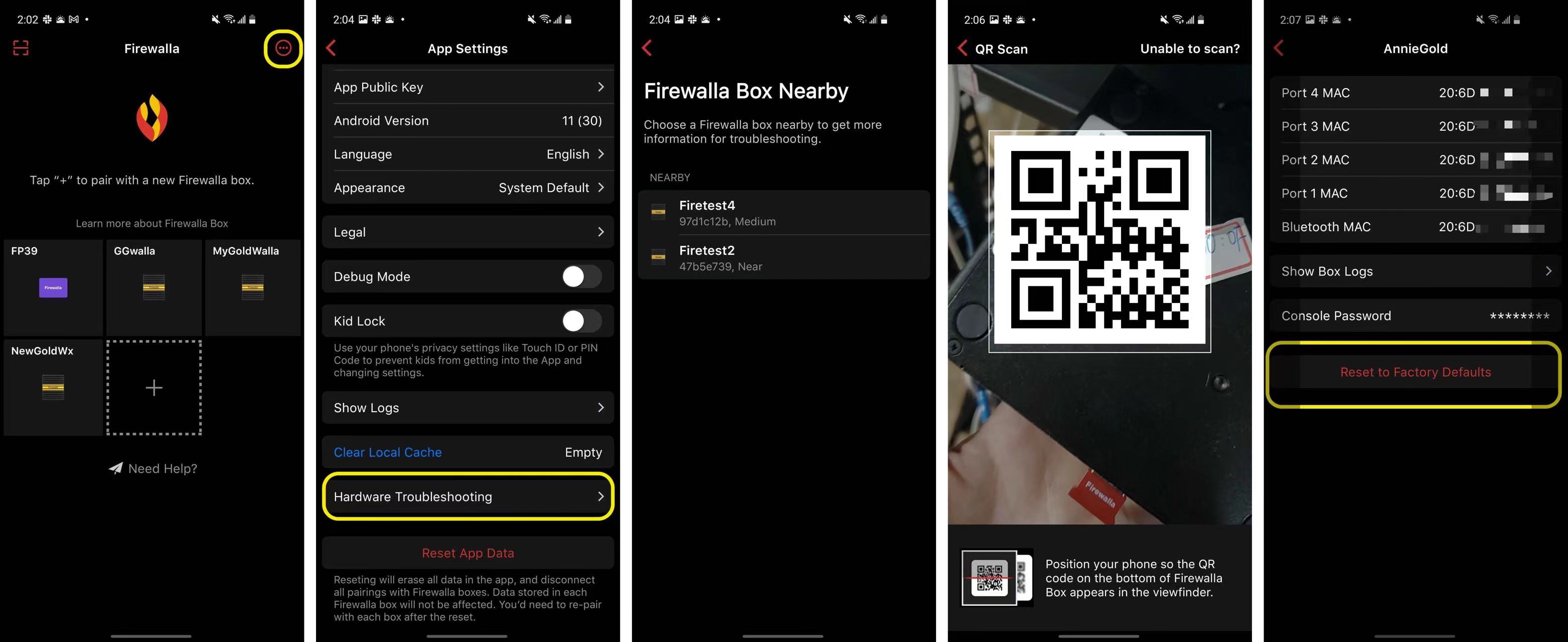 Reset Firewalla Blue Plus
Power Cycle the box
When the green LED light starts blinking (within 10 seconds), use a pin to press and hold the reset button.
Hold the button for about 10 seconds, then release the button when the green LED light becomes solid.
The box will then boot up normally in about 3-5 minutes.
Reflash / Update Image
In case things go wrong and the "reset to factory default" does not work, please follow the guides below to reflash the software image: