The Firewalla Wi-Fi SD can be used in conjunction with Firewalla boxes to enable you to tether to your phone (or another Wi-Fi hotspot) when your main network is down. Firewalla's Multi-WAN support will automatically swap your primary internet with your Wi-Fi SD and then swap back once your primary internet is up again, keep your network running even during connection hiccups.

Supported Firewalla Models:
Installation
This is a step-by-step guide on how to install and configure the Wi-Fi SD on Firewalla Gold. The process is similar if you are using Firewalla Purple SE with Wi-Fi SD.
If you encounter any issues with the installation process, please follow this link to create a support ticket.
Step 1: Assemble the unit
Open the Firewalla Wi-Fi SD box. You'll see a yellow Wi-Fi antenna and a USB adapter with the Firewalla logo on it. Screw the antenna firmly onto the USB adapter, then plug the Wi-Fi SD into one of the USB ports on Gold.
When the Gold is up and running, it should have a red dongle plugged into one of the USB ports and a yellow antenna into another. The two USB ports on the Gold are identical and interchangeable, meaning you can move the red dongle to the bottom slot if needed.

Step 2: Check your Wi-Fi's Access
If you want to use an iOS device as a backup WAN, go to Settings > Personal Hotspot > and turn on, "Allow Others to Join".

If you want to use Android as a backup WAN, Go to Settings > Network & internet > Hotspot & tethering.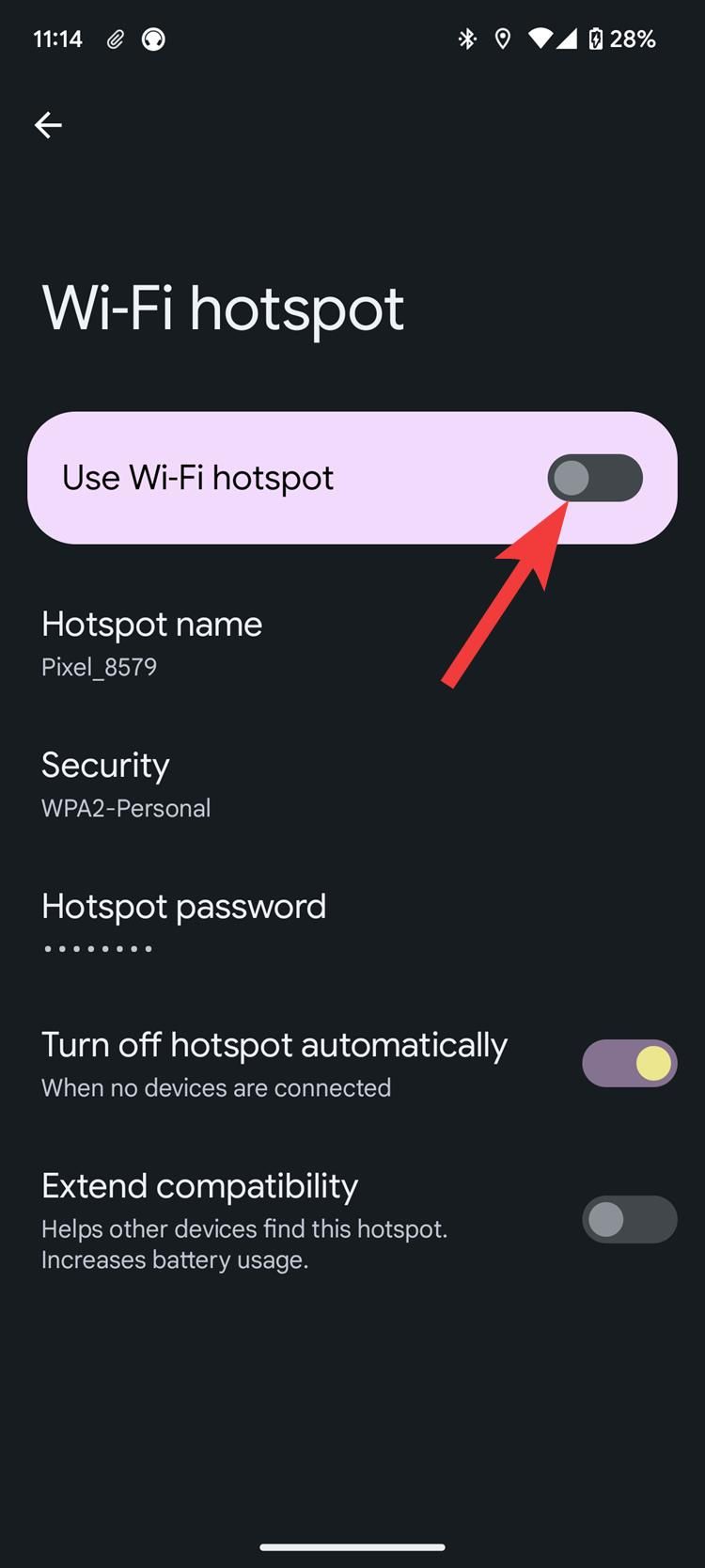 Step 3: Set it up on the Firewalla app
When the Firewalla Wi-Fi SD is plugged in the Gold for the first time, launch the Firewalla app and you should see a banner on top of the box's main screen saying the Wi-Fi SD has been detected.
If your Firewalla unit cannot detect the Wi-Fi SD, please unplug the Wi-Fi SD, wait 5 seconds, and plug the unit back in (do this while the Gold is running).
If you are running Firewalla in Bridge Mode, there will be no banner. You can go straight into your Network Manager and add Wi-Fi to any network bridge as an additional access point.

Tap Get Started. Then, you can choose to create a WAN connection or a local network using the Wi-Fi SD.

3.1 WAN connection via Wi-Fi (Router Mode Only)
To connect to your phone's hotspot as a backup WAN:

Before you start, make sure the hotspot on your phone is enabled.

Then, tap on WAN Connection via Wi-Fi on the app and

it will start to scan all the available networks nearby.

Select your phone's Wi-Fi network and enter the password if required, then tap Done.
If you are trying to join a hidden network, tap Other… at the bottom of the list, enter the Wi-Fi name and password, then tap Done.

The WAN connection will be created automatically.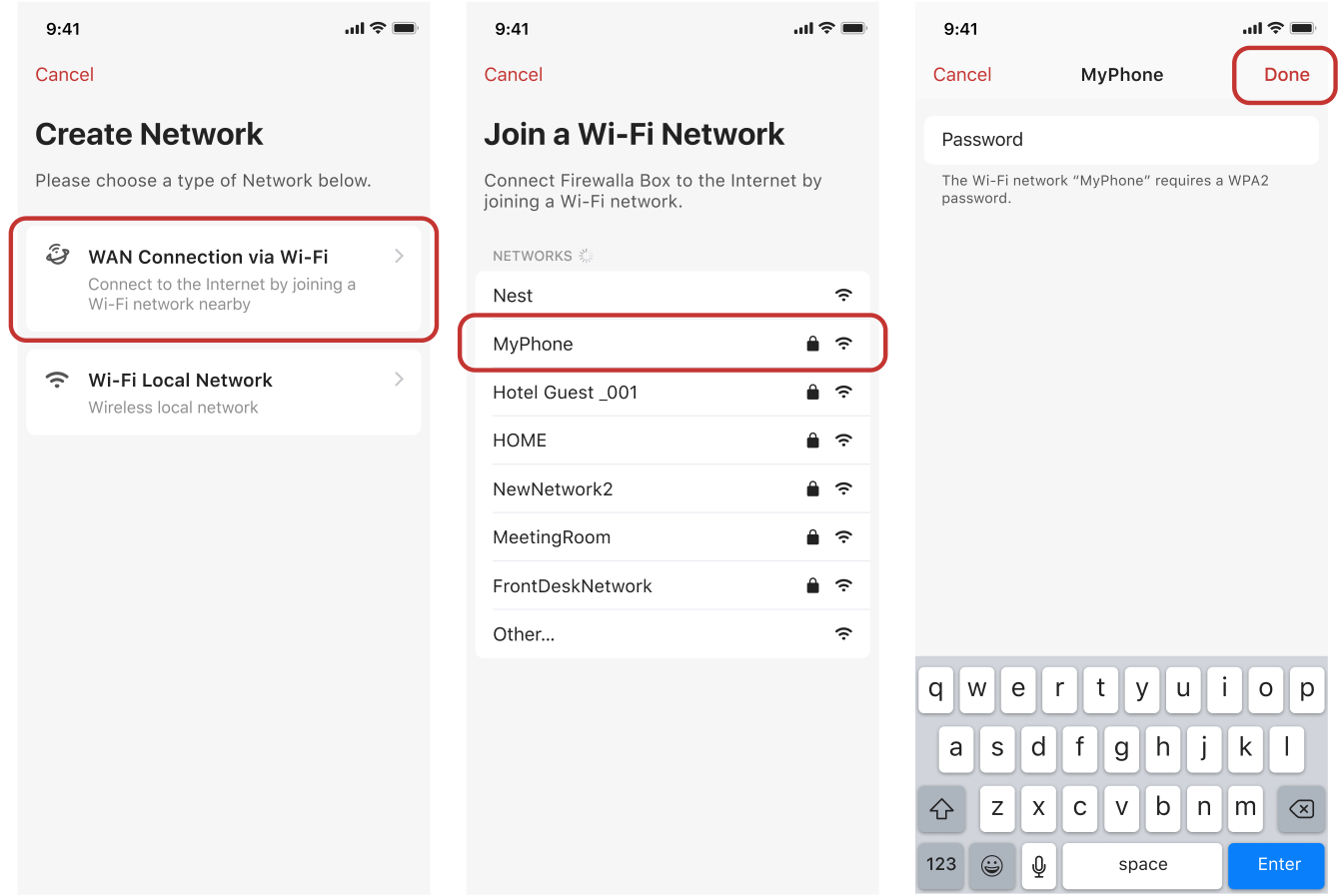 After the backup WAN is created, your Firewalla will run in dual-WAN Failover mode. When the primary WAN is down, the Internet connection will automatically switch to the backup WAN.
You can also convert a WAN connection from Ethernet to Wi-Fi:
Go to Network Manager and tap the WAN connection, then tap Edit.
Tap the Wi-Fi icon → Select a Wi-Fi network (or choose Other and enter the SSID manually).
Enter the password if required.
Tap Save to apply the network configuration.
To change the settings for your configured Wi-Fi WAN:
Change the Wi-Fi network you're connected to: Tap Edit

, tap the

Wi-Fi Name

, and then pick the Wi-Fi you'd like to join from the list and save.

Previously joined Wi-Fi SSIDs will be saved for this WAN connection as My Networks. Firewalla will auto-join the networks if they are nearby.
You can tap the "ℹ" icon to edit the Wi-Fi, or tap Forget This Network to remove it.

2.4 GHz Only Lock: If you are connecting the Firewalla box to a Wi-Fi network with mixed channels (5GHz & 2.4 GHz) and 5GHz is not stable, you can tap the "i" icon and turn on the option 2.4 GHz Only to lock Wi-Fi networks to 2.4 GHz. This will increase the stability of Wi-Fi WAN connections. Please don't enable this feature unless your Wi-Fi SSID supports 2.4 GHz, or the Wi-Fi SD may fail to connect.

DHCP Option: DHCP Option 60 (Vendor Class Identifier) and DHCP Option 61 (Client Identifier) on WAN connections are supported.

Notes:
Make sure your phone is close to the Wi-Fi SD for better performance and signal.
Make sure your phone has enough battery, or connect it to a power source.
If you run into stability issues, please turn on Maximize Compatibility (on iPhone and Android). Then, try reconnecting your devices.
Some hotspots may be throttled by the service provider. You may get slower speeds than if you were to connect directly from your phone.
If Firewalla fails to detect a captive portal login, please follow this instruction to connect manually: What to do if the ISP requires captive login/authentication via web?
3.2 Wi-Fi Local Network
To use the Wi-Fi SD as a temporary LAN segment:

Tap Wi-Fi Local Network and the app will prompt you with a page to create a Wi-Fi Network. Fill in the information below:
Wi-Fi name: A name (SSID) you'd like to use for the Wi-Fi.

Password: Firewalla will generate a random password for you; you can change it or tap
re-generate to randomly create a new one.
After everything is set up properly, tap Create and the Wi-Fi network will be created directly.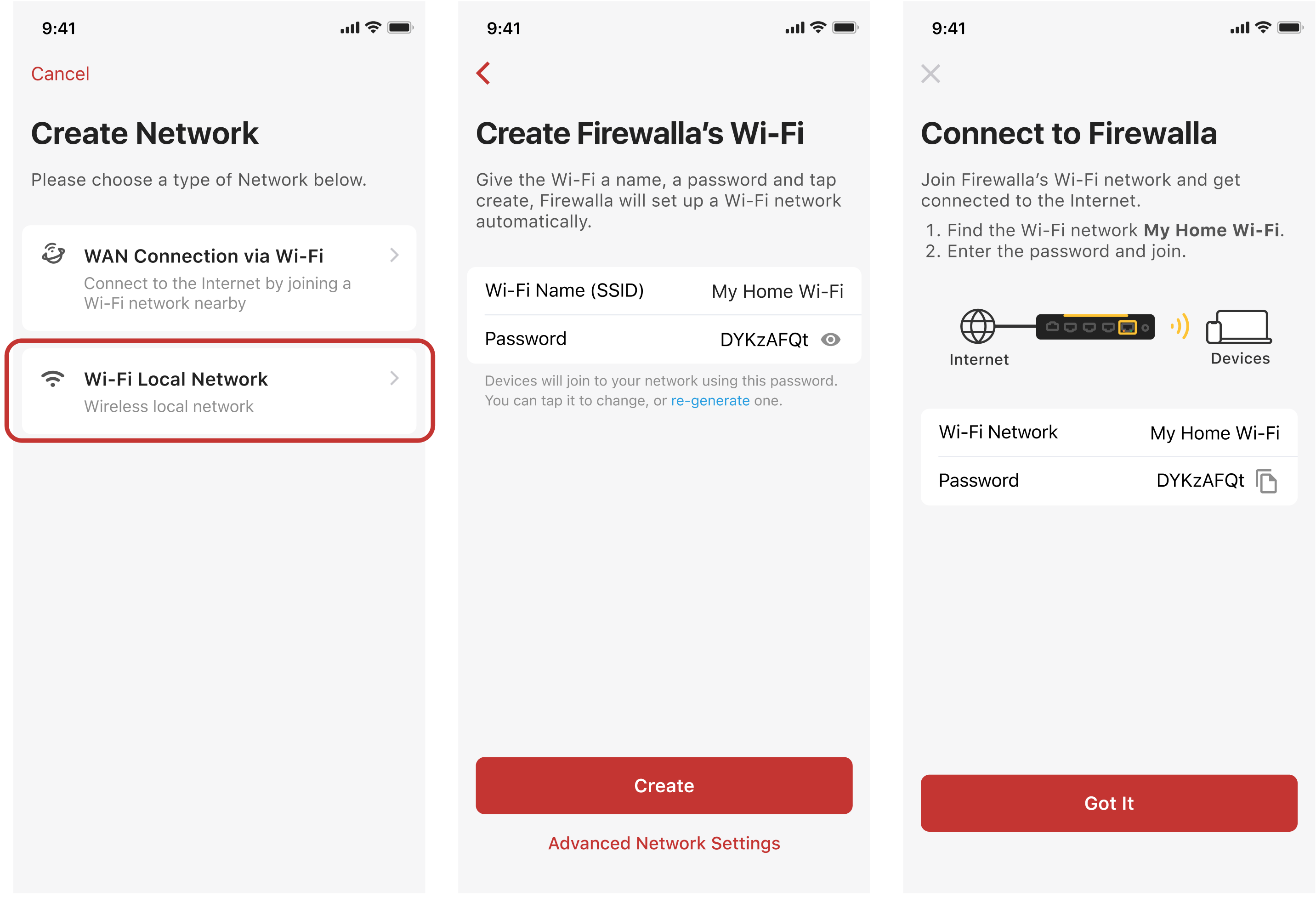 By tapping Advanced Network Settings, the app will show you a network detail page.
It will allow you to edit the DHCP settings for IPv4 and IPv6, DNS servers, search domain, etc.

Maximize Compatibility will allow 2.4 GHz-only connections, including some IoT devices that only support 2.4 GHz connections. Please note that the Internet performance may be reduced when turned on.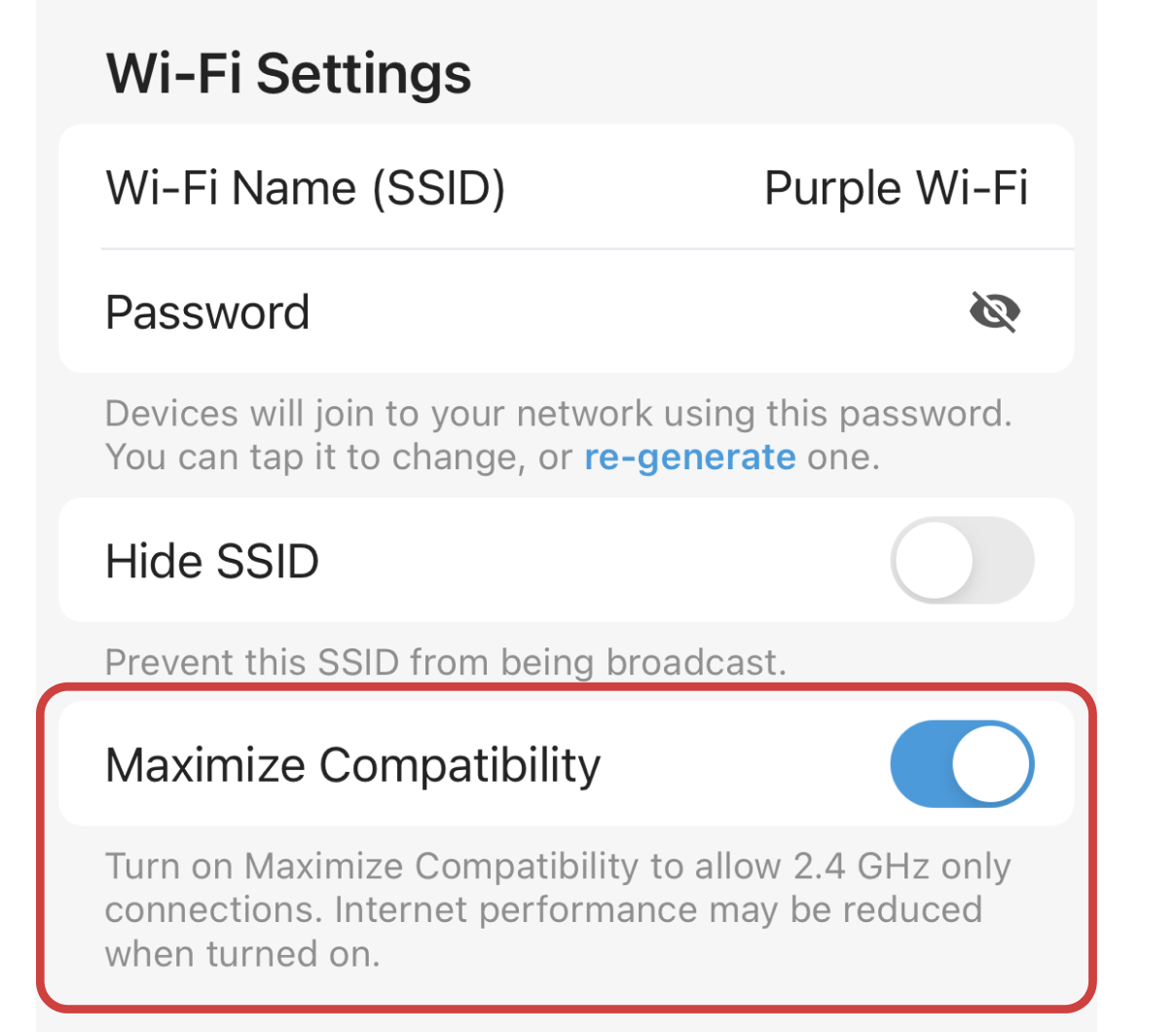 Channel Selection: By default, the Channel Selection method is Automatic. If this doesn't work as expected, you can tap to change the selection method to Manual. The app will list all the available channels so you can select a better channel to avoid Wi-Fi congestion.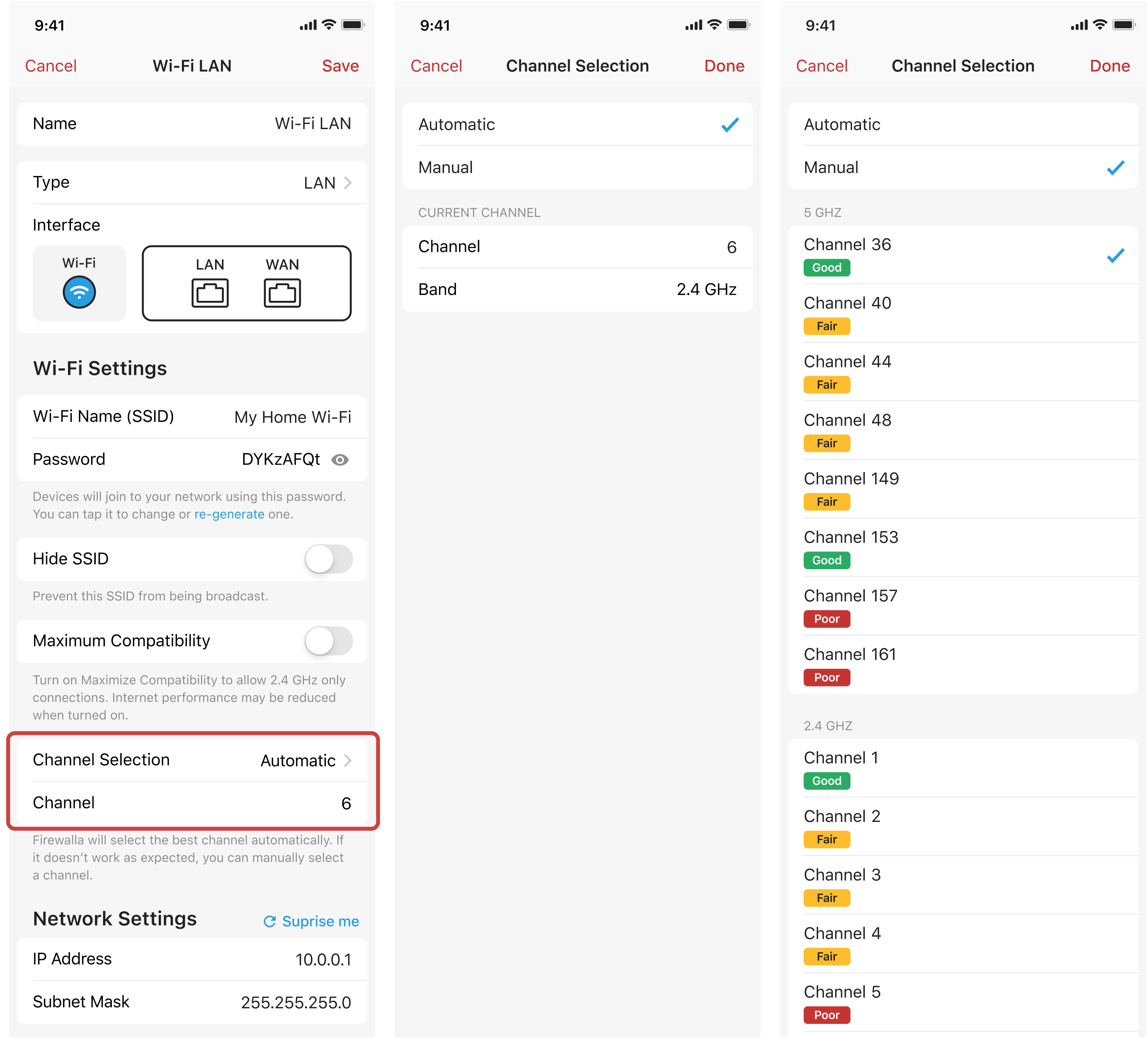 Add Wi-Fi to an existing LAN Network:
You can also create a shared network where the Wi-Fi and Ethernet devices share a single range of IPs. This is preferred when you want to connect to any given device at will easily. This is called a bridged network.
On the Network Manager page, select an existing LAN Network -> Edit.
Select Wi-Fi Interface, it will bring up the Wi-Fi settings. You'll need to assign for the Wi-Fi network:

Wi-Fi Name (SSID)
Password: Firewalla will generate a random password for you. You can change it or tap
re-generate to random a new one.

Tap Save.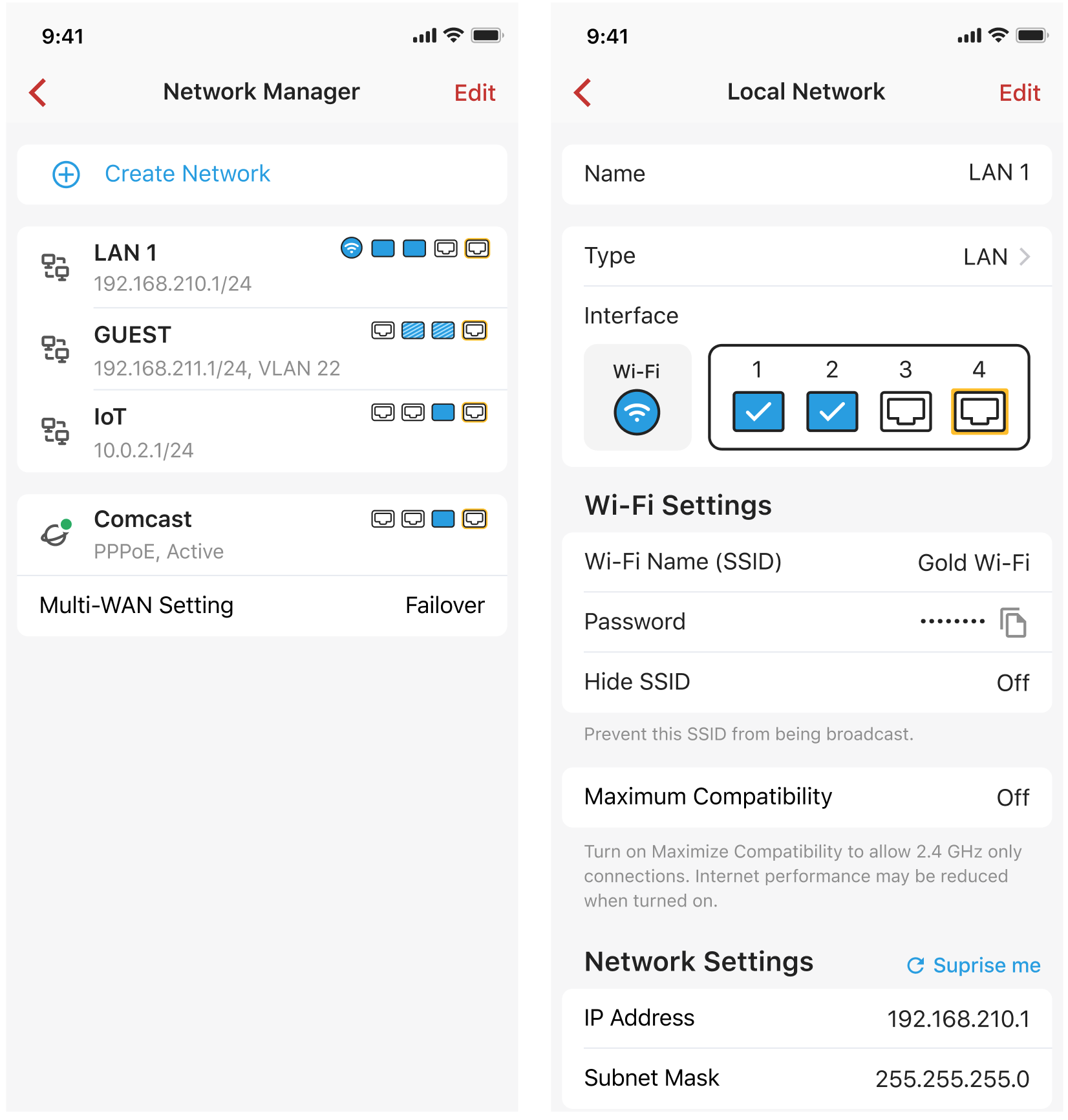 Notes
Gold's Wi-Fi interface cannot be used on WAN and LAN networks at the same time. Mobile mode (Wi-Fi to Wi-Fi) is not supported.
The Gold Wi-Fi local network can handle up to 5 concurrent client connections.
If your Wi-Fi SD is unplugged, the app will not allow you to change existing Wi-Fi configurations. You can only remove the Wi-Fi settings or the network. Firewalla will automatically recover the Wi-Fi configurations after the Wi-Fi SD is plugged back in.