Introducing Trusted LAN
A trusted LAN is a network segment that's fully under Firewalla's protection, on which you have full visibility and control of everything flowing through that network. In addition, if you pair this with the Firewalla VPN, you essentially extend your home (or work) network on the road.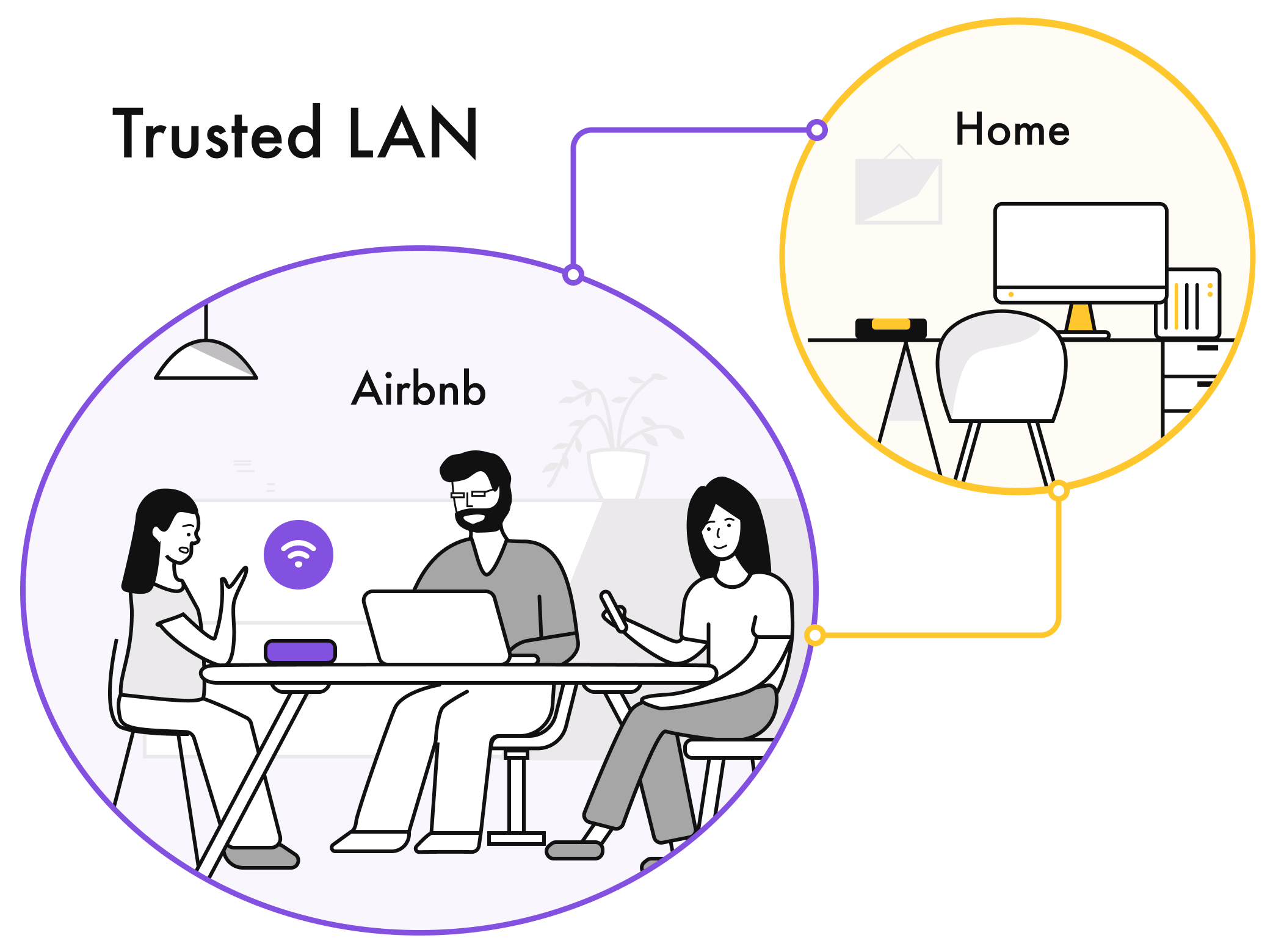 What is Trusted LAN?
A trusted LAN is a network that's completely under your control, just like your home (or work)
You know what devices are on that LAN.
You have full control of which devices can get on the LAN.
Besides your devices, no one else can talk to devices on that LAN.
Your home network is a trusted LAN.
Where do you need a Trusted LAN?
When you are using public wifi ... like Starbucks
When you are traveling and use a hotel or Airbnb Wifi
When you are at a coworking space, where your network is mixed with other companies
Why do you need a Trusted LAN?
Public Networks: Public Wi-Fi is often impossible to resist. Here, your network traffic is often mixed with others, and there is no way to guarantee this network is secure.
Shared Networks: When you are on business travel or using an Airbnb, you are using a private but shared network out of your control.

We turn on file sharing and remote access at home or work and forget to shut these down when we go to a public network. This leaves those files open for anyone who wants to take a look.

"Free Wi-Fi" is often subsidized by harvesting and selling your data. That's what all that fine print we don't read says.

A Wi-Fi may appear to belong to a business you trust, but could actually be someone nearby who disguises an AP in order to capture your business and personal information. Not some 007

things; a kid with a laptop can do it.
Which Firewalla do you need?
Both Firewalla Gold and Firewalla Purple can be used to create Trusted LAN.
The Firewalla Purple is simpler since it is smaller and can be carried around if you are traveling. Firewalla Purple allows you to create a Trusted LAN anywhere that has a Wi-Fi or an ethernet connection. And if there is no Wi-Fi or ethernet, use your phone's personal hotspot to share a connection.
The Firewalla Gold is a good choice if you are working in a shared or coworking space with a few people.
How to create a Trusted LAN?

Run the Firewalla in router mode. This will allow the Ingress Firewall to block all traffic to the LAN.
Create a network segment using Wifi or another ethernet port.
If you want to connect back to home or work, then use VPN Client to create a tunnel to the home network. (example site to site VPN)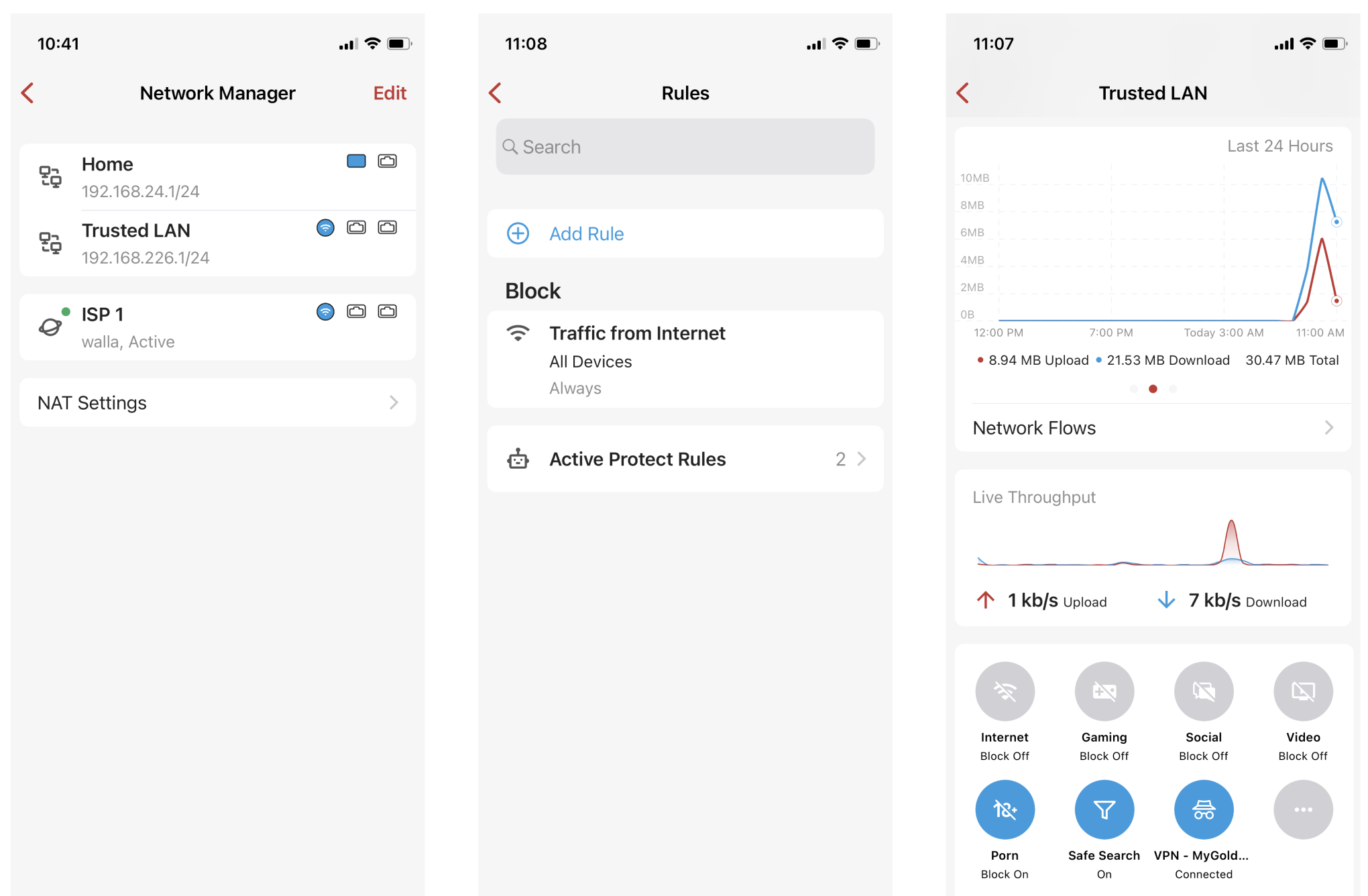 It is just as secure as a firewall in your home—but you can take it with you. Here are some additional benefits and features you can turn on:
Security protection, adblocker, and other features can be set up once and used no matter what network you are on.
When traveling with family, kids' devices can be blocked from sites and apps you don't want them visiting.
Block the wifi host's ability to see where you are going on the internet by securing your DNSover HTTPS (DoH).
Share a single trusted connection across all the devices you trust.
Connect to assets at another location via VPN (e.g. home, an office) such as a music server or sensitive business data.
Create a private network within a co-working office to secure Intellectual Property amongst employees at the same site or connect securely to employees at locations around the world. If you have a dedicated office, the Firewalla Gold is also a good choice.
You can set up a Firewalla Purple in any environment in under a minute, power it off a laptop, and have a trusted LAN that protects your personal and professional data.