Requires Firewalla 1.972
Requires Firewalla App 1.45 for full functionality
Target list allows you to create your own list using IP or domain address; this list can be used to create rules to block, allow, or prioritize a group of targets. If you have a lot of rules, this feature can help you to organize them.
Target Lists can only be created and managed using the Firewalla Web interface
Target Lists can be applied via the Web or App (version 1.45 or greater)
Target List items for this version is restricted to 20 items

Domain
IP
IP Range
Domain with a wildcard (*.firewalla.com)

You can only create up to 5 target lists
Security Example + App
Here is an example where you can easily create a target list to identify the "Purple Fox" malware's command and control sites. You can later use this to block traffic to devices/networks.

After creating the target list, you can easily apply this list via the Firewalla App. (1.45 or greater)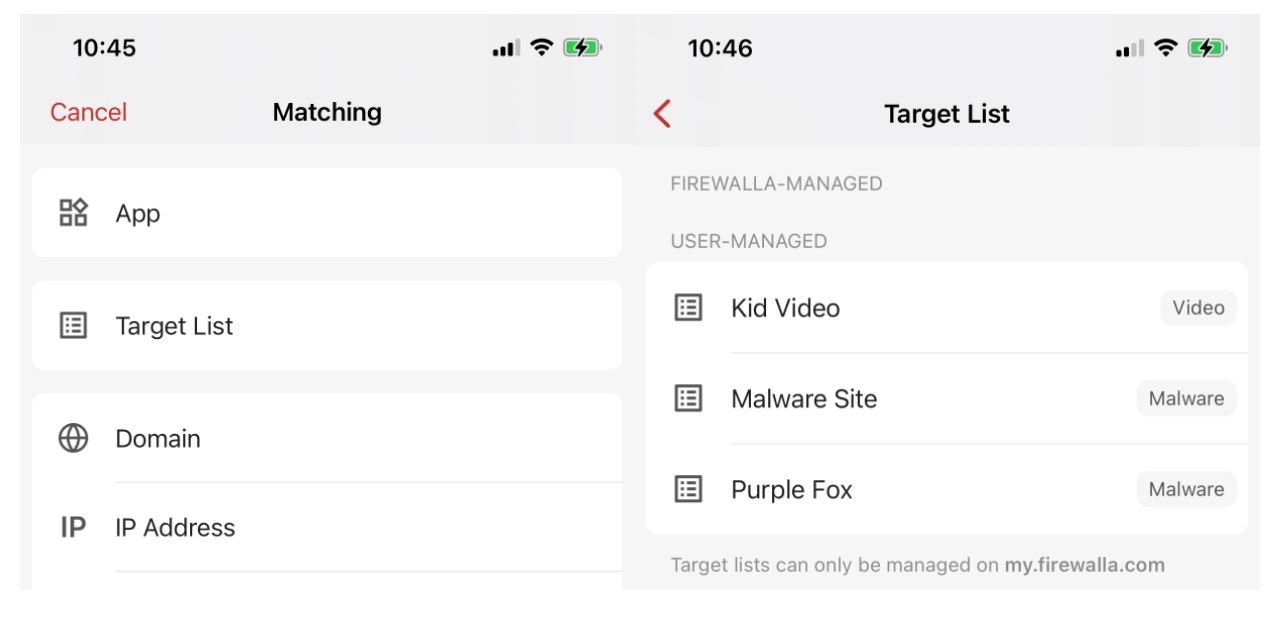 Parental Control Example + All Web
You can also create specific sites like "gaming" for kids.

On both Firewalla App (1.45 or greater) and Web Interface, when you create a rule, you can choose to match a target list.

Builtin Target Lists
These list items are maintained by Firewalla and you can use them where target lists are accepted. (rules, smart queue, routes)
| | |
| --- | --- |
| List Name | Description |
| Apple Private Relay | Use this to block Apple Private Relay from your network |
| DoH Services | Use this to block popular DoH services from your network |