Streamline VPN Connections With Firewalla VPN Client
Firewalla VPN Client is a built-in service on your Firewalla box that enables you to direct any device connected to Firewalla to a VPN. You can create three types of VPN connections:
3rd-Party VPN – connect your devices to a secure 3rd-party VPN service
Site to Site VPN – bidirectionally connect networks at different locations
Remote Access VPN – create a one-way connection to another network
Firewalla VPN Client makes it easy to get your entire network on a VPN connection, whether you're working from home, traveling on vacation, connecting multiple offices or homes, or simply trying to shield your Internet activity.
3rd-Party VPN Server
A 3rd-party VPN service can be beneficial for protecting your online traffic from snooping, interference, and censorship. However, getting your network to use a VPN means managing separate apps on different platforms for each device; this can get frustrating quickly. And you'll likely have many devices that don't even allow you to install VPN Client software.
Firewalla VPN Client makes it simple to connect your network (and devices) to a 3rd party VPN Server. Just enable the VPN Client on the Firewalla app and select which device you want to connect to the 3rd party VPN Server– no need to download any extra software.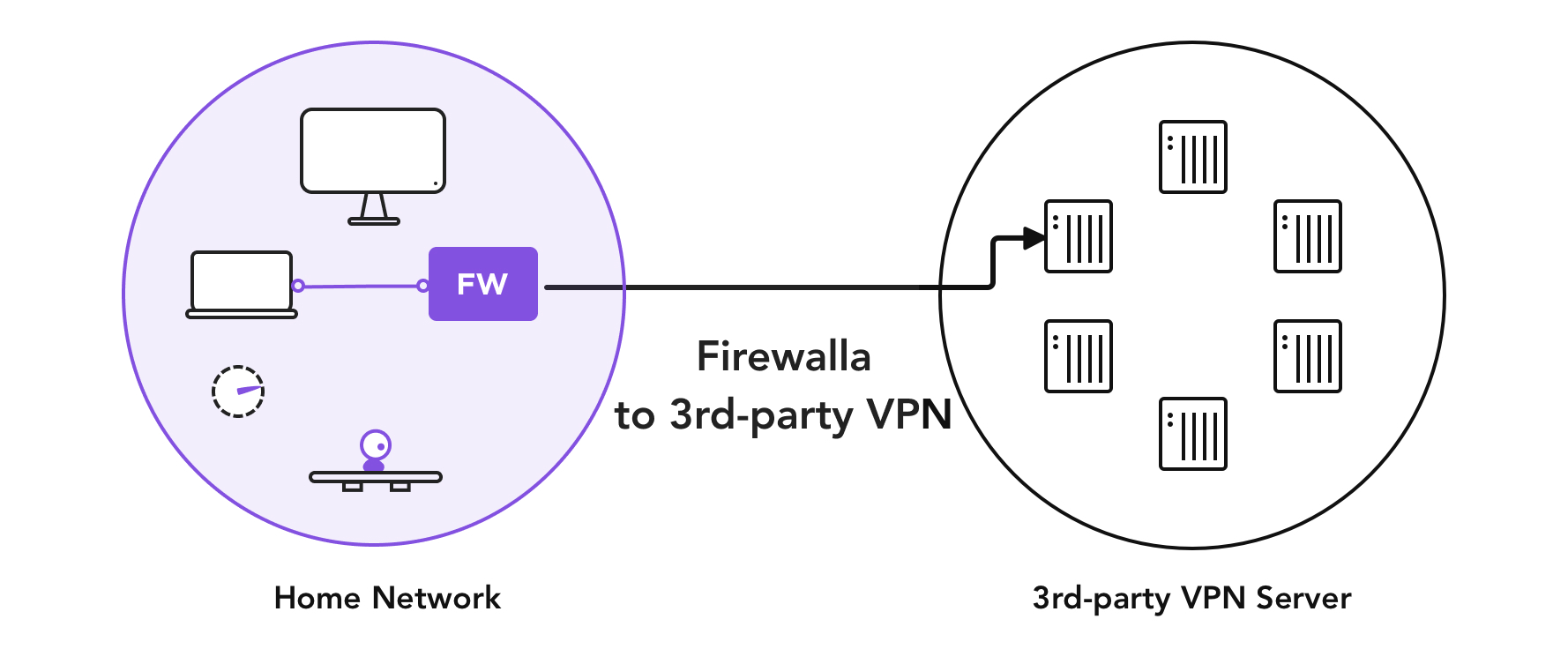 Site to Site VPN
If you have to manage multiple offices or homes in different locations, a Site to Site VPN can make it easy to seamlessly connect devices and resources. Site to site VPNs allow you to link separate networks so that devices in one network can securely reach devices in the other network. You can read more in our article about Firewalla Site to Site VPNs.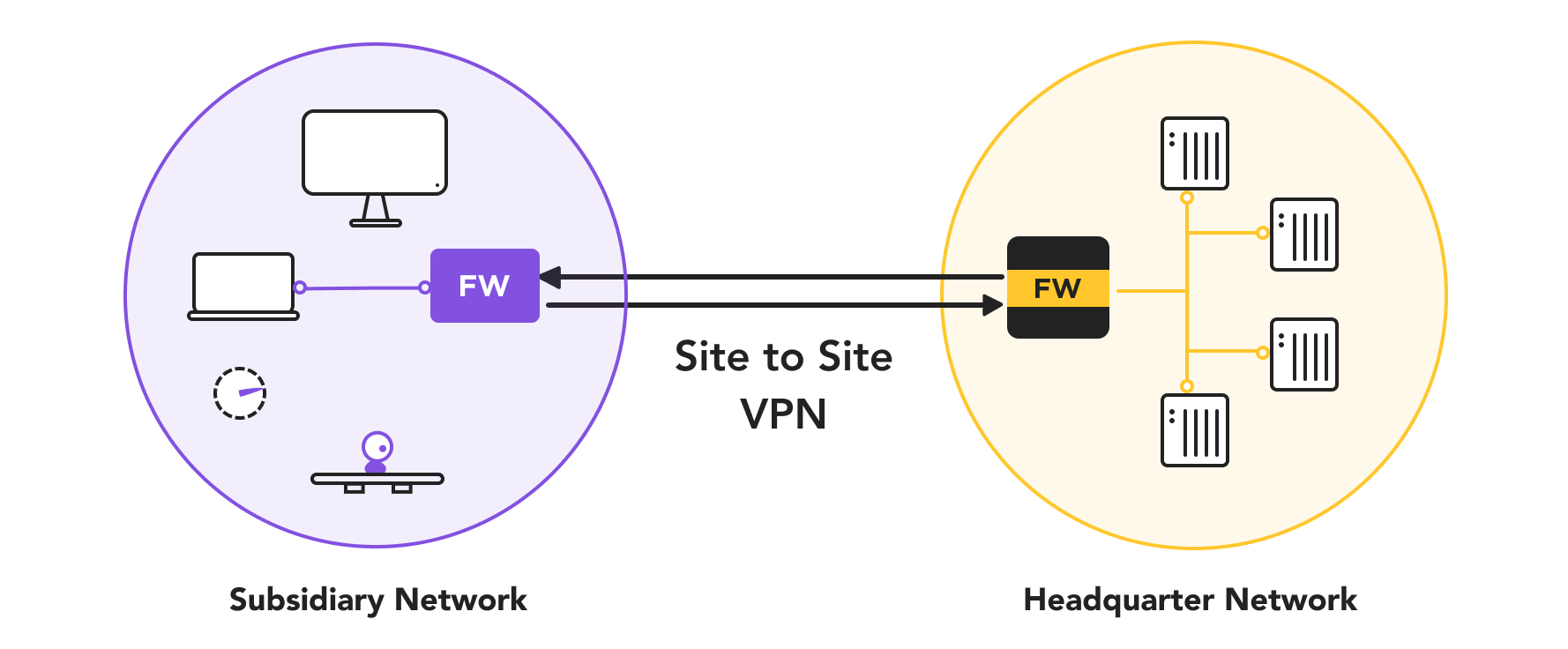 Remote Access VPN
When working from home, you may need to access your company network to see files and printers or connect to a computer. Remote access VPNs enable you to connect to your office network from anywhere securely. Unlikely a site to site VPN, the VPN client will have full visibility of the server side, and the server side will not be able to see the client network.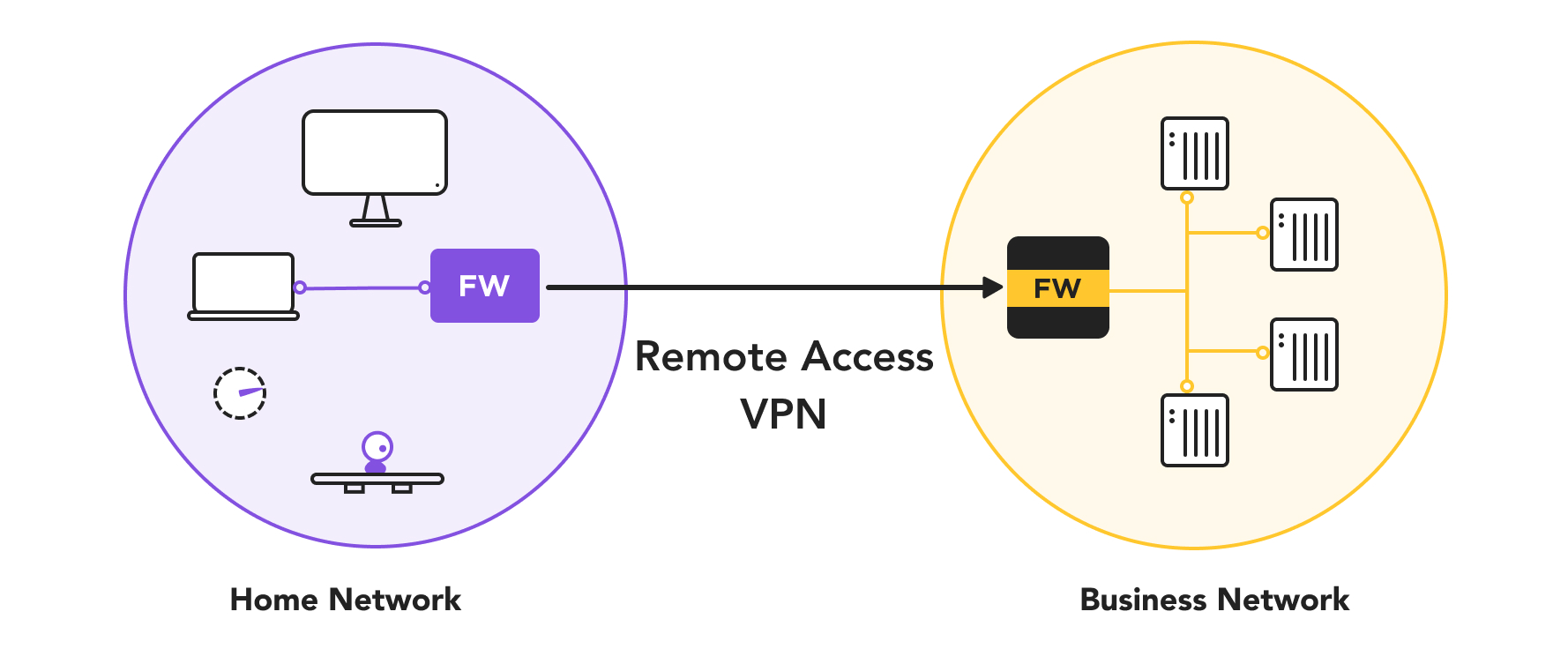 How do I use Firewalla VPN Client?
First, you'll need to create a VPN connection. To do this, tap the VPN Client button on your box's main page, then tap + Create VPN Connection. Select what type of VPN connection you'd like to create: Site to Site VPN, Remote Access VPN, or 3rd-Party VPN. You can choose between WireGuard or OpenVPN protocols for Site to Site and Remote Access VPNs, while WireGuard, OpenVPN, or AnyConnect protocols are available for 3rd-Party VPNs.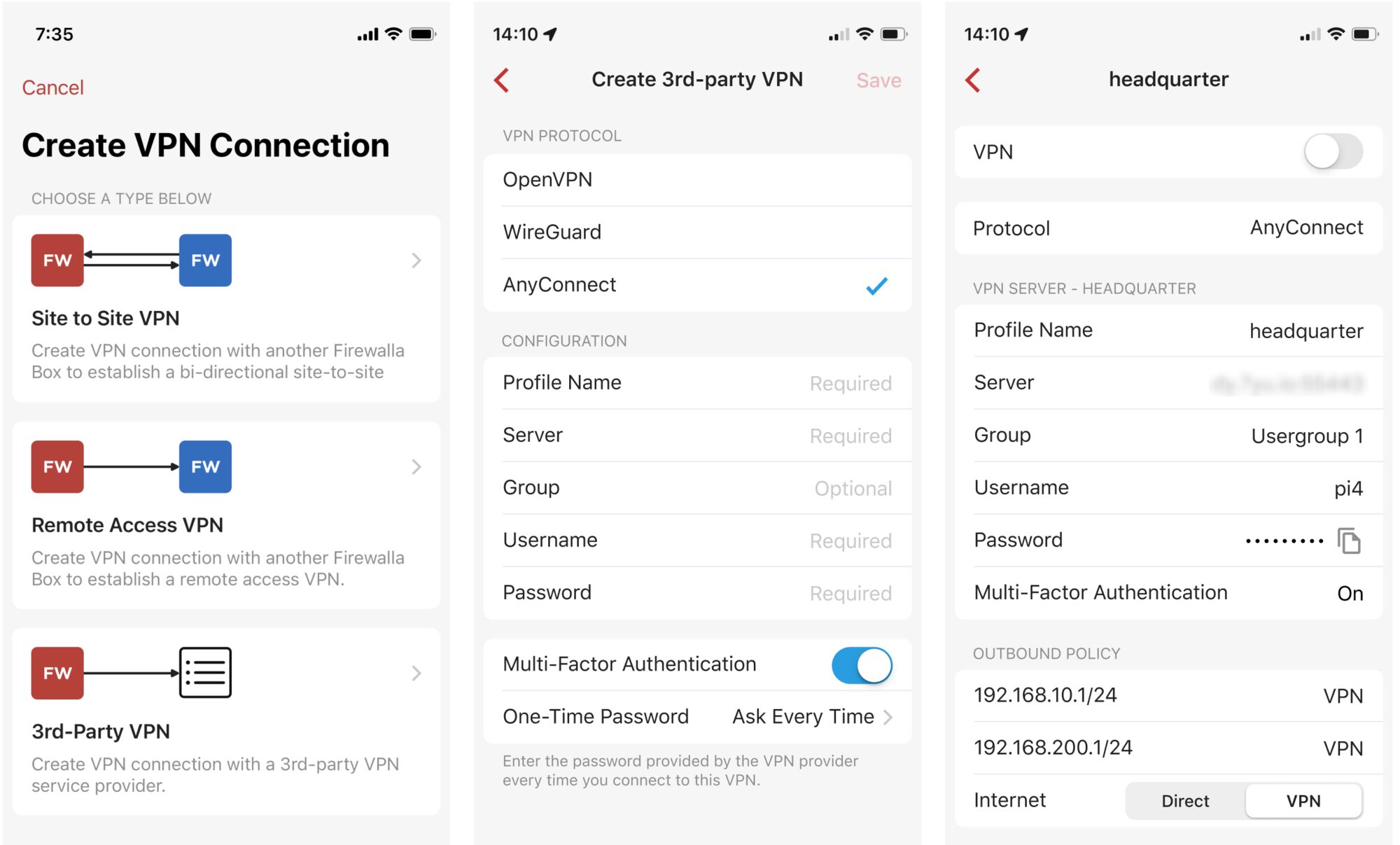 Finally, you'll need to connect to the VPN by tapping on the VPN connection you want to establish from the VPN Client page and switching the VPN on. Firewalla can support up to 5 active VPN connections.
After the connection is set up, you can selectively send your devices' network traffic through the VPN. Devices must be part of the Firewalla network or in router mode to use the VPN.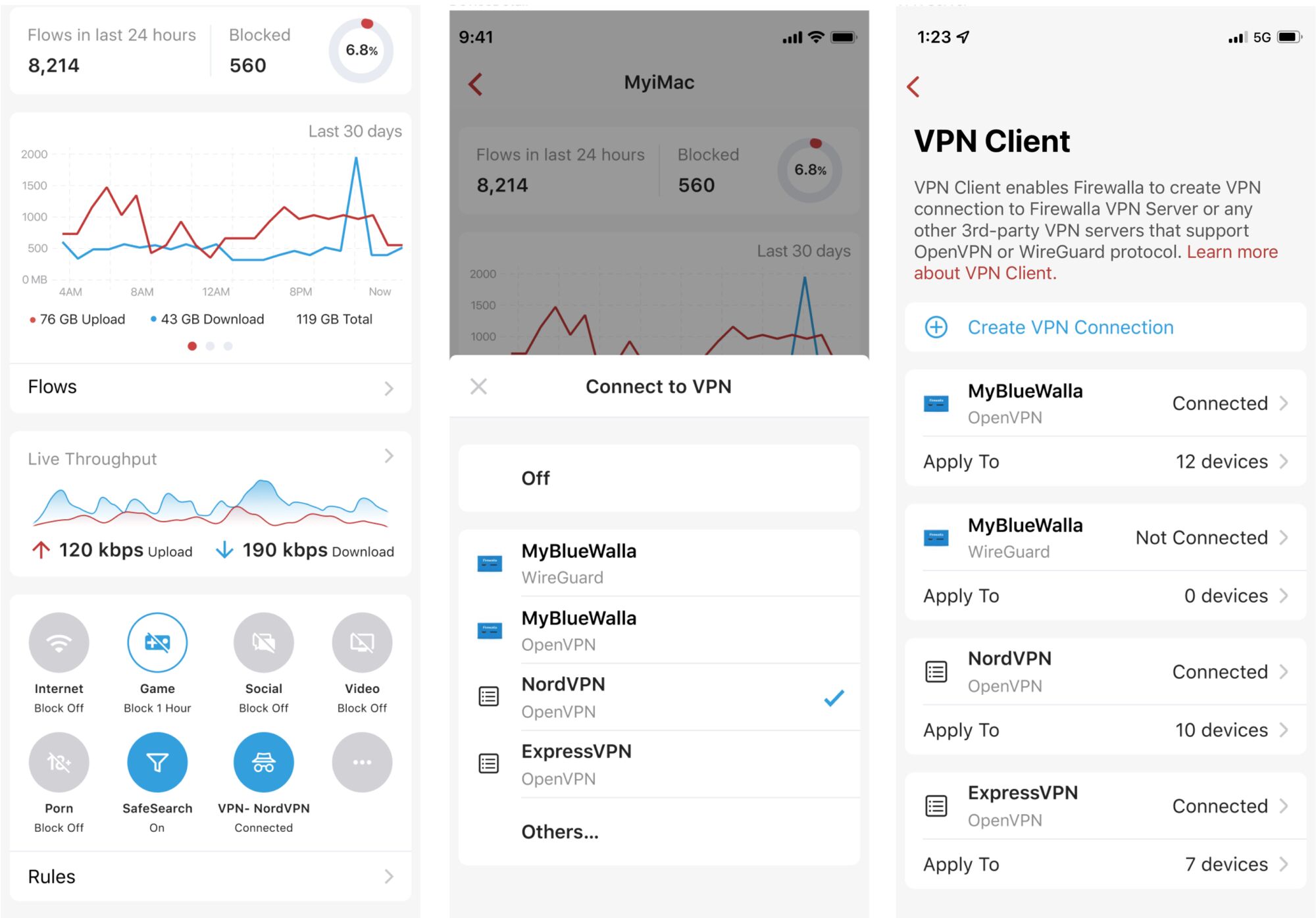 After a VPN profile is set up, you can configure its Outbound Policy, set Policy-Based Routes, choose to Force DNS over VPN, set an Internet Kill Switch, and more. You can also choose to delete a VPN profile to immediately remove the profile and all related rules.
This is part of our Firewalla Weekly Newsletter. You can sign up here https://firewalla.com/weekly.