When you first bring up Firewalla, it is running in simple mode by default.  This mode works with most popular routers out there on the market.  However, a small percentage of users home router may not be compatible with Firewalla's simple mode.  To see if your router is in that list, check out this page:  https://firewalla.com/compatibility
If you are running into problem that is not working with simple mode, don't worry, Firewalla has DHCP mode you can try.  This mode is not set as default mode, because it involves an extra step, that is you need to turn off your router's DHCP function from its admin page.  Why you need to do this step?  Because in DHCP mode, Firewalla creates another network over the existing network.  So if you have 10.0.0.x network on your main router, you will also see 192.168.168.x or 192.168.2.218.x network from Firewalla.
(The 192.168/218.x network is there by default, you can actually use it.  By using another DHCP server or manually configure a static IP address in that block)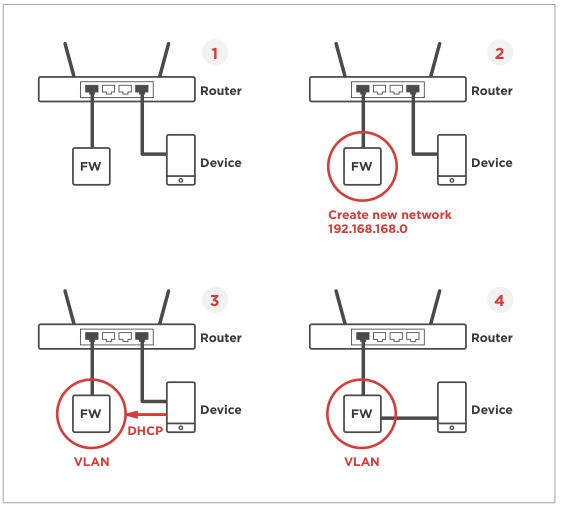 Please see this article, it explains the three modes we support in Firewalla.  "How does Firewalla Intercept Traffic?"
---
The DHCP mode is far more complex than the Simple mode provided default by Firewalla installation process.   A bit of networking knowledge is required for this.  In case problems encountered, you should know how to turn DHCP back on again.
To enable this mode:
Enable it during first binding, Firewalla will test your network for automatic mode.  If the test fails, you may turn on DHCP mode.
Enable it by tapping on the "Monitor" button and select "DHCP mode"
After the DHCP mode is enabled,  you will need to turn off DHCP Server on your router.  Please make sure you remember the network setting before turning off DHCP server.  In case anything wrong, you will need to recover it.
Before you turn off DHCP mode on your router, please record following
Your router's IP address. (should be like 192.168.x.1 or 10.x.x.1)
In case anything goes wrong, you will need to configure a static IP on your PC/Mac/Pad to access the router.
How to turn off DHCP mode:
Netgear Routers

1) Login to your Netgear router
2) Navigate to "Advanced" tab -> "Setup" -> "LAN Setup"
3) Uncheck "Use Router as DHCP Server"
4) click "Apply" button.

Linksys Routers

1) Under Router Settings, select Connectivity.
2) Select Local Network.
3) Uncheck the DHCP Server box.
4) Click OK to save changes.

Fritz!Box 7490

Click "Home Network" in the FRITZ!Box user interface.
Click "Home Network Overview" in the "Home Network" menu.
Click on the "Network Settings" tab.
Click the "IPv4 Addresses" button. If the button is not displayed, enable the Advanced View first.
turn Off DHCP