Notes: This feature requires Firewalla App 1.44 or higher, and the ability to route traffic to VPN connection is only available on Firewalla Box early access release v1.972.
What is Policy-based Routing?
In networking, network traffic is usually managed by the system's routing table; This routing table can either be static, or dynamic based on your network topology. Policy-Based Routing (PBR) is a technique used to make routing decisions based on policies set by the network admin.
The traditional Policy Based Routing is based on the IP layer, and also the services the network is running. Firewalla on the other hand, the Policy Based Routing is much more flexible, and also can be mapped to the destination category (gaming, video) or even specific applications (Zoom, Webex).
The Firewalla PBR is content-based
The PBR feature will primarily work if you have multiple WAN or VPN connection
The PBR feature will be available on the Gold first
Benefits:
You can specify any type of traffic and route them to your VPN servers, as long as the VPN is connected. (Available on early access Box v1.972)
If you have a dual-WAN setup, you can route any traffic to any WAN connection no matter the WANs are set to failover or load balancing.
Use Cases:
Routing all video traffic to a 3rd party VPN server (Available on early access Box v1.972)
Routing all traffic on PC to the standby WAN
Running Zoom or Gaming from a low latency WAN interface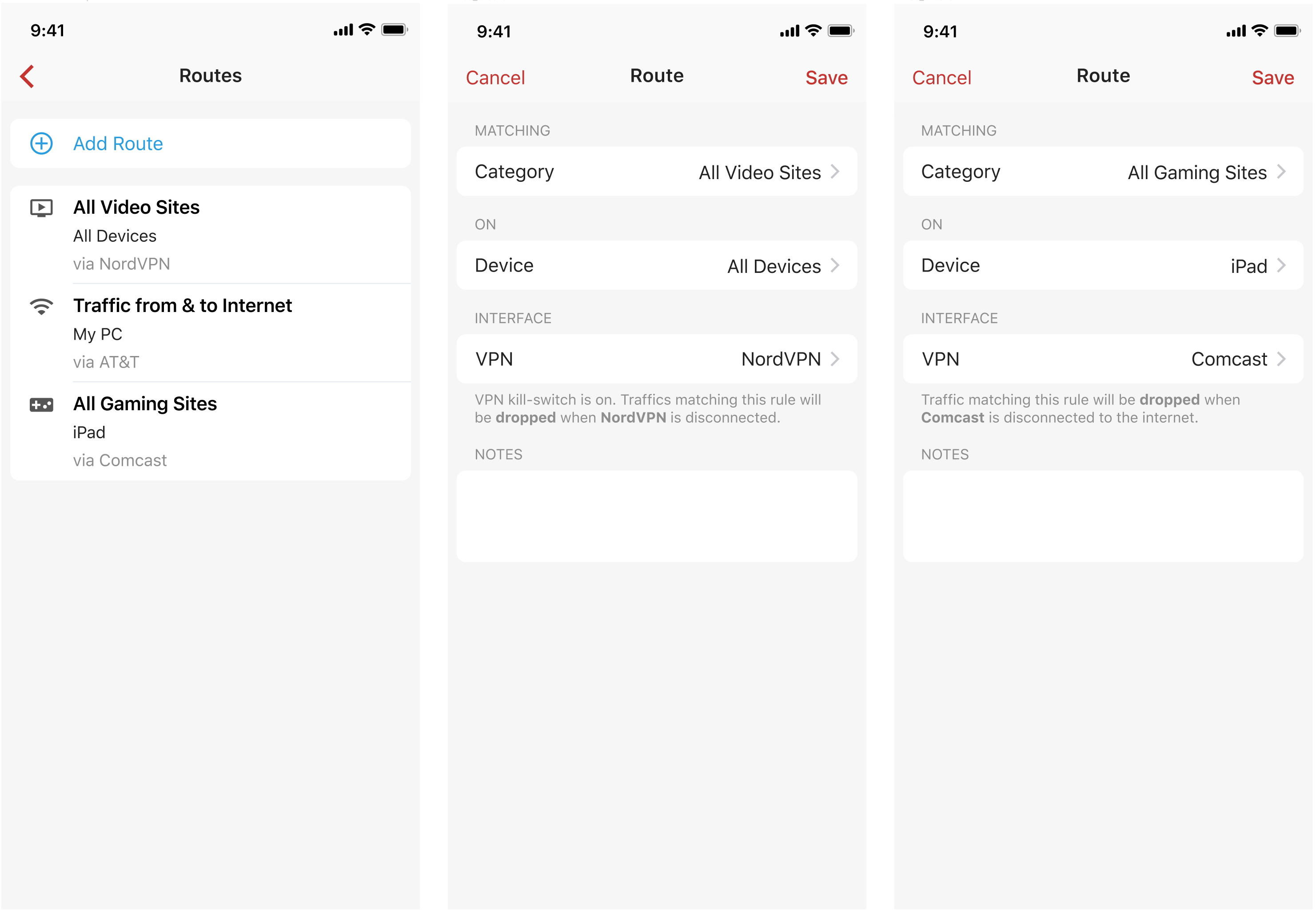 How to use it?
On Firewalla Box main page, tap on Routes -> Add Route, specify any type of traffic, matching a device/group/network, and route it to any VPN connection or WAN connection.


Following Targets are supported in Routes:
Domain
IP Address
IP Address Range
Remote Port
Region
Internet
All Gaming Sites
All Social Sites
All Video Sites