This is a working in progress document, it will change ...
Testing the speed of your network is both an art and a science. Especially if you have a Gigabit WAN network. Here are some tips to get decent test results.
Physical:
Please make sure you have the right cables ready. Gigabit internet does require CAT 5E or CAT 6/7... ethernet cables.
You should be testing via an Ethernet connection. Wifi tests may work in slower networks, but for anything beyond 200 Mbit, you should be using Ethernet.
Your test host should be as close to the router as possible. We have seen people using ethernet over coax (MoCA)...
Make sure you have a decent PC/MAC for the test. The reason is, some older machines may not be possible to drive gigabit.
If your ethernet is going through a switch, please make sure the ethernet switch can handle wire-speed switching for all the ports. (you don't want a file server or like to slow down your network)
If you have nested switches, make sure the connecting between the links is not saturated when you are doing testing. (otherwise you will be limited by the switch's interconnect speed)
Software:
Not all speed test sites are equal, and not all of them will work consistently around the world.
In general, the speed test given by your service provider is likely the best (most close to you).
Some speed tests will limit the maximum bandwidth getting tested. (example, fast.com, I can only get 250mbit)
What do we use? speedtest.net fast.com dslreports.com
If possible, use the app instead of the web page for the test. For example, speedtest.net has OSX apps that you can download and use. It is likely more reliable.
Time:
If you are using a shared medium (cable modem for example), your speed may also depend on what your neighbors are doing as well. So testing speed during slow hours may be faster
If you have slower internet, it will be good to test when things are quiet in the house. For example, if someone is loading a 4k youtube video, you are going to see a spike of 40 or more Megabits, and that will compete with your speed test. (same as iCloud backups ...)
Do try a couple of times for the tests ...
Location:
Some speed tests do have the option to pick the location of the target server. The ones that closed to you are likely to be the fastest. But do try a few others if you are not getting the speed you are after.
Firewalla Configuration:
Firewalla monitoring mode will influence a bit on the test result.
Router mode is the fastest, then DHCP mode, then Simple Mode
Simple mode is a bit slower (but not a lot) due to arp spoofing.
Speed Test For LAN
All Firwealla Products have the option of testing the connection from your device to Firewalla. This is really the speed of your LAN.
HTTP://[your firewalla IP Address]:8833/ss/

Speed Test Inside Firewalla for WAN (PRO ONLY)
If you know how to access the Firewalla SSH shell you can use this to do a quick speed test. This test NOT always can get to gigabit speed. (likely it is because the software is python)
pi@firewalla

:

~

 (GoldJCMain) $ remote_speed_test 




Retrieving speedtest.net configuration...




Testing from Comcast Cable (73.162.248.251)...




Retrieving speedtest.net server list...




Selecting best server based on ping...




Hosted by Razzolink Inc (San Jose, CA) [7.37 km]: 21.692 ms




Testing download speed................................................................................




Download: 714.04 Mbit/s




Testing upload speed................................................................................................




Upload: 39.63 Mbit/s
If you have gigabit connections, you should be able to use the speedtest cli. The test binary you will have to install yourself.
wget https://bintray.com/ookla/download/download_file?file_path=ookla-speedtest-1.0.0-x86_64-linux.tgz

Uuntar this and run speedtest
pi@firewalla

:

~/tools

 (GoldJCMain) $ ./speedtest





   

Speedtest by Ookla


     

Server: EGI Hosting - Santa Clara, CA (id = 32408)


        

ISP: Comcast Cable


    

Latency:

    

10.23 ms 

  

(1.53 ms jitter)


   

Download: 

  

934.95 Mbps (data used: 1.1 GB)

                               




     

Upload:

    

39.67 Mbps (data used: 29.7 MB)

                               


Packet Loss: 

    

0.0%
#If you want to test it on each interface

pi@firewalla

:

~/tools

 (GoldJCMain) $ ./speedtest --interface eth0
The above two tests are run in sequence, you can see the speed difference due to different test tools.
Simple Ping Tests
If you hear a choppy voice during zoom calls or feel your speed is slower, try to use "ping" to test your network.
First, ping a well known and stable IP, like 1.1.1.1 or 8.8.8.8, if you see something like below, something between your PC/MAC to the internet is dropping the packet
ping 1.1.1.1

In parallel, ping Firewalla's main IP or your router IP.
ping 192.168.2.1

If your ping to your router / or firewalla has dropped packet, and the "time" is erratic and >100ms, then your LAN has a problem, usually, this is due to your WIFI connection or a bad switch.
Wifi vs. Ethernet
The quality of wifi is not predictable when doing speed testing. The final speed depends on many things, may even include how your neighbor is using the same channel.
Here is an example (this is Speed Test via DSL Reports over Ethernet)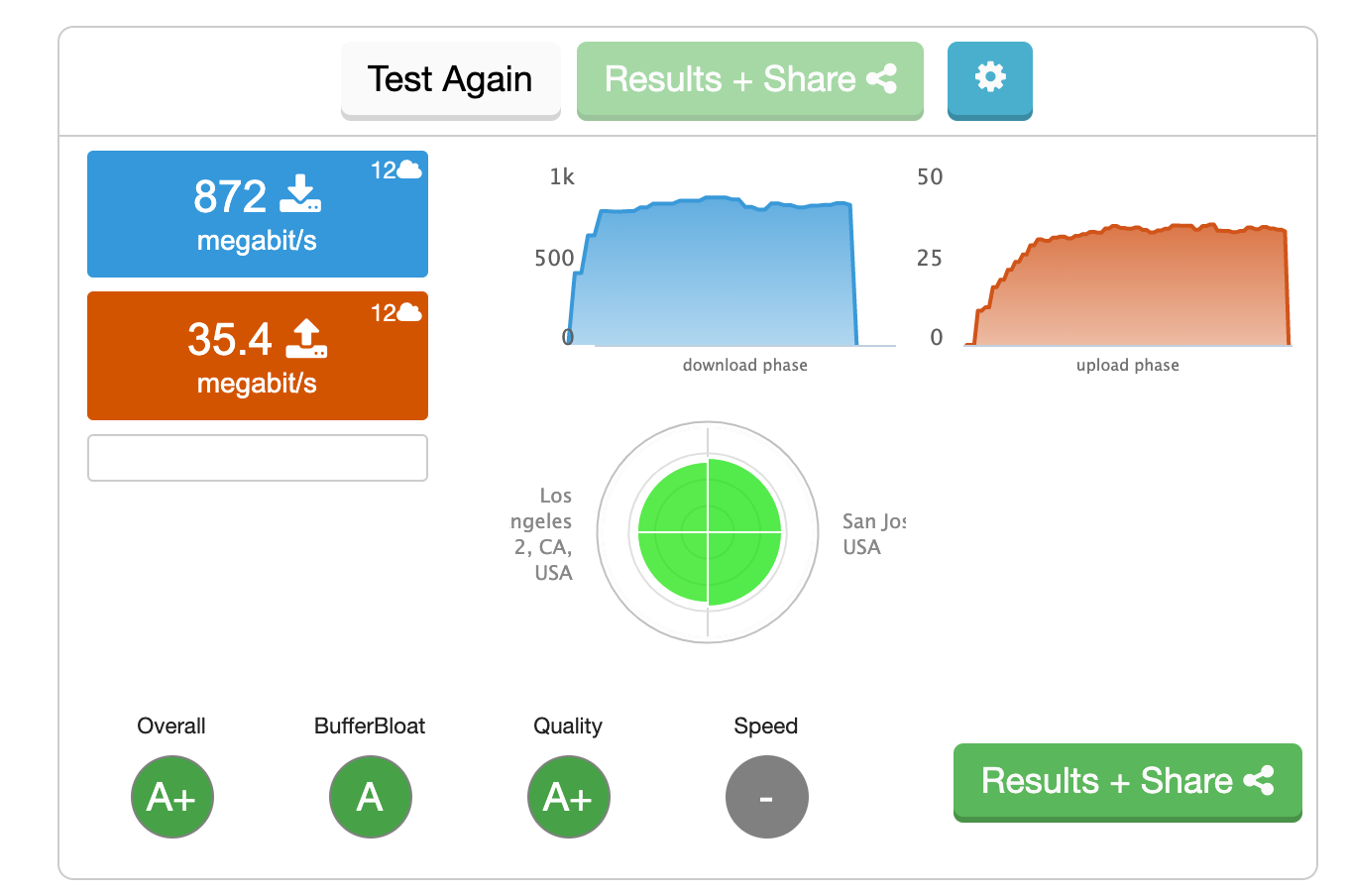 Here is the same test using Wifi (Access Point 15ft away). Here even with Smart Queue on, you can see some bufferbloat, and that's likely from the Wifi side. For a better test, please use an Ethernet connection instead.