Worried about your baby camera getting hacked?
Someone tampering with your smart speakers?
Your phone being used by hackers? 
Or just want to know what your connected things are doing?
Ultimately something simple and powerful to protect your home network
Better security is a necessity as we move towards a connected age, where our cars, homes, and money are all connected and controlled by computers and IoT devices. The stakes are much higher, as hackers will be able to attack not just our bank accounts but our cars and homes. Connected consumer and business products have begun flooding the market, but security has been an afterthought. The world now has to figure out how to secure these connected things. 
Firewalla is a network layer security device 
IDS (intrusion detection system)

IPS (intrusion prevention system)

Intelligent behavior analytics
VPN server

Packaged in one tiny 2 in x 2 in Box

Managed by modern smartphone Apps

"A pretty smart Firewall"
Intrusion Detection
Firewalla monitors your network and alarms you when detecting malicious activities & vulnerabilities. Here are some of the ways:
Detect new devices connecting to your network and disables them if needed.

Detect if a phishing or malware link is clicked on PC/Tablet/Phone.  

Detect if strangers are watching or hacking your security camera, baby camera, or any connected device.

Detect if your phone is infected with malware, preventing hackers from using your phone for nefarious purposes like cryptocurrency mining.

Detect if apps are performing malicious activities in the background without your knowledge.

Scan your network (like open ports) to detect security vulnerabilities and risks early.

and much more ...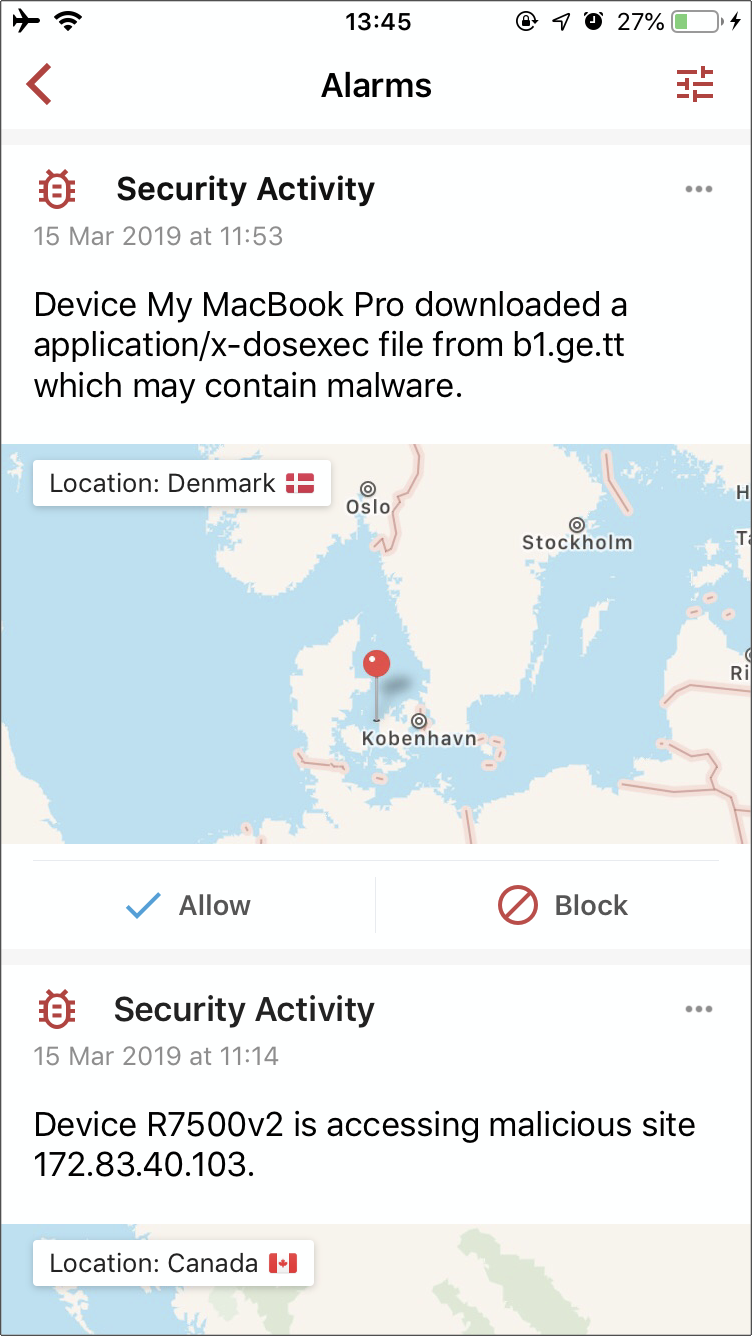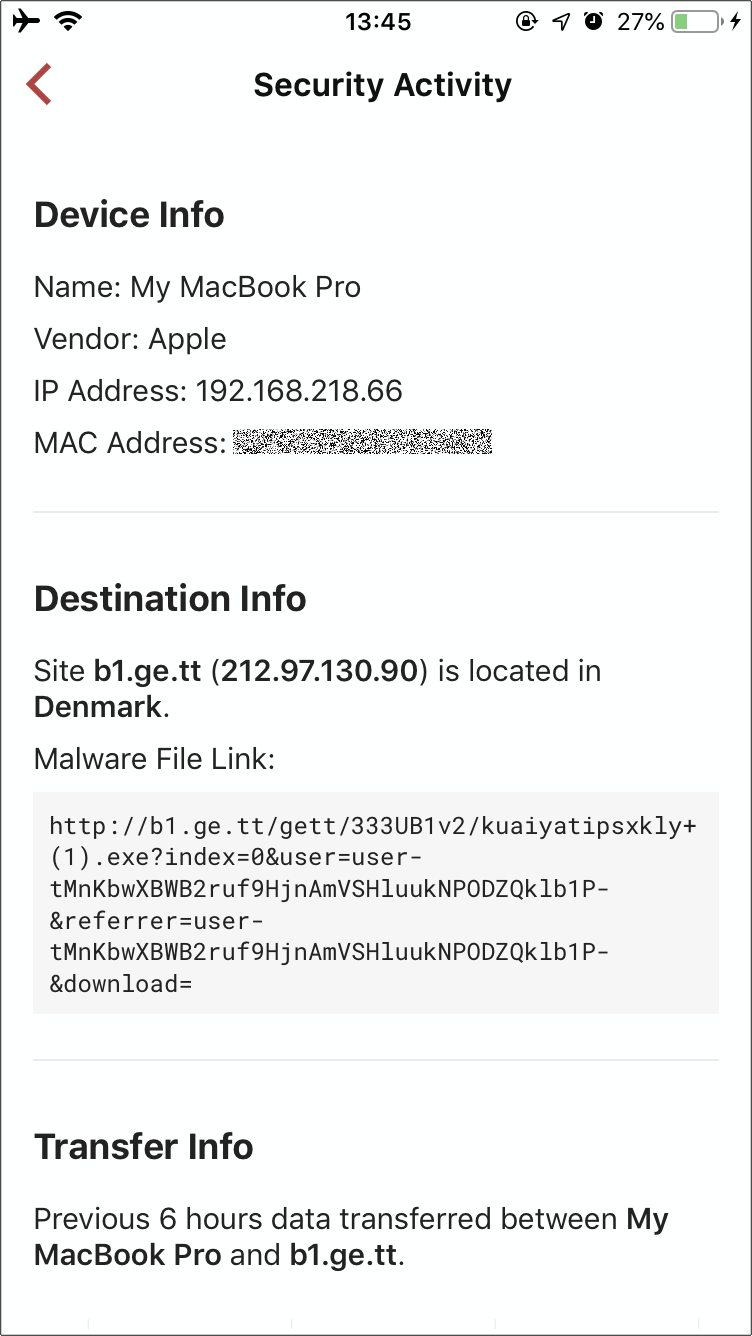 Intrusion Prevention
Firewalla is not just a passive device when comes to monitor the bad guys.  It utilizes deep insight network flow and our unique cloud-based behavior analytics engine, actively monitor and detect suspicious connections 24x7.  Suspicious connections are categorized into different levels.  For the ones that are very sure to be "bad", Firewalla will automatically block the connection.  Otherwise, an alert is raised and the user is given the choice to decide whether to block or not.
Active protect is not just happening at home.  When you are on the road or at coffee shops, if you surf with our VPN server, you will be automatically protected as well.
Will Firewalla protects me from all cyber threats?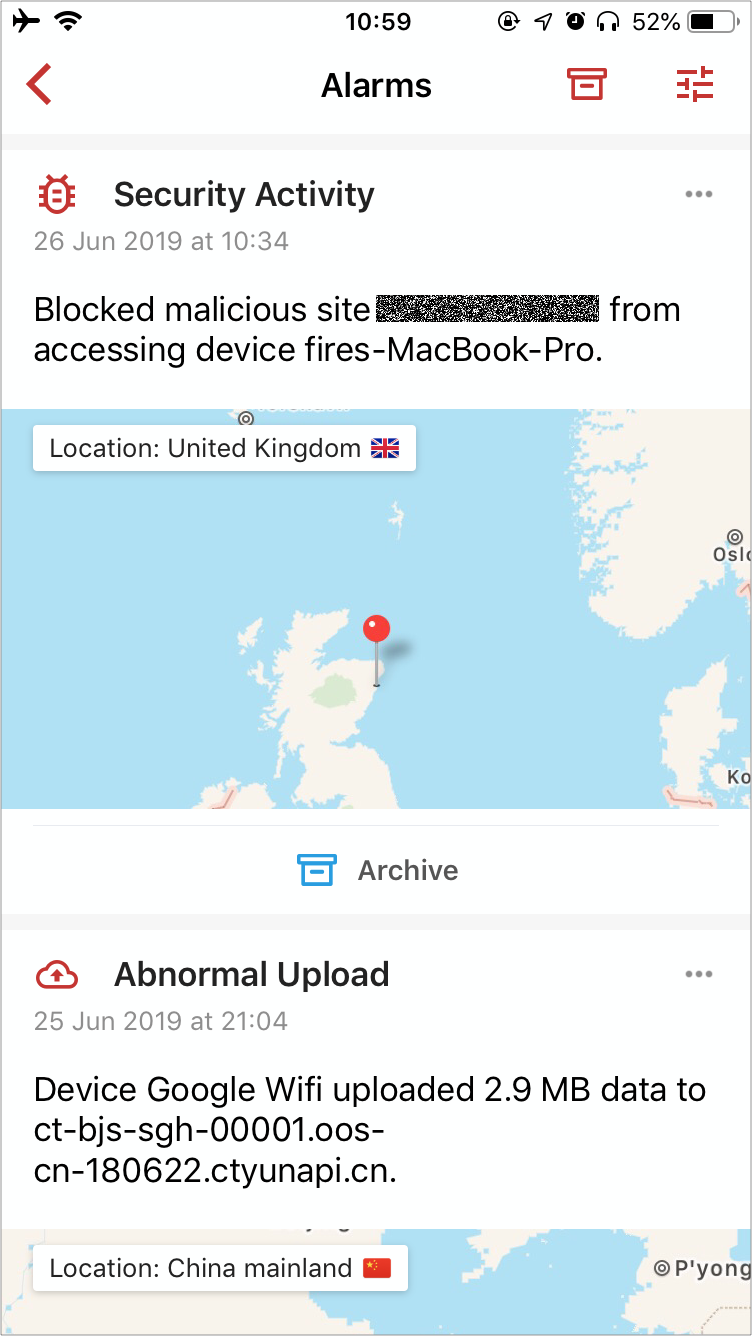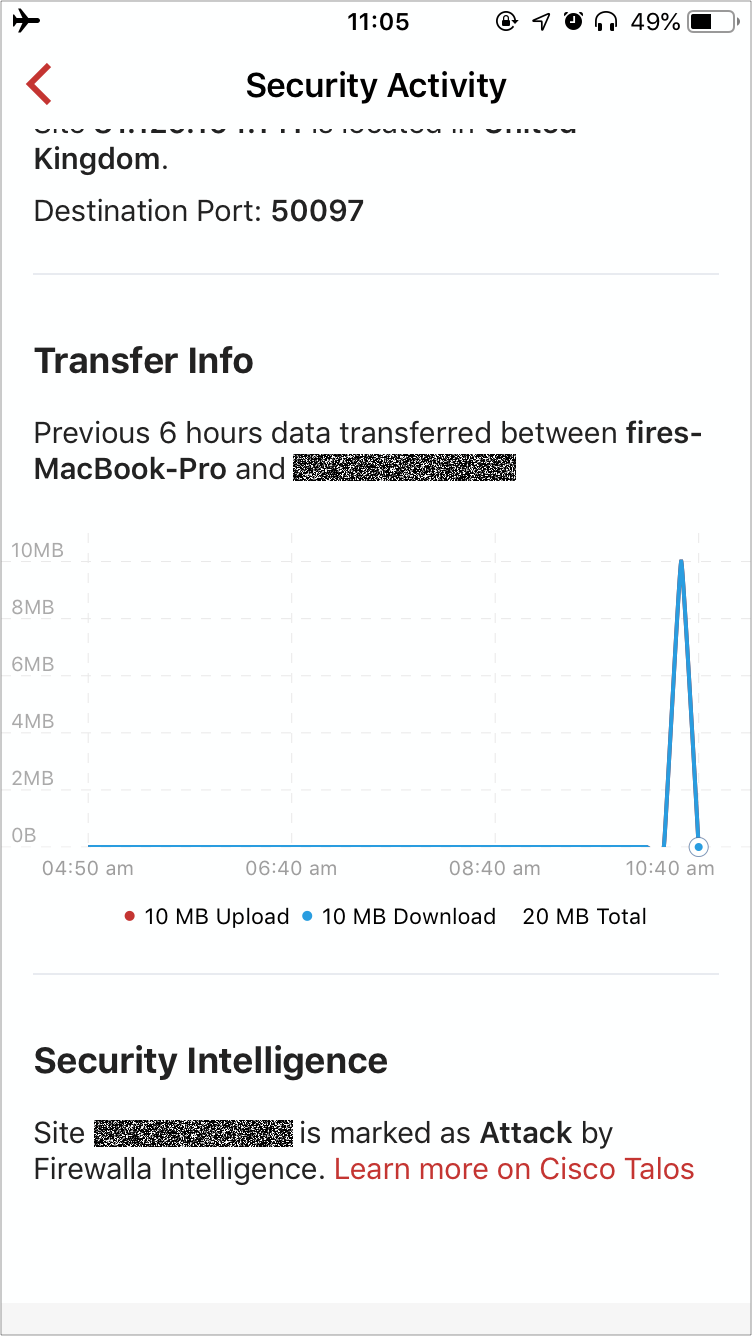 Intelligent Behavior Analysis 
Firewalla consists of the box, the App, and the intelligent cloud.  Firewalla's intelligent core constantly analyzes your behavior and sends you alarms when it detects activity that's out of the ordinary. These algorithms offer you an extra level of protection that you can control.
Here's an example of how it works, learn more about Abnormal Upload Alarms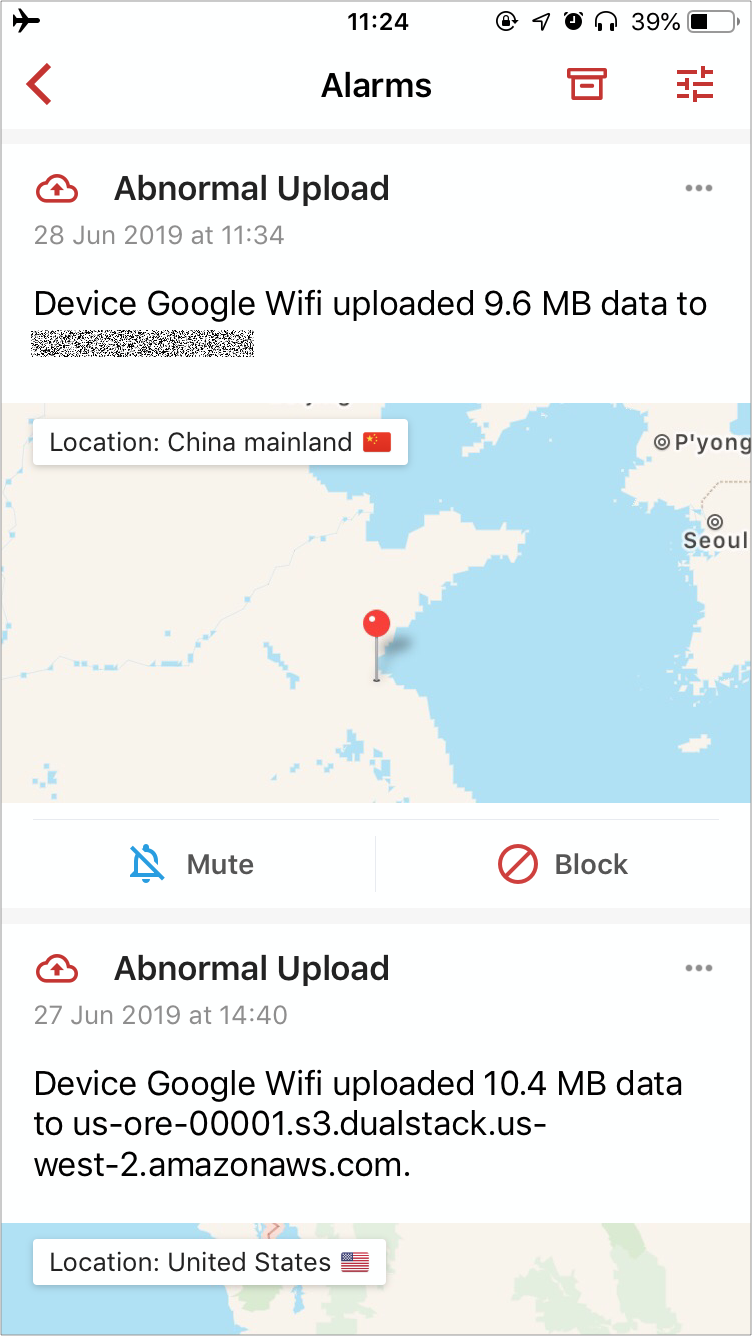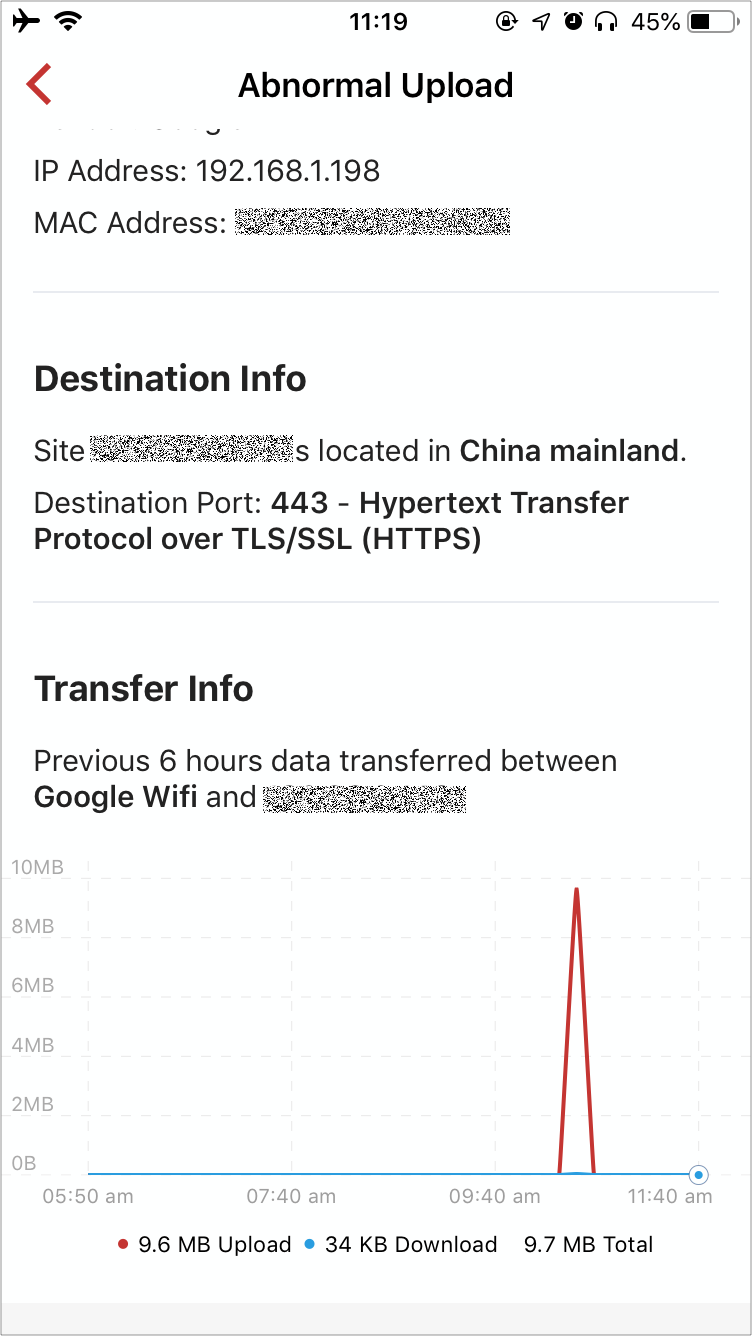 If you are a technology person, here is exactly how we make cybersecurity work. This video unedited from our internal tech talk
We're committed to continual improvement of our algorithms to make this process as accurate and unobtrusive as possible.
-------------------------------------------
Find the Firewalla for You
Firewalla Red is optimized for affordability, ideal for families and SOHO users.  Blue is optimized for power and speed, made for pro and business users.