Firewalla App Beta version 1.53 is available on iOS/ Android. This version is required for Purple SE (https://firewalla.com/purplese)
Please follow the links below to signup for Firewalla iOS and Android app beta
Some of the new features require box version 1.975 or above. This version is currently available to
New Features
Able to change Internet Quality test target directly on the test results event.
Display all related rules in the devices' rule list.
Network events are more visible on the app UI.
1. Live Throughput on Devices List (Requires Box 1.975)
Live Throughput on Devices List Video Tutorial
When connected to the local network, the Firewalla Live Throughput feature can show you the upload/download throughput for all devices, networks, and individual devices separately in real time. In this release, we've added these statistics to the devices list, so you can get an overview of how much bandwidth your devices are consuming in a unified view.
Please note, Live Throughput will only be shown when your app is connected to Firewalla's local network. Offline devices or unmonitored devices will not have these stats.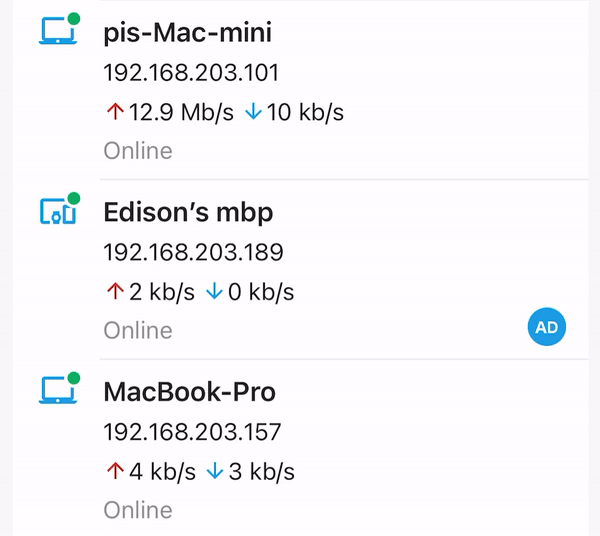 2. Large Upload Alarm (Requires Box 1.975)
Large Upload Alarm Video Tutorial
We are now supporting a new type of alarm called "Large Upload" alarm. Unlike the Abnormal Upload alarm, it simply looks into the connection between your devices and the external host. If the data uploaded exceeds a certain threshold, Firewalla will generate an alarm.
This type of alarm is turned off by default. If you want to get notified when such activity happens, go to Alarms -> Alarm Settings -> Large Upload, and change the general setting to "Send Both Alarm & Notification". The default Upload threshold is 100 MB, you can tap to change it.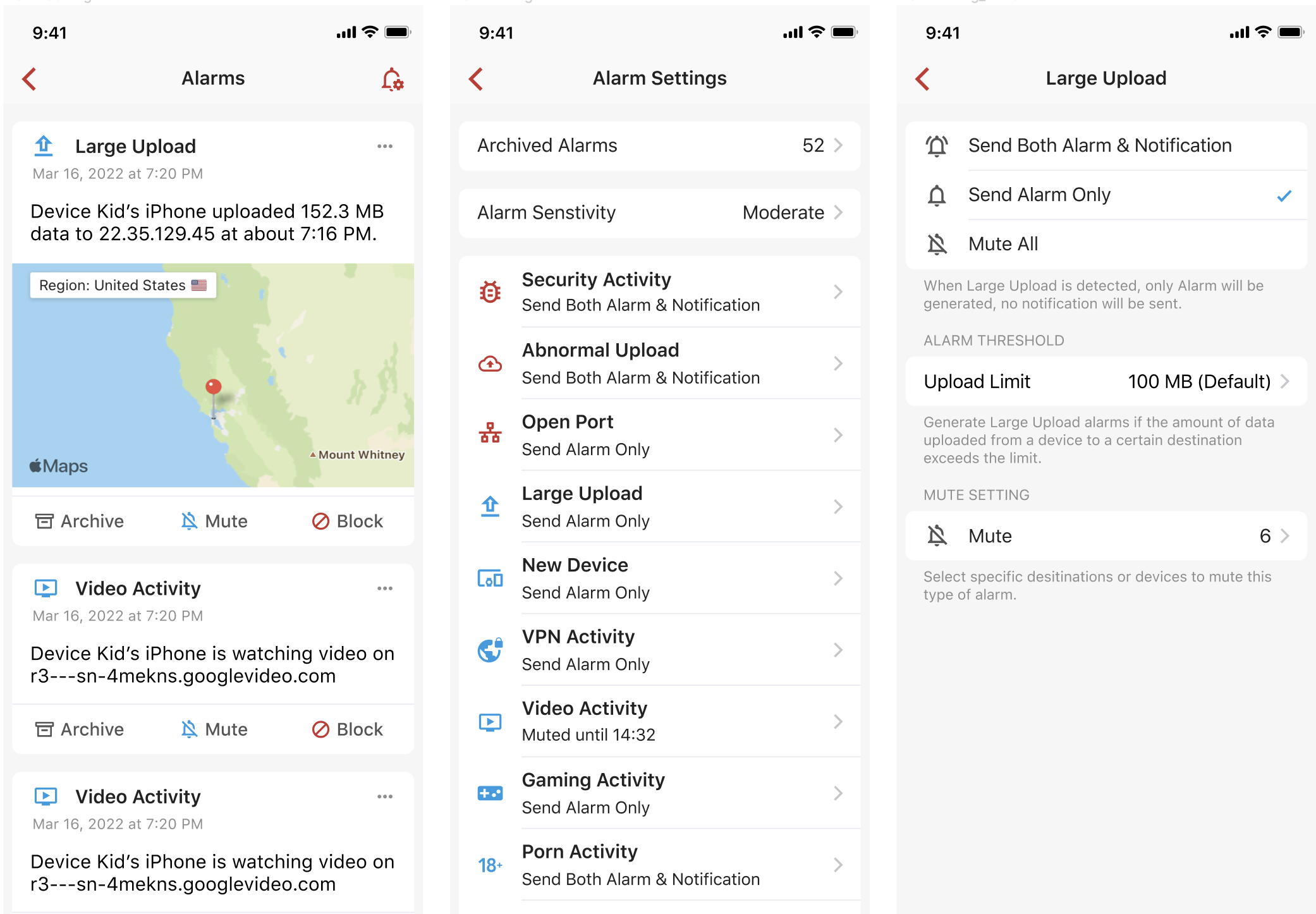 3. DHCP Options (Not supported on Red, Blue, and Blue Plus)
DHCP Options Video Tutorial
When connecting to the Firewalla box, some devices may require certain DHCP options to function normally. In this release, we've provided a flexible way of configuring DHCP options on both WAN (client options) and LAN (server options) networks.
For example, if you want to set up DHCP option 43 on Firewalla for your AP devices, you can tap a LAN network on the Network Manager page, scroll down to find the DHCP Options, tap add DHCP option, and configure the option code and value accordingly.

4. DNS Blocking for Internet Block Rules (Requires box 1.975)
DNS Blocking for Internet Block Rules Video Tutorial
Prior to box version 1.975, blocking internet access on a certain device only blocked connections between the device and external hosts. In this version, we've introduced an advanced option "DNS Blocking" to help you block all DNS requests in addition to other traffic.
Please note,
This option is only available for blocking rules matching "Traffic from & to Internet", or "Traffic to Internet";
When DNS Blocking is turned on, allow rules matching regions or local ports will not work on the specified devices, and the number of blocked flows will increase significantly.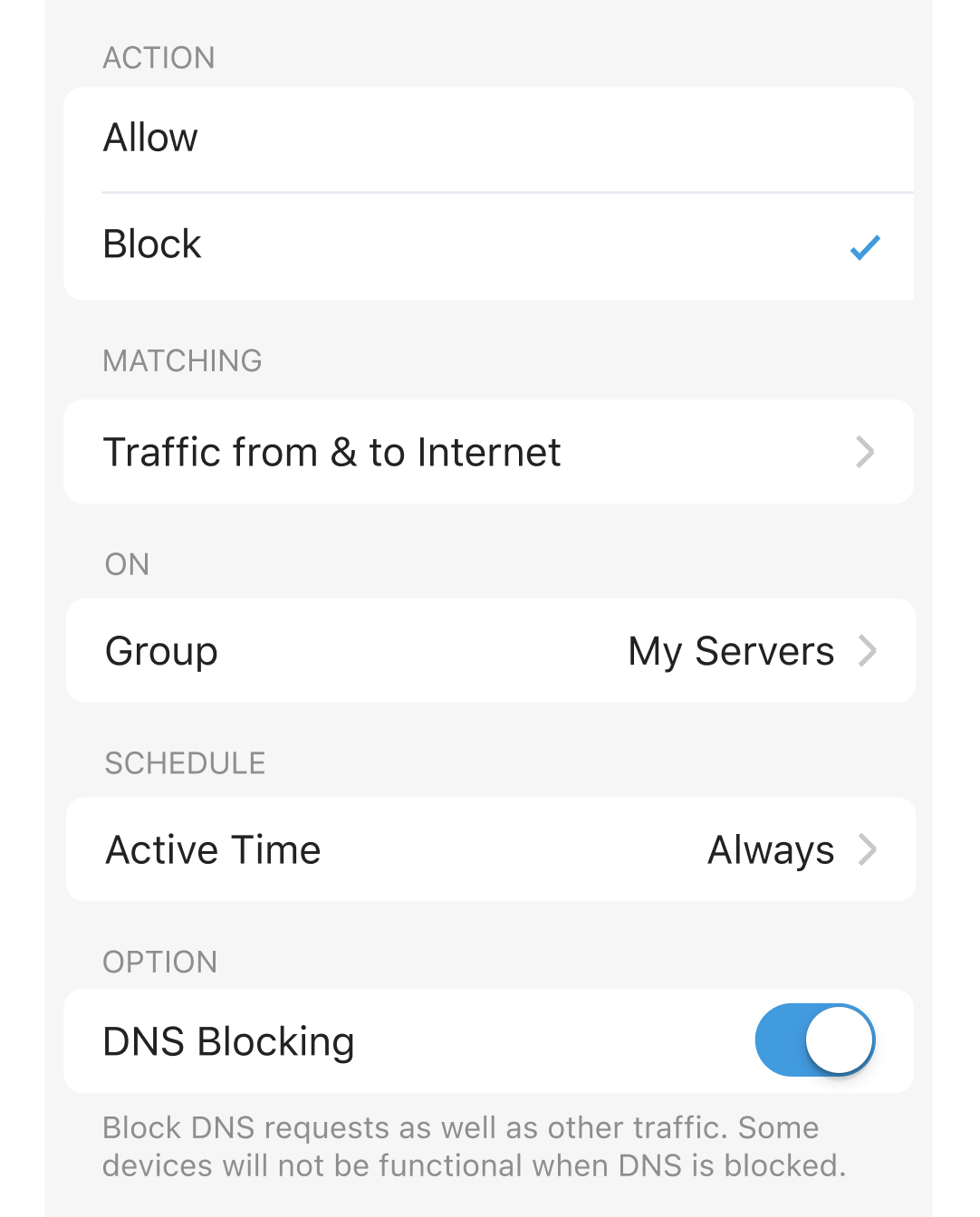 Enhancements
If you find the Internet Quality test results don't reflect your network status correctly, you can change the test target directly on the High packet loss/High latency event.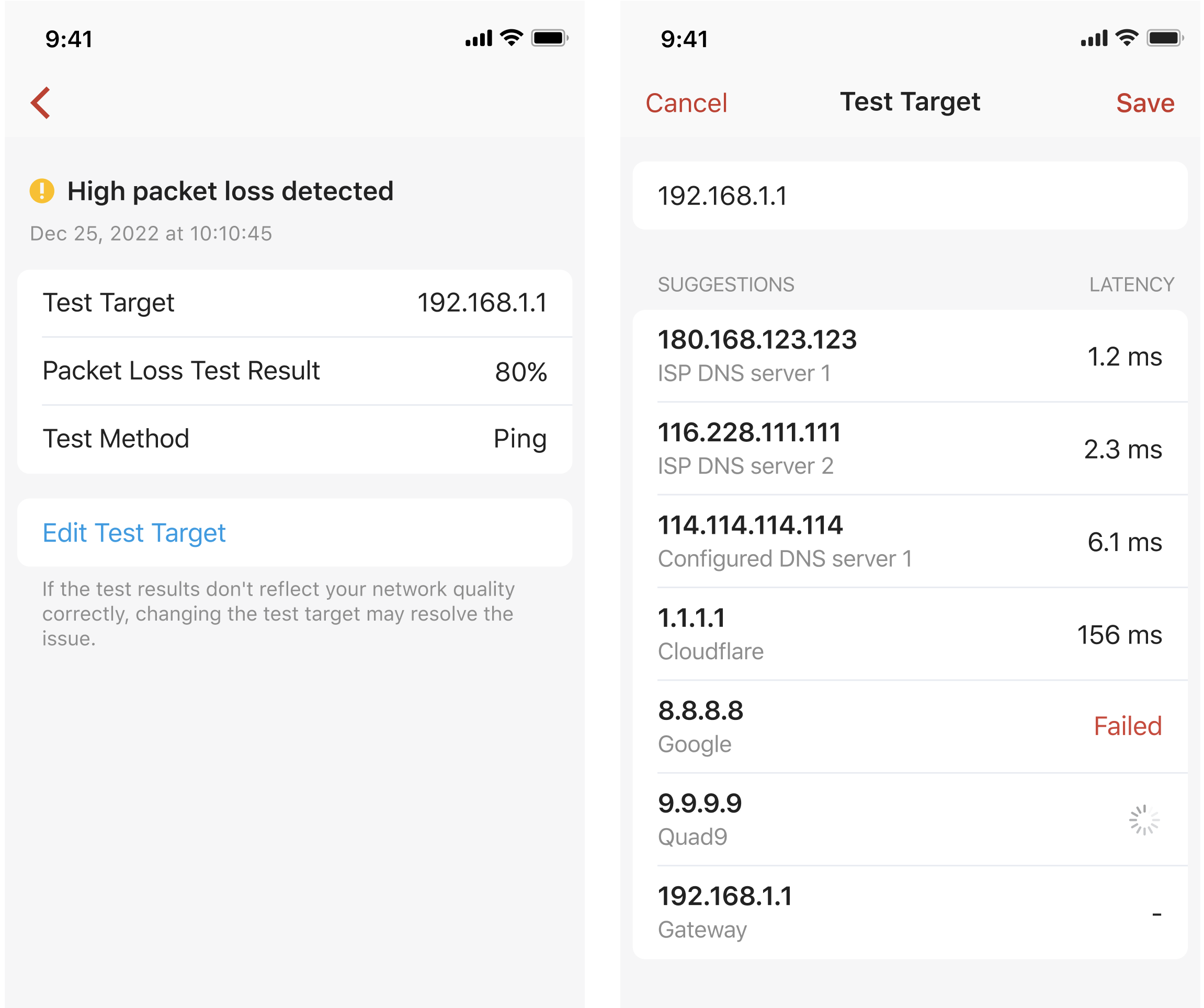 In a device's rules list, all rules that are taking effect on the device, including rules applied globally, will be displayed in the list.

On the Events page (Main Page -> Network Performance -> Recent Events), the info icon is changed to an arrow icon to indicate better that you can get more info about what Firewalla detected.
Bug Fixes
Fixed the issue of creating Local Port rules with incorrect directions.
Fixed the issue of showing incorrect connections status in Bridge mode.
Fixed the incompatibility issue with the WireGuard App on Windows PC.
Known Issues
[VPN Devices] Large Upload alarms will not be triggered on VPN devices.
How to fix: It will be fixed in the next Box release.


[Live Throughput] If a device has multiple IPv4 addresses or multiple IPv6 addresses, live throughput may not be shown correctly.


[Large Upload Alarm] App with the "Large Upload" alarm enabled may receive notifications with the description "ALARM_LARGE_UPLOAD_2_COUNTRY". (iOS Only)
How to fix: It is already fixed on the iOS App 1.53 (56).