This is the Installation Troubleshooting Guide for Firewalla Red, Blue and Blue Plus. If you have any problems pairing with Firewalla Gold, see our article on Firewalla Gold Installation Troubleshooting.
If at any stage you run into an issue, please feel free to open a support case using this link. We guarantee a response in less than 24 hours.
If you are using a mesh router, please take a look at this article: Mesh Setup Guide
The compatibility guide also includes a few workarounds. Take a look: Compatibility Guide.
Quick Check List:
Please make sure you have the latest application installed.
Pairing Time:
When Firewalla is powered up for the first time, it will take up to 5 mins to complete the software update, please be patient.
For security reasons, the 'pairing window' is only 1 hour from the time Firewalla powered up for initial pairing and 5 mins for pairing when running as normal. Pairing with your iPhone / Android app must be done within 1 hour. If you missed the pairing window, please power cycle the box to restart the pairing window.

This is the best sequence to connect:
1. Plug in your Firewalla
2. Wait for 5 mins
3. Launch the app on your phone
4. Follow the directions to pair
Connections:
Make sure the SD Card is securely pushed in.
Use the enclosed USB adapter for power. If you use your own, make sure it supports 5V/2A. You can experiment with powering Firewalla with USB ports on your router. But ensure they are USB 3.0 ports – USB 2.0 may not work and can cause problems.
Make sure your Ethernet cable is securely connected on both ends.
Wi-Fi & VPN:
Make sure your phone is connected to the same Wi-Fi network as your Firewalla.
Double-check and see if you have any security software or VPNs running on your mobile phone (e.g. Lookout, Airwatch, MobileIron). Please temporarily turn them off.
For Advanced Networks:
Make sure multicasting from LAN to Wi-Fi is on. Some advanced routers turn this off.
Make sure the gateway or router can be pinged from inside the LAN. Some routers may be configured not to respond to ping packets.

Make sure your existing firewall doesn't block outside connections from Firewalla.
If you have security services running on your router and you can't find Firewalla using your phone, please turn those services off during installation.
QR License Scan Errors:
If you are getting QR Scanning errors, it may be an mDNS issue with your network environment. Please try this:
Quit the Firewalla app
Turn your phone to airplane mode, wait 10 seconds, then turn Wi-Fi back on. This step will flush your network-based cache.
Unplug the Firewalla and wait 10 min
Plug Firewalla back in
Wait 5 min for the box to boot up
Launch the Firewalla app
Restart the pairing process.
Status Light Check:
Firewalla has the following lights to indicate the status of the box:
Two lights next to the Ethernet port, one on each side
Two lights are visible through the side vent hole
Failed to Boot up:
If after 10 minutes of being plugged into power, the box still fails to boot up, you should see one of the following light indications:
two lights (one green and one yellow) next to the Ethernet port are solid on
the inside light is flashing forever and never turns solid.
Follow these instructions to hard reset the box:
https://help.firewalla.com/hc/en-us/articles/115004796633-Flashing-Image
Ready for Pairing:
When Firewalla is fully booted and ready for pairing (it may take up 5 mins), you should see:
Only a green light next to the Ethernet port is blinking
The inside light is solid red (some old versions have a blue light)
And a "New Firewalla" appears in the Firewalla app
Older versions of Firewalla Red (purchased before May 2018) will likely have the blue light inside.
New Version of Firewalla Red (Red light inside)
Firewalla Blue (Red light inside)
Self-Diagnostic Page:
If you have done all the checks above but the Firewalla app still can't find the box, the following tool can give you some clue of what's going on.
Open a browser on your phone or on your computer and type https://diag.firewalla.com/ in the address bar. You'll see this page.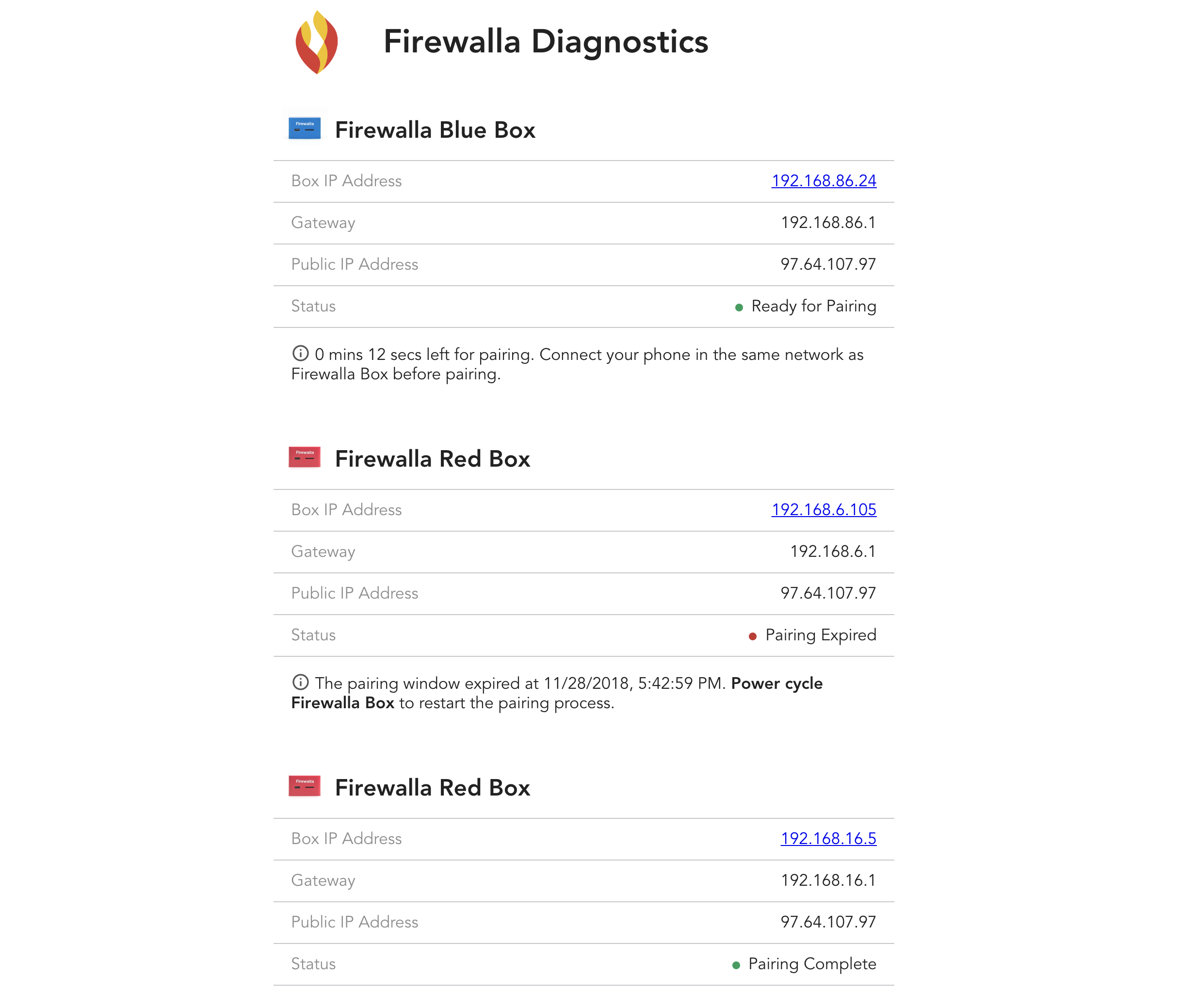 Check 1: If you don't see your box in the list, most likely the box failed to boot up. Please go to your router and look at its DHCP table see if you see Firewalla there. (MAC address starts with 02:xx:xx). If you do not see Firewalla there, please contact us https://help.firewalla.com/hc/en-us/requests/new
Check 2: Check the box IP address and your phone IP address to see if they are in the same network. (To double check the IP address of the Firewalla box, login to your router's admin UI page to find out.)
Check 3: Click on the IP address of the box that you are having trouble to pair, it will show more detail status of the box.
If you see the welcome page, it means the box is up running and ready to pair. There may be other things caused not able to pair. Please contact us for help.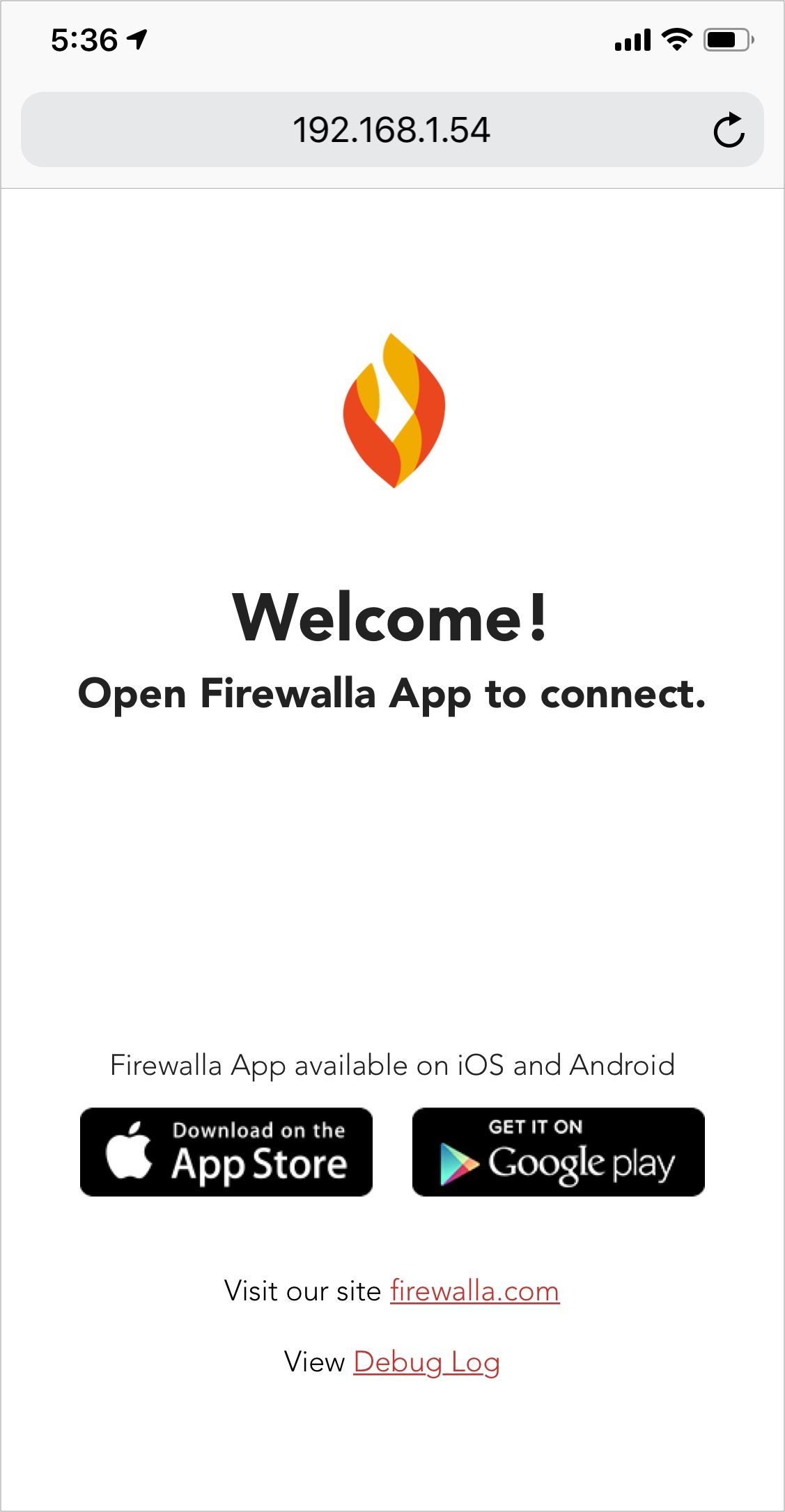 If you see the following checklist page, it means something is not right with the box. Please capture this screen and email it to help@firewalla.com.