How do you feel about Firewalla MSP? Do you have any feedback? Please take our 5-minute survey to help us make Firewalla MSP even better.
We'll select one participant to win a Gold Rack Mount!

--
MSP 2.2.0 is now available to our beta users.
Join the MSP Beta Program to try new features earlier! Go to your MSP Settings page, located in the top right corner of your MSP interface.

Scroll down to MSP Update and click the switch button to enable the Beta Program.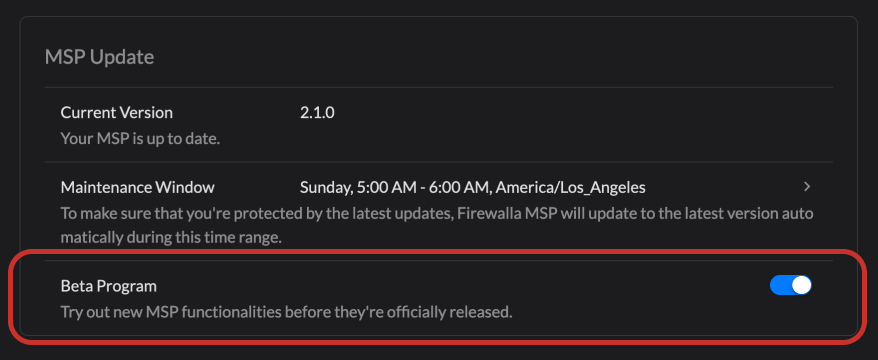 Bug Fixes & Enhancements:
[Flows] Fixed the issue that caused the web to crash when clicking a flow on a Device/Device Group's detail page.
[Flows] Fixed the issue of no value being shown for the Device Group column on the Flows page when viewing an individual box.
[Flows] Fixed the issue of the search results being empty when filtering flows by any Device Group, even if there are flows in the Device Group.
[Flows] Fixed the issue of the incorrect timestamp being displayed on the detail flow dialog.
Fixed some minor display issues.
Known Issues
[Version Upgrade Options] The default maintenance window may not be displayed correctly. Workaround is to configure it at least once.