A better network is also a network that enables you with a much better experience. Firewalla is now providing tools to help you monitor and achieve better network performance.
(Firewalla Red and Blue are not supported)
Introduction
Firewalla network performance and quality are divided into:
These are all important measures of your network's performance and can be used to find where any issues may be.
Before jumping into these features, you might wonder why not just use something like speedtest.net, speedtest.googlefiber.net, or fast.com? Often people run these from whatever device they have at hand. That means they are measuring their Wi-Fi or possibly their ethernet and switches, and their ISP. To assess any problem, we need to measure each part of network traffic separately to identify the source of any issues.

We will start on the left side of this diagram and walk through all of the measurements available to you.
Wi-Fi and LAN Performance
For most of us, Wi-Fi is very important. Starting with 1.49, the Firewalla app has a built-in Wi-Fi test that you can use to test LAN speed between your phone and your Firewalla box. It helps you to:
see how fast your LAN really is independent of how fast your ISP service is
determine if you placing your mesh or AP units in the right places to avoid wi-fi dead spots
tune appropriate AP settings such as which Wi-Fi channels you should use or how powerful your AP's radio's should be if your APs have such fine controls.
With a little experimentation, you can get the best possible performance from your Wi-Fi gear. See, Wi-Fi Tuning below.
Wi-Fi Testing
Under Network Performance you will see the last test results and their settings. Near the bottom, you will find Test Wi-Fi Speed. You can run this as often as you like and it has no impact on any traffic to your ISP if you have a data cap.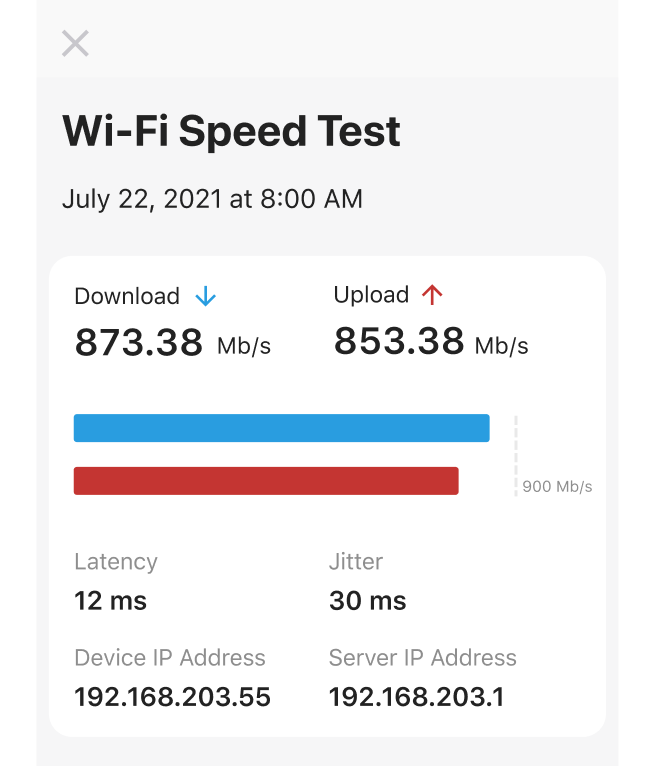 You may well have brilliant Wi-Fi like shown above. If so, this means that you can move files around your network very quickly; stream music or a movie from a DLNA server in your home, for example. This tells you there are no issues with your Wi-Fi network.
Wi-Fi Tuning
All you need to do is go to various places in your house: your desk, your bedroom, or living room; and run a Wi-Fi test with the Firewalla app. If you find performance is lacking, adjust your AP locations or settings based on manufacturer recommendations and test again. Repeat until you get the best possible "real world" results that your Wi-Fi provides. Rest assured you have removed your Internet connection from the equation so you are always comparing apples to apples with this test.
You can even evaluate if it is worth buying faster Wi-Fi. If your Wi-Fi is already faster than your internet you might decide to wait for that upgrade. If on the other hand, your internet is faster than your Wi-Fi, this can help justify an upgrade.
Wired Networks
Similarly, you can use http://fire.walla:8833/ss/ from any device (connected to your local network via ethernet or wifi) to test the connection between your other devices and Firewalla. For example, you can test an ethernet connection this way by running it on a device connected to ethernet.

In addition to the upload and download speed, you are given ping and jitter measurements. We'll cover those below under WAN performance.
WAN Performance
The best network is one that's fast, has low latency, and has no packet loss. Here we will test all three aspects. To better present the network performance, we have included a summary widget on the main Firewalla Screen.
Here, a colored bar chart represents the total outage time, max latency, and max packet loss over the last 24 hours. If the bar shows:
RED: the Internet was down.
YELLOW: the Internet was unstable because the system has detected high latency, high packet loss, or secondary WAN (if you have a dual WAN setting) was down.
GREEN: your network performance was good.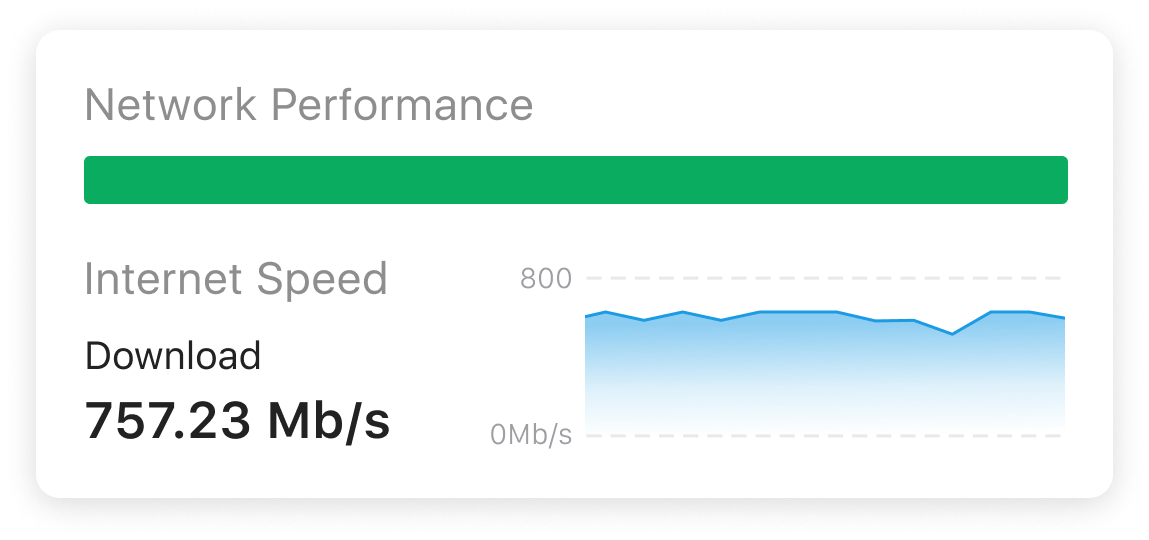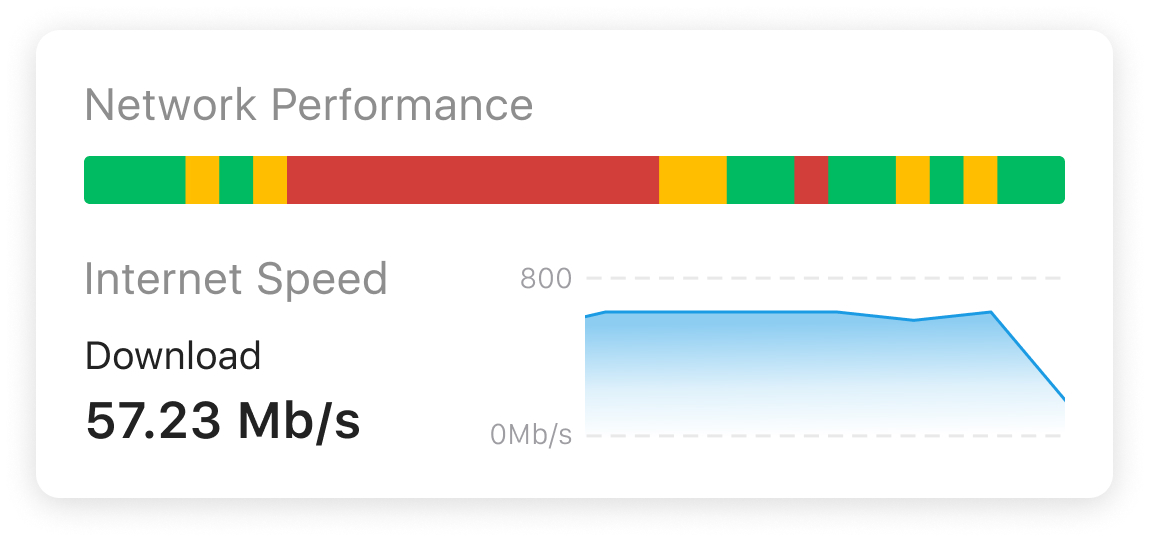 Any unusual behavior (in Red or Yellow) will also trigger an event. In the example below, one of the WAN connections went down. We see that as yellow in the Summary bar to the right. We also see the cause in the Recent Events below.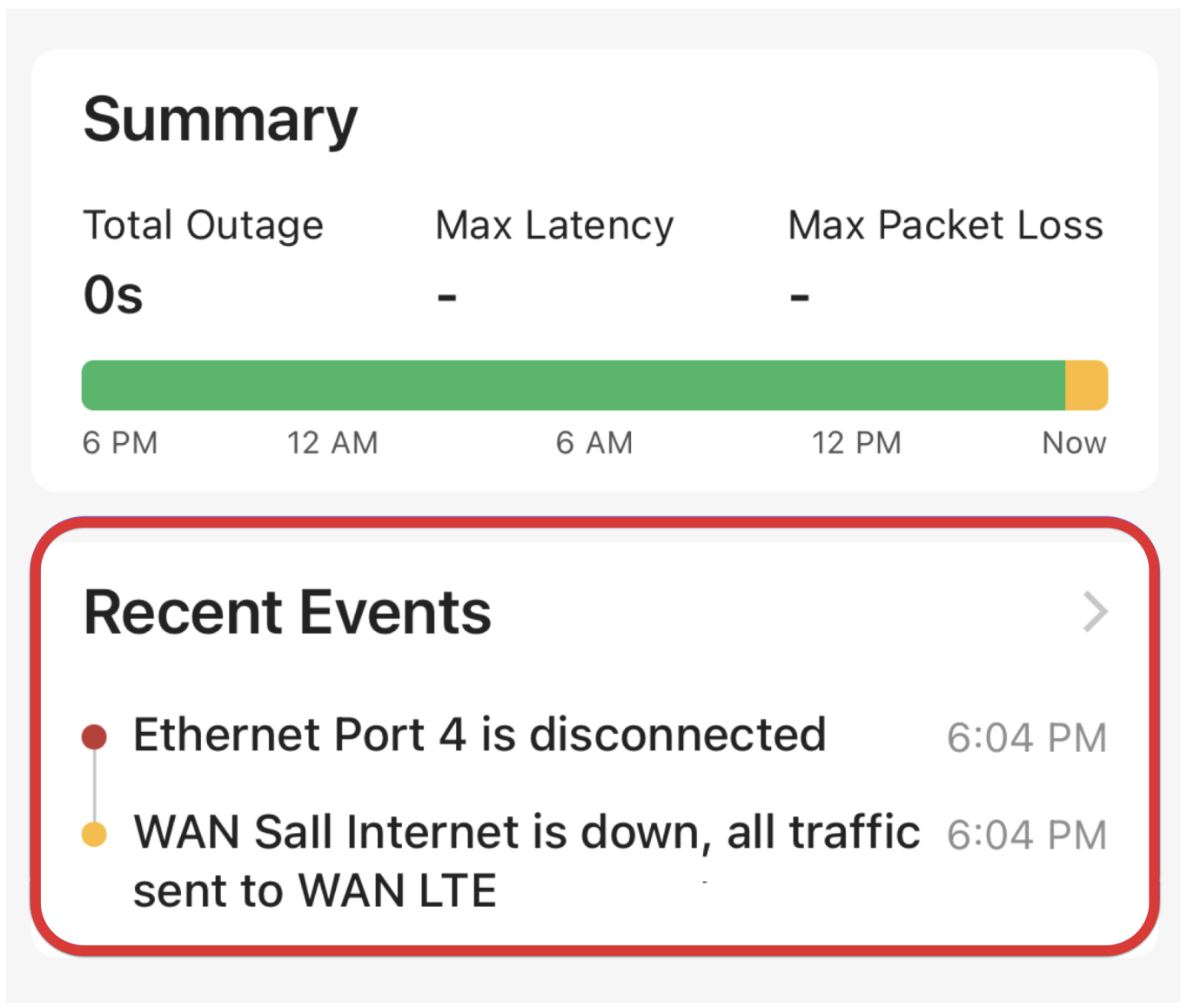 Internet Speed Test
Network speed is the throughput between your Firewalla Box and a test server. The test server is a server (nearest) in the speed test network close to you. The network speed test can be run manually any time you wish and can be scheduled to run daily at any hour you select. Though running the test won't impact your internet experience, you may want to run it when there isn't much going on so that nothing impacts the measurement. Note this test will count toward any data usage limits with your ISP. This test does not measure your Wi-Fi, so if the results aren't what you would expect, it could be an issue with your ISP.
The Firewalla app will show the internet speed test results for a running 7 day period, and provide you with a chart showing your download/upload speeds over time. You can also tap in to see precise results.
Due to how speed test servers are located (and also test load), the accuracy of the tests depends on where you are at, the time of the test, and the load of the test servers. If you see results that are not accurate, please verify with a desktop speed test program. (Firewalla can not guarantee the test results to be perfect)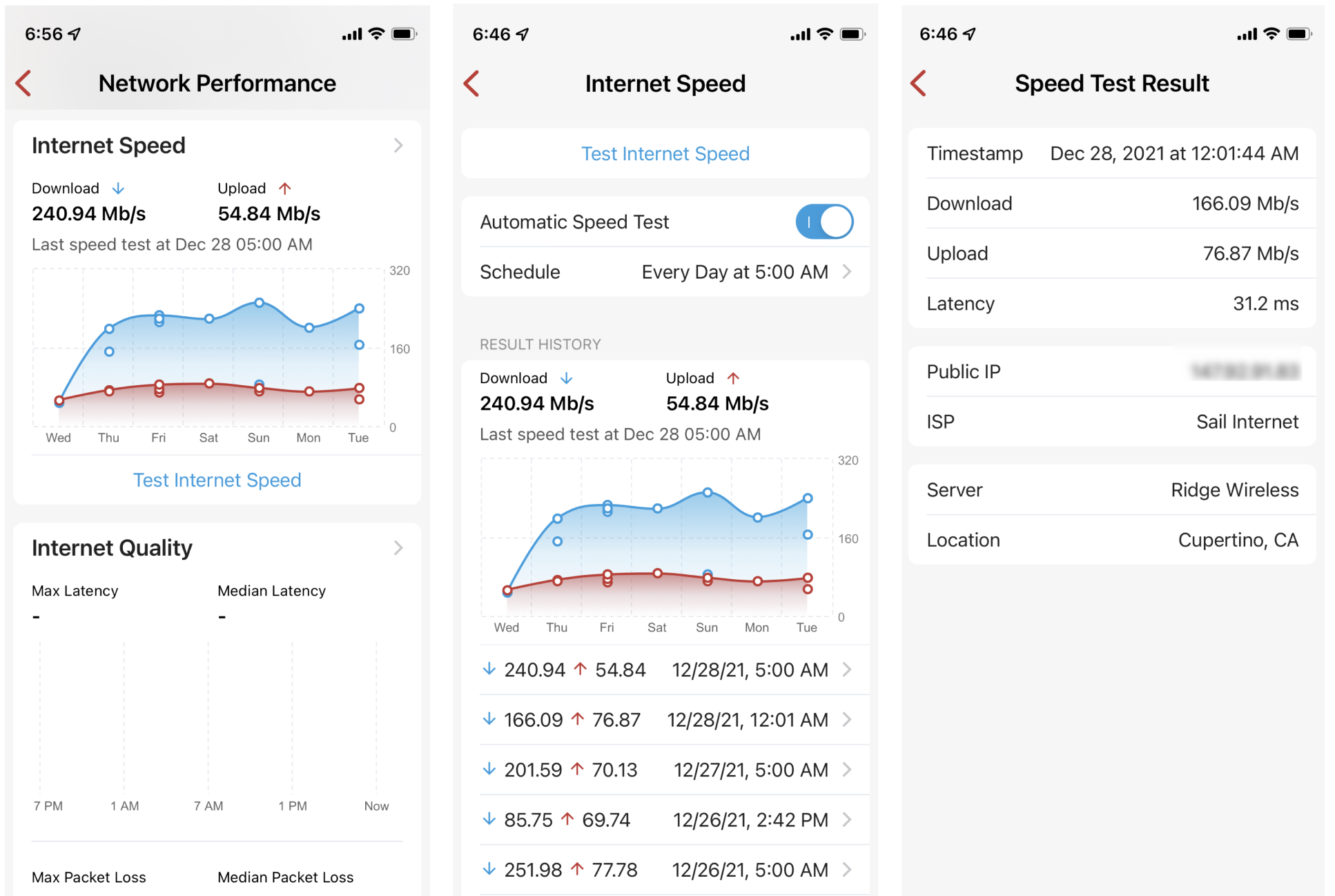 If the Automatic Speed Test is activated, a chart with download speed will be shown on the box main page, to help you identify any significant drop in performance.
Firewalla primarily uses measurementlab.net services for speed tests. We may add other speed test services/networks (such as speedtest.net) as we mature.
Since speed test servers are not always the same, you may get different results between tests. This result may vary more if you are near gigabit speed.
Speedtest also depends on the distance between you and the nearest server.
Please see measurementlab.net and speedtest.net for details such as how they share/use the speed test results.
To verify firewalla speedtest, please use an ethernet-connected PC/MAC and use these services
Provide Feedback:
Inaccurate speed test results can be reported directly through the app without opening a support case. By making the reporting process more reachable, we hope to collect more feedback from you and improve the system further.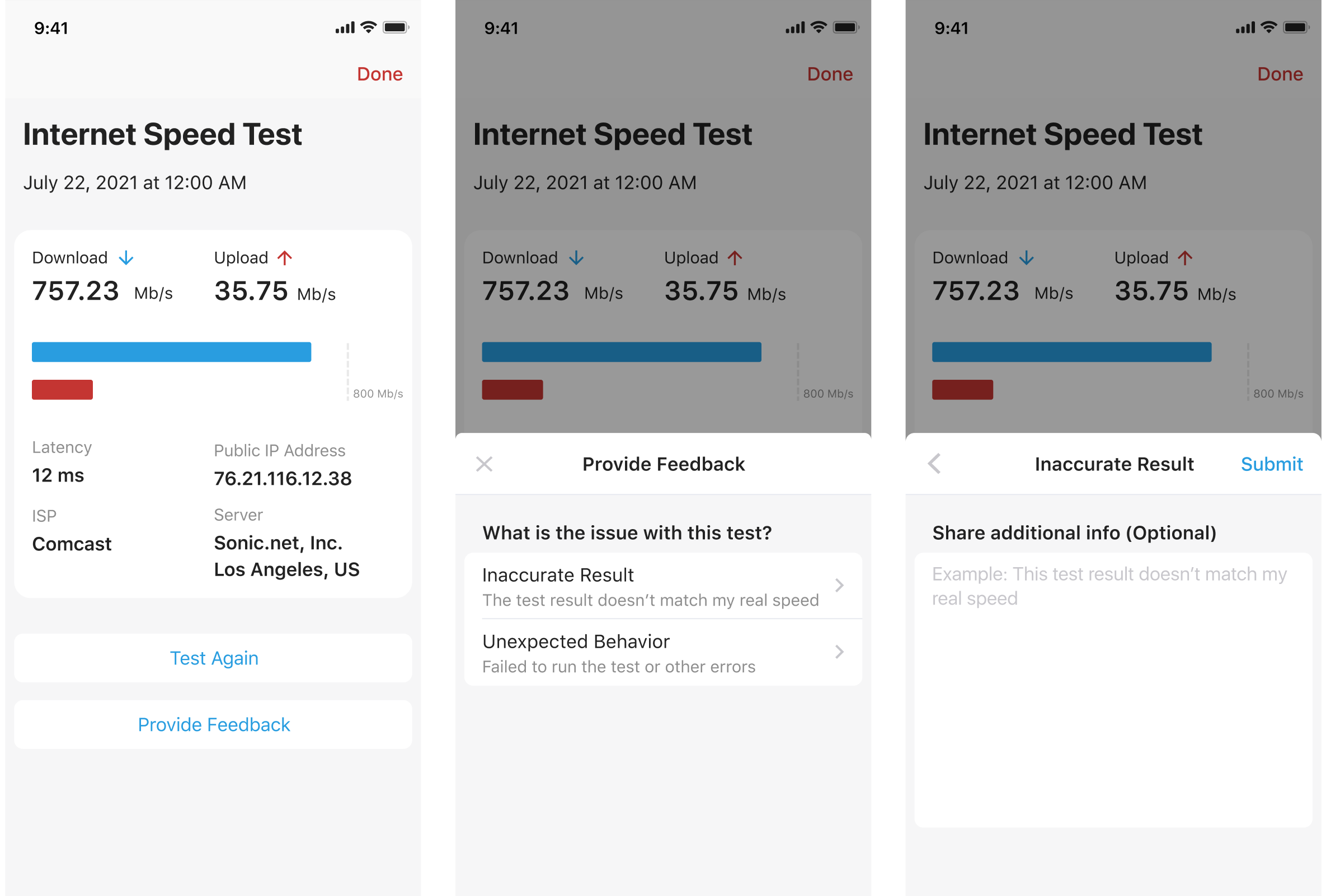 Network Latency
Network latency measures the round trip time from you requesting information to that information comes back to you. The cumulative effects of distance between you and a server thousands of miles away and the Internet infrastructure equipment that gets data there and back mean that latency can never be eliminated completely. "Normal" latency depends greatly on your internet connection. Here are some rough estimates:
Cable modem between 5 and 40 ms
A cellular link between 200 to 600 ms
But if the latency spikes, it can drastically affect your online meeting, phone, or real-time interactions. It can even effectively limit the throughput of your network.
Network Packet Loss
Packet loss can slow down your network (particularly TCP or HTTP for example) because when a packet is lost, a request will be sent to the origin to resend the lost packet and the application will try to restore the content as it was intended. Packet loss will impact real-time content, such as zoom meetings, streaming video or VOIP calls that may be distorted or choppy.
When Internet Quality is turned on, the Firewalla box will ping the test target at the selected interval. The test results will be kept for 24 hours, and the app will show you a chart for how Latency and Packet Loss change over time.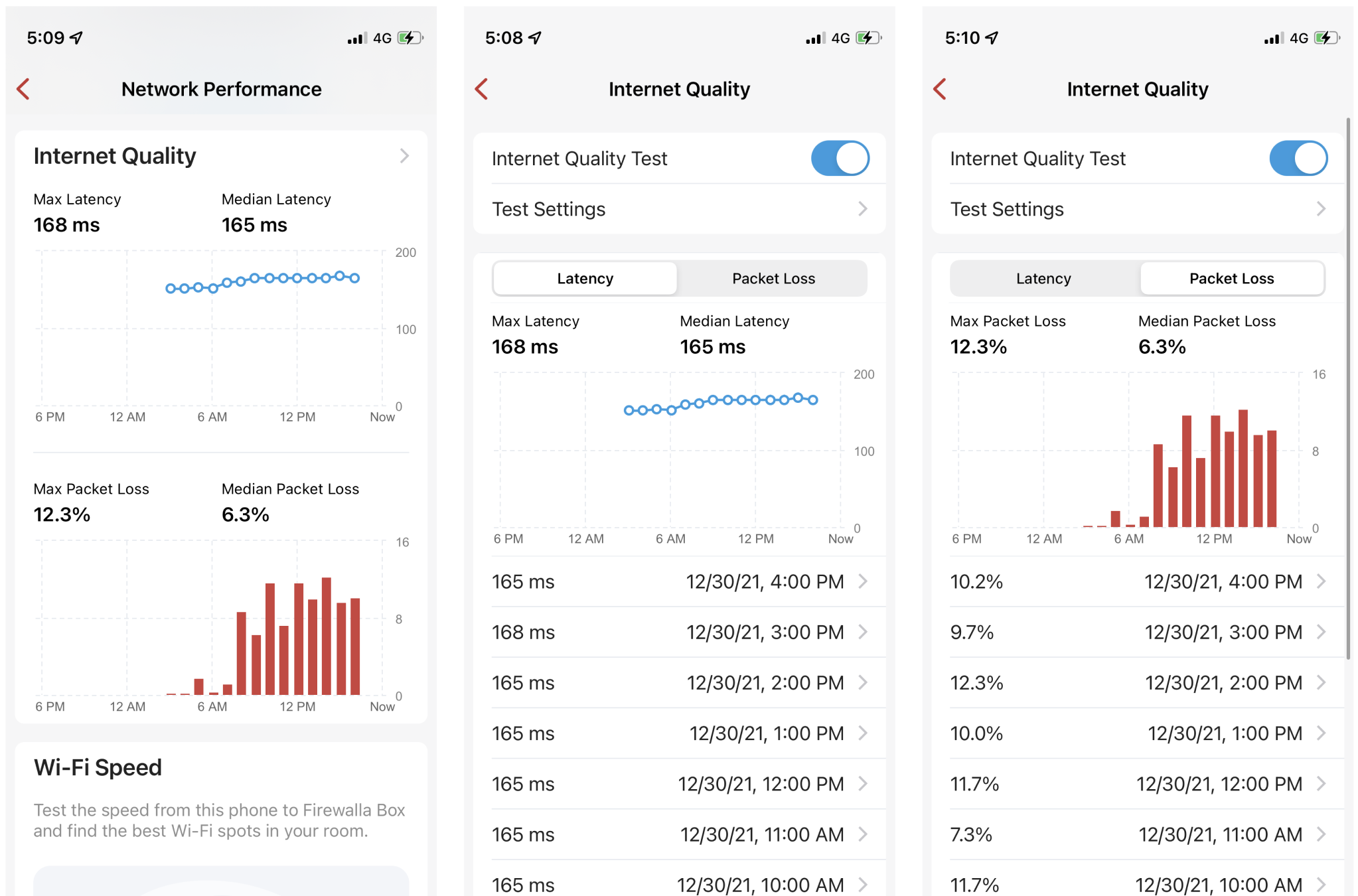 The Internet Quality Test will use the ISP-provided DNS server of your primary WAN as the default testing target. This default was chosen because DNS is likely the most sensitive service to latency.
If you changed your ISP, you might want to also update the Internet Quality Test Target as well.


When editing Test Target, Firewalla will list out several suggested servers including your WAN DNS servers and some public DNS servers with their ping latency, you can tap on any of them to adopt or enter any preferred IP Address or domain and save.