Network Manager is a Firewalla Gold only feature. It is used to configure WAN in Router Mode and also create network segments in both Router and Simple/DHCP Modes.
Default Networks
Firewalla Gold has 4 Ethernet ports. Port 4 is the default WAN port in Router Mode, and the default port connecting to the router in Simple/DHCP Mode.
By default, there are two networks on Firewalla Gold:
A WAN connection you configured during the initial setup, if Firewalla Gold is in Router Mode.
A default Local Network (LAN) that bridges Ethernet Port 1, 2, 3. Devices can join Firewalla's default Local network by connecting directly to one of these ports using an ethernet cable, or to a wireless access point or wired switch that connects to these ports.
Ports 1,2,3,4 can be configured to have their own network space. They can also be configured as VLAN trunking ports.
Here is a guide on how to change the default port 4 used for WAN connection into other port.
Configure Networks - Network Manager
The Network Manager screen (Home -> Network) shows all the existing networks with their IP range, VLAN ID, and the ethernet ports they are using. It allows you to view/edit/create networks.
If you want to create your own network, just tap on "Create Network", then choose the network type.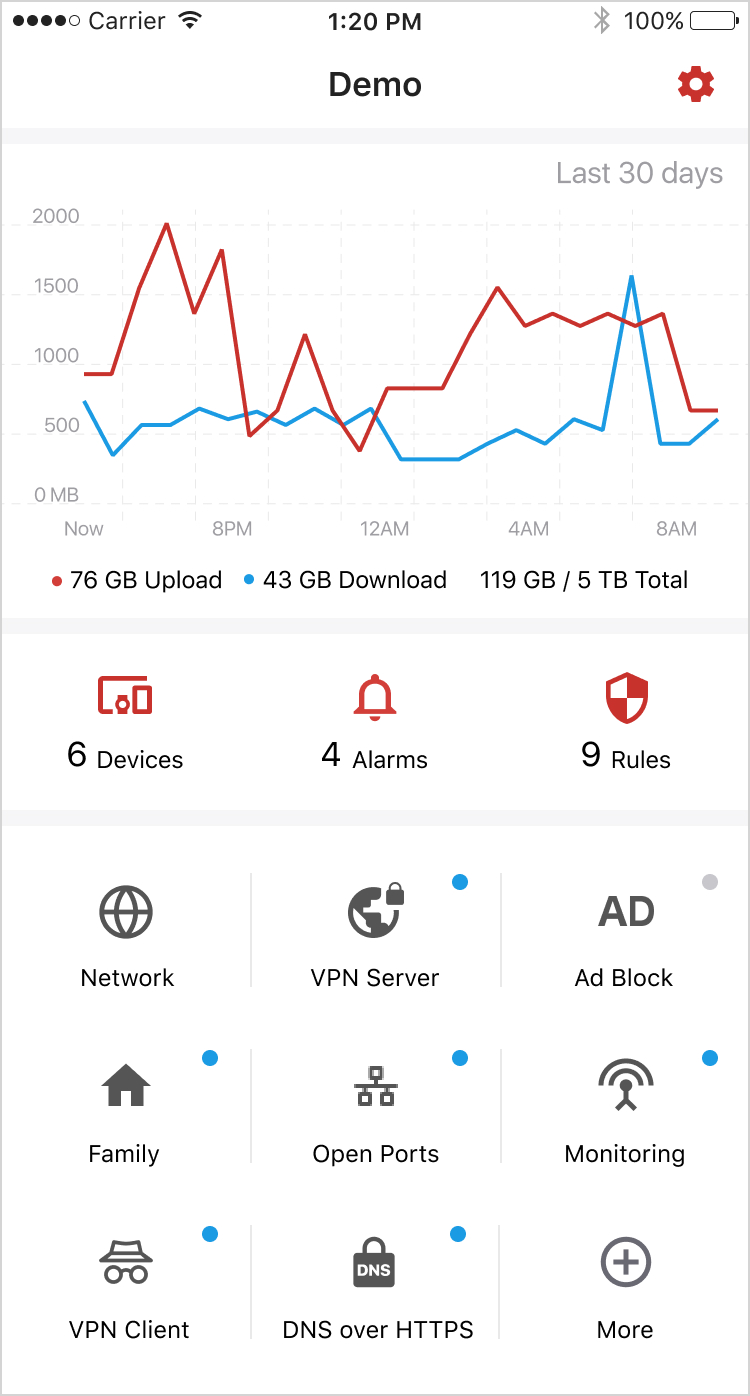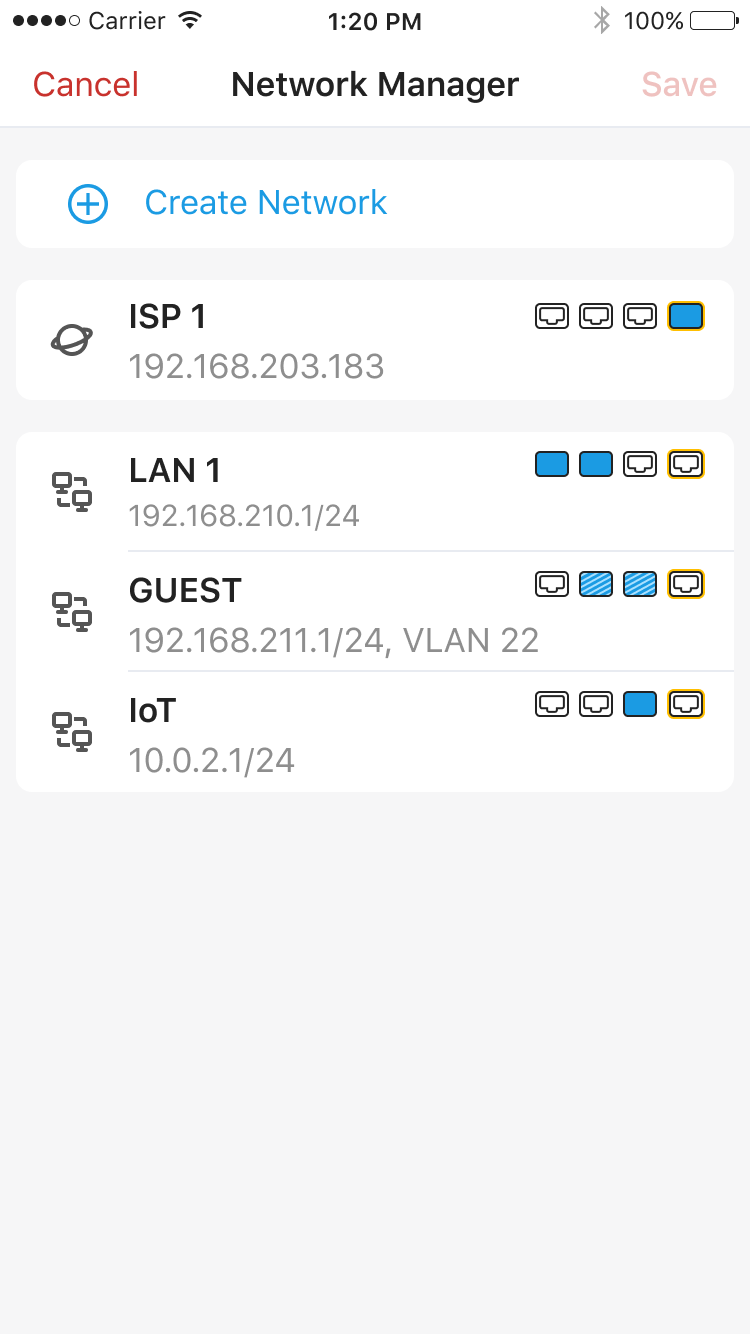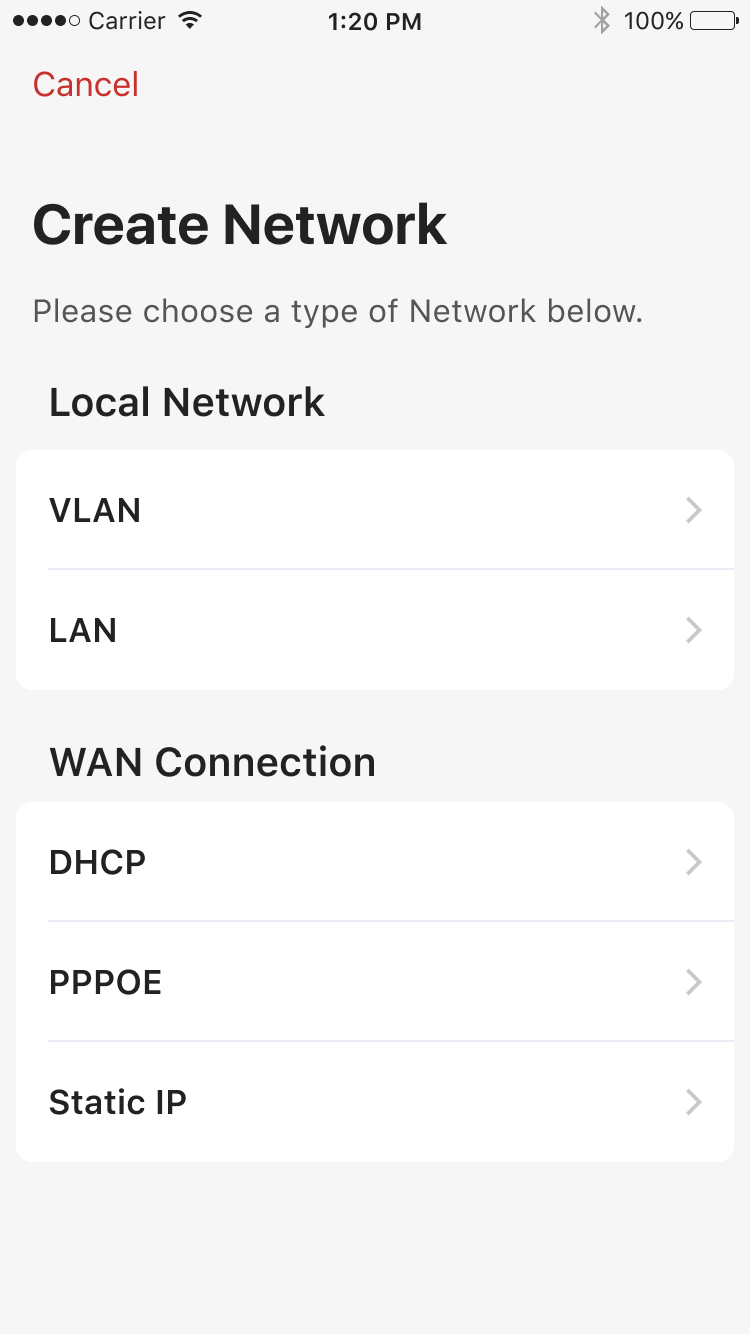 WAN Configuration
During the initial setup, Firewalla will auto-detect the connection type of your network. You can either change it or create a new connection in Network Manager.
In simple mode/ DHCP mode, Firewalla is able to monitor the devices connected to the router through the WAN port.

To create a WAN connection, you'd need to assign an ethernet port which connects to your ISP Device (a modem or router), a VLAN ID (if any), and a connection type.
Connection Types
A WAN connection can be one of 4 types:
DHCP: Get the IP Address assigned by the modem/router automatically.
Static IP: Manually assign an IP Address, Subnet Mask, Gateway, and DNS server for your connection. The static IP should be provided by your ISP. Otherwise, please make sure the IP Address is in the subnet of the router you are connected to.
PPPoE: This requires an ISP-provided user name and password to connect to the Internet.
Triple Play: Here is the specific guide on how to set up Triple Play VLAN on Gold. Choose this type only if it is required by your ISP/
Port forwarding
You can configure port forwarding on the WAN connection either manually or by UPnP. From WAN network -> Port Forwarding, you can:
Enable/Disable UPnP Globally
Choose whether to automatically create an allow rule for open ports. The allow rule will be applied to the corresponding device.
Block a port created by UPnP.
Delete a manually created port forwarding.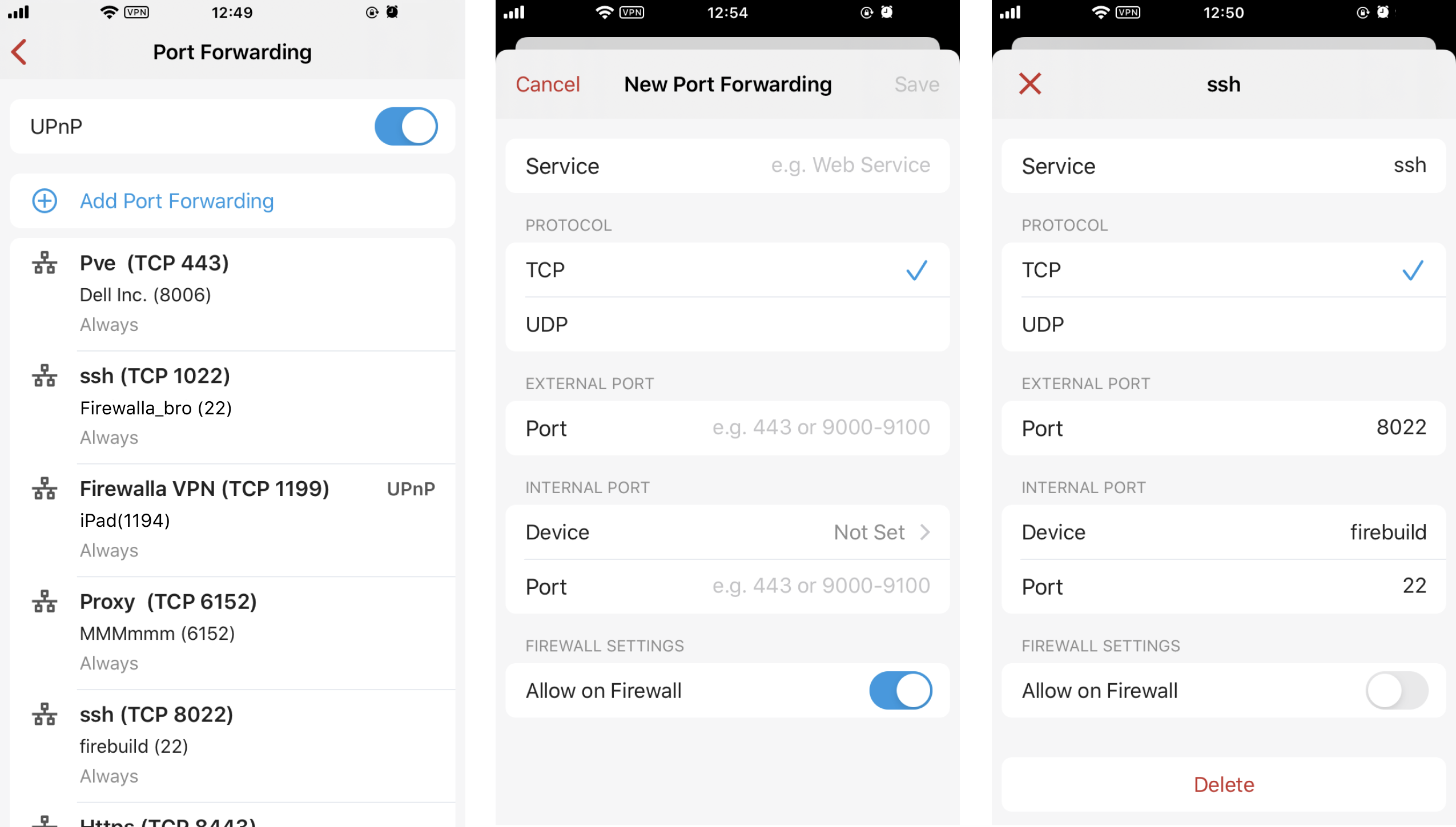 Local Network Configuration
To create a local network, you'll need to enter:
A VLAN ID (If you are creating a virtual network)
Ethernet port(s). If you select more than one port, they will be bridged automatically.
Network settings. Firewalla fills the network settings for you. You can tap the blue "Smart Fill" button to generate a new one, or manually edit them as per your preference.
After the network is created, you can connect your devices to the ports with ethernet cables, or through a wireless access point or a router that has been set to Bridge Mode/ AP Mode.
Learn more on How to connect your devices
Changing DNS Servers
DNS Server is configured at the LAN segment. Network -> LAN -> DHCP Settings, it will automatically become the default upstream DNS for the entire LAN. So in this case, only Firewalla itself will use WAN configured DNS.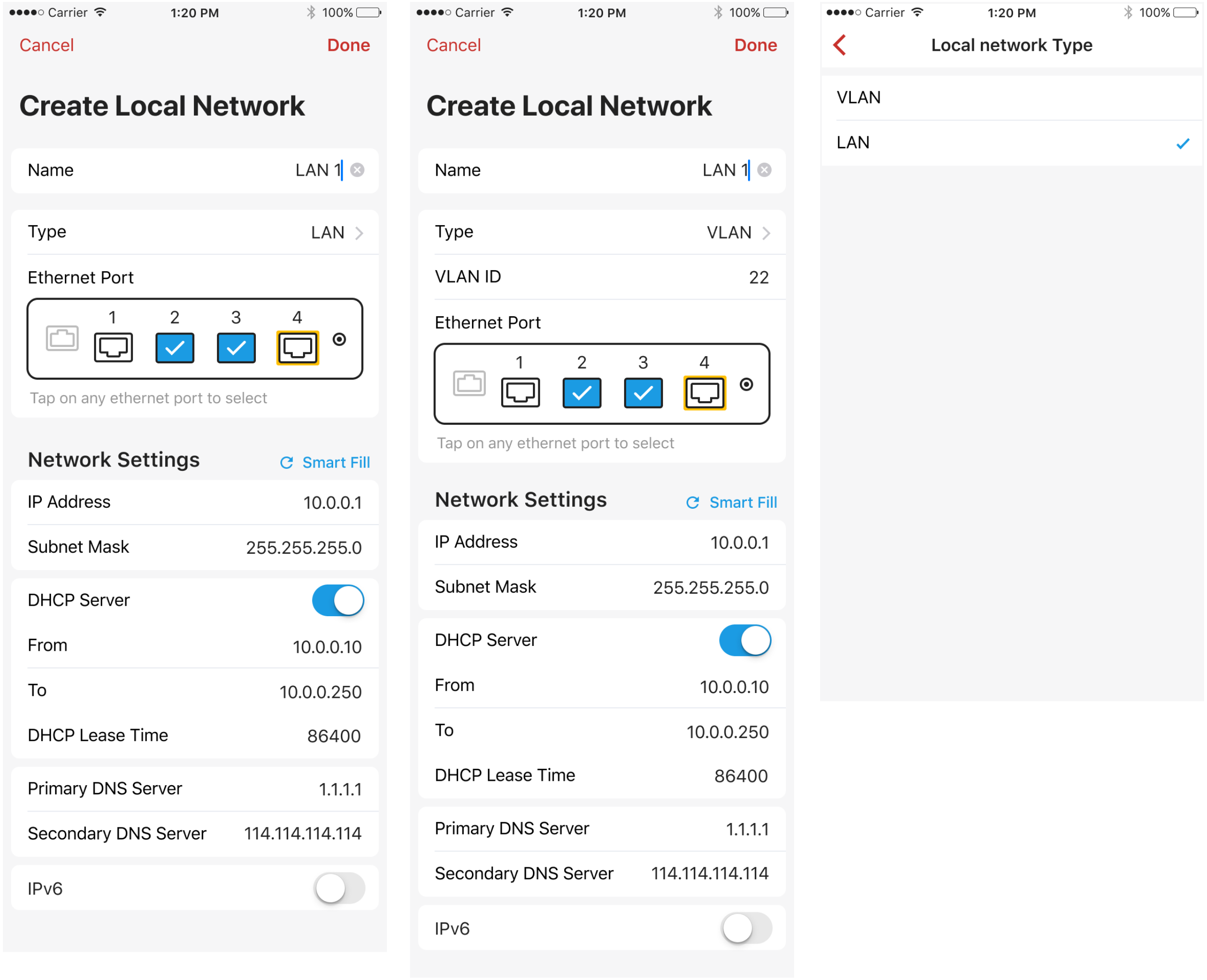 Example