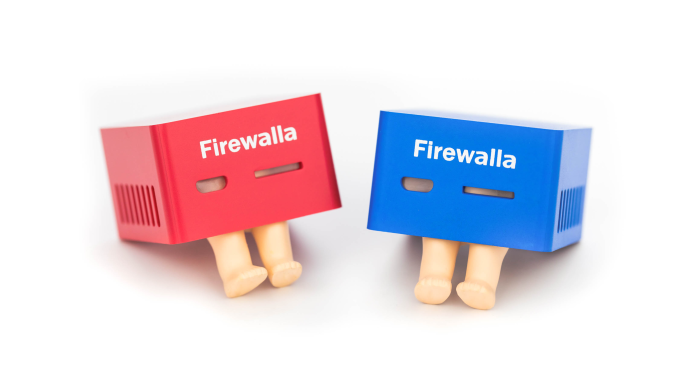 Pick Red:  If your internet speed will likely to stay < 100 Megabits, and have less than 50 devices. Great for homes and SOHO users. Order here.
Pick Blue: If your internet speed > 100 Megabits, and have lots of devices.  Perfect for professional users and businesses. Order here.

We do ship worldwide!
By default, we ship a US power adapter with our product.  For a non-US customer, if you want a universal power adapter, add this to your cart before checkout.
No monthly fee
 
Red
Blue
Retail Price
$109
$179
 
Now
Now
Packet Processing Speed
100 Mb
>500 Mb
Memory
512 MB
1024 MB
Active Protect Entries
1000
10,000
CPU
32bit Quad Core ARM 1ghz
64bit Quad Core ARM 1ghz
VPN Encryption Speed
28 Mb
70 Mb
Storage (SD Card)
16 GB
16 GB
Ideal For

- Standard Speed Internet

- Families and Home Business

- High-Speed Internet

- Families, Professionals, and Small Business
Common Software Features:
Simple to Use
Plug and play installation, multiple ways to connect.

Plugs into your router, no need to replace it!

Cyber-security as simple as tapping on a few buttons.

App supporting iOS and Android Devices.
Major Functions
Cybersecurity, protect all devices

Inbound and outbound firewall with intrusion prevention

Rich insights of your network

Parental Control and Social Hour

Built-in OpenVPN Server, great for traveling or using public Wi-Fi

Access your home network from anywhere in the world

Block Ads across all devices

Family Protect, auto-filtering of porn and malicious sites

Safe search
Additional Features
Monitor broadband bandwidth usage with hourly, daily, monthly usage summary.

Content filtering and activity detection

Internal and External vulnerability scans

DDNS

Device Management
Professional Features
One app managing multiple Firewalla

See every single IP connection from any device

Fully extensible cyber security stack

Rules engine for network layer access control lists (ACL)
In the future, it is likely software features that consumes more memory or CPU will be limited to the Blue only.