Firewalla makes it easy to set up a safe, enjoyable, and worry-free internet experience for you and your whole family. Family Protect is one feature we offer to make your network family-friendly.
Family Protect can be enhanced with Firewalla's other family-oriented features, including:
To learn more about different ways you can manage your network for your family, check out our article on Activity and Parental Control.
Family Protect
The Family Protect feature automatically filters out violent and pornographic material on your network. Turn it on by tapping the Family button on your Firewalla's main page or in the Features list, then toggling Family Protect on. You can choose which devices you apply it to.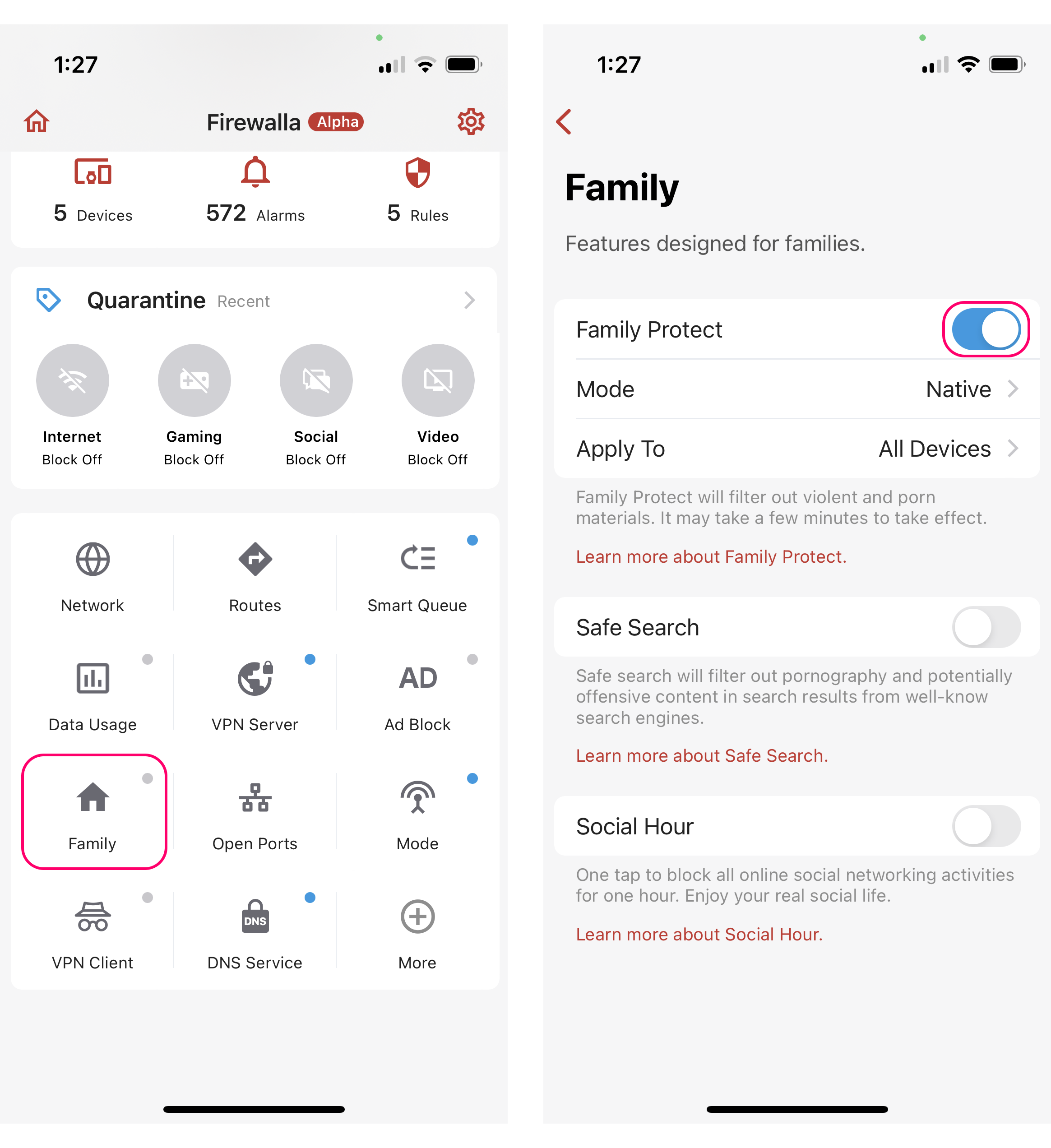 Due to how internet domain names are designed, this block is not always perfect. Our service points your current configured DNS server to another server that provides family mode service. The current DNS Service configured is https://opendns.com. Our service passes DNS requests to their servers (Service Description, Privacy Policy, Terms of Service). However, our latest app release includes a version of Family Protect that stays in the network– read on to learn more.
If Family Protect isn't working as expected, you may need to flush the DNS cache on your devices. Windows, Mac, iPhone, and Android all cache DNS entries. To empty the DNS cache on an iPhone, simply put the phone in airplane mode then turn it off.
If you're experiencing slower internet when Family Protect is on, your physical location may be making the DNS service slow. You may need to temporarily turn off Family Protect or Ad Block for faster internet speeds.
Native Family Protect (not supported on Red or Blue)
With the 1.52 app release, we're introducing Native Family Protect. This new version of Family Protect allows you to create multiple blocking rules on the devices to which Family Protect is applied. It leverages Firewalla blocking features to give you full control over what to block right on the Firewalla box without going out of the network. You can learn more about this new feature here: App Release 1.52 Notes.