Are you annoyed by those website ads? Do you know who is tracking your web browsing habits? Firewalla's built-in ad blocker can make sure you don't see ads and ads don't see you.
The Ad block supported by the Firewalla box will block ads for both web pages and mobile apps. Under the hood, our service points your currently configured DNS server to our internal DNS cache on the box (a side benefit of that is your DNS lookup will be very fast, and we didn't even advertise this!)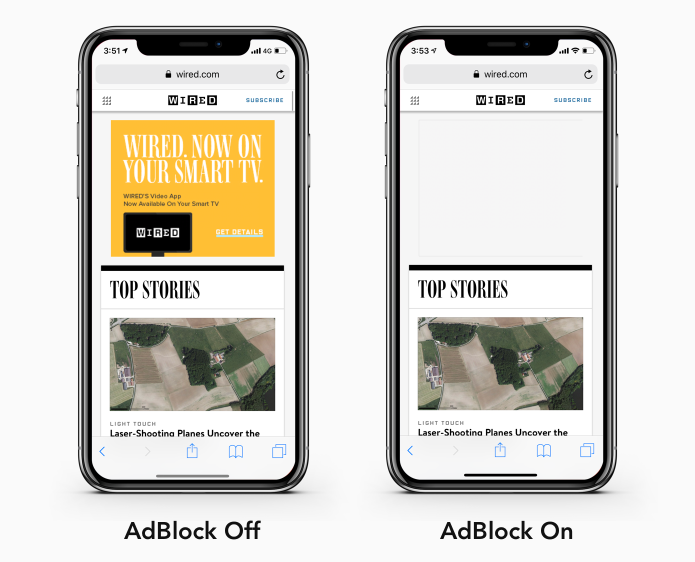 To turn on this feature, just tap on the Ad Block button on the main page, then swipe the Ad Block button to turn it on.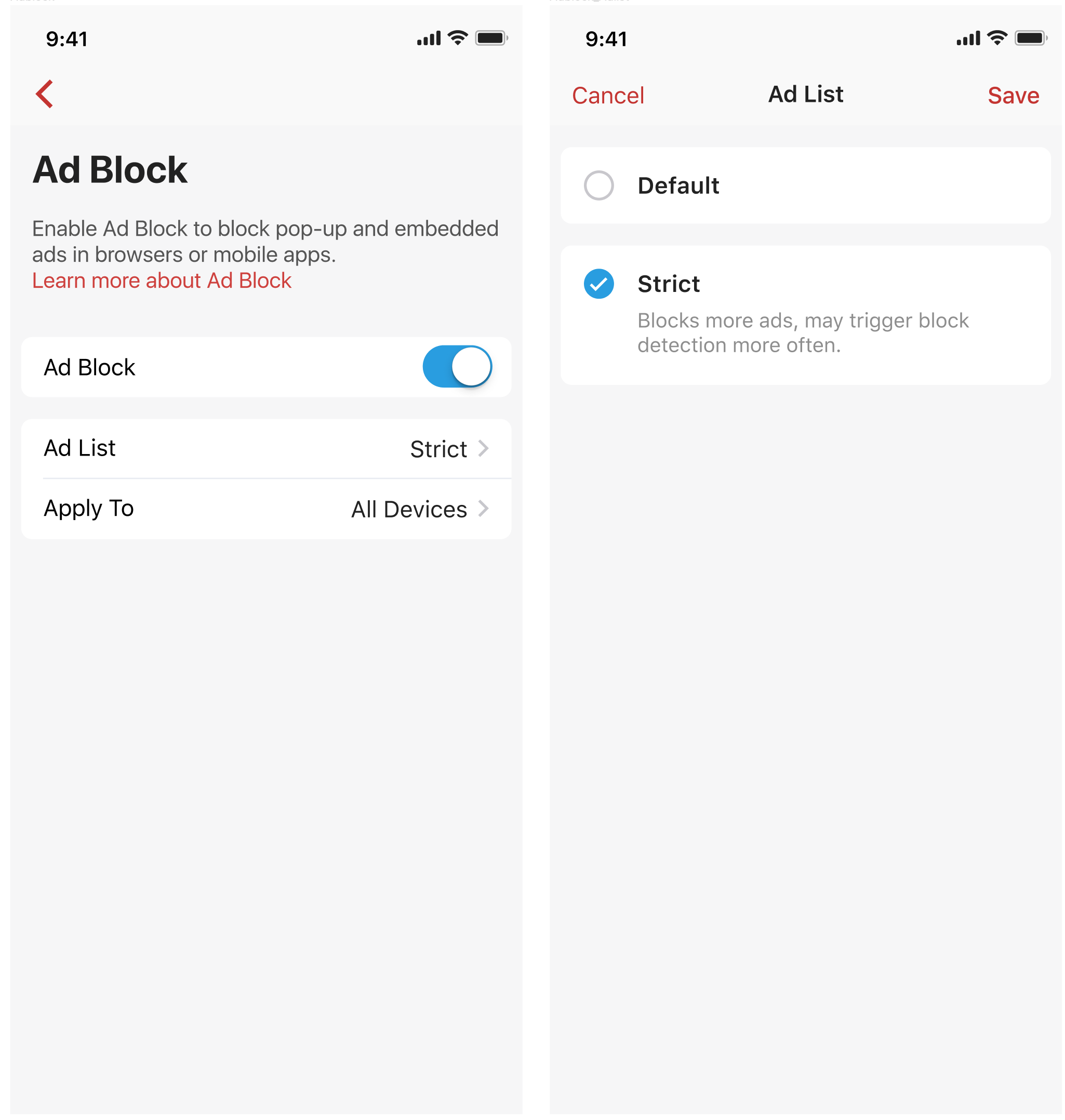 Strick Ad Block (1.972 or higher):
If you tap on Ad List, you can switch the Ad list from Default to Strict.
Strict Ad Block can block more ads than the default mode (likely trigger the ad blocker detection more often).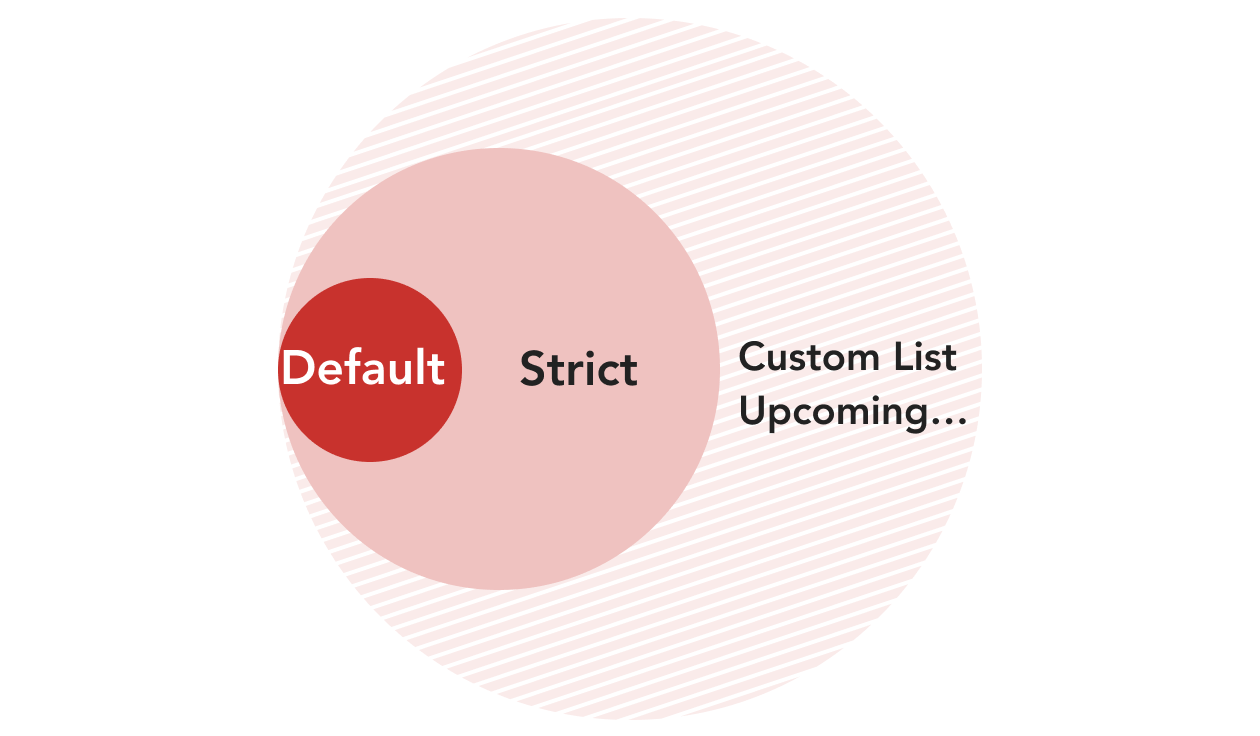 In the future, with the introduction of the Target List, we will likely support user imported lists for more advanced / custom blocking.
Common Questions:
1) I have turned on ad blocking, how do I know if it is working?
To test if Firewalla ad blocking is working or not, try this website, you should see "No more ads" if it is working:
https://ads-blocker.com/testing/
or use this
https://d3ward.github.io/toolz/adblock.html
2) I have turned on ad blocking, but it is not working.
Windows/Mac/iPhone/Android all cache DNS entries. If you have just turned on ad blocking, your DNS may still be using the old server. Try to flush the DNS cache first. For iPhone/Android, the easiest way is to switch the mobile phone to airplane mode, then turn the airplane mode off to get back online. For laptop and desktop, just wait several minutes, or restart your computer.
Note: If your devices are connected to VPN, please make sure the option "Force DNS over VPN" is off.
Word of Warnings:
1) This feature is not perfect.
Firewalla's Adblocker is a lot weaker than many of the desktop versions of Adblocker. Yes, we acknowledge that. Here is the reason, in order to 'block ads' more effectively, the ad blocker will need to access inside the data stream and manipulate unencrypted data. Firewalla by design will never ever look at your data, and will only look at metadata. That's why Firewalla will only block certain types of ads, not all. We can efficiently block ads from well-known ad sites.
We stand by our commitment, Firewalla will "never" look at your data or pass your data to a third-party service!
Firewalla can not block youtube.com ads due to this.
2) Your browsing experience may be affected.
Adblock is NOT a normal feature to have. It is like a cat and mouse game of advertiser platforms pushing ads and the blockers blocking them. Technology will move forward, and the disturbance to normal browsing may happen.
You may be experiencing content not loading ...
The website may complain you have an ad blocker on ...
Some sites may not load due to an ad blocker. (example ESPN ...)
When this happens, please disable ad-block. Also, if you can send us the link that's causing trouble to help@firewalla.com, it will help us to improve the accuracy over time.
We do not, and will never ever claim we can block all ads. That's just impossible.